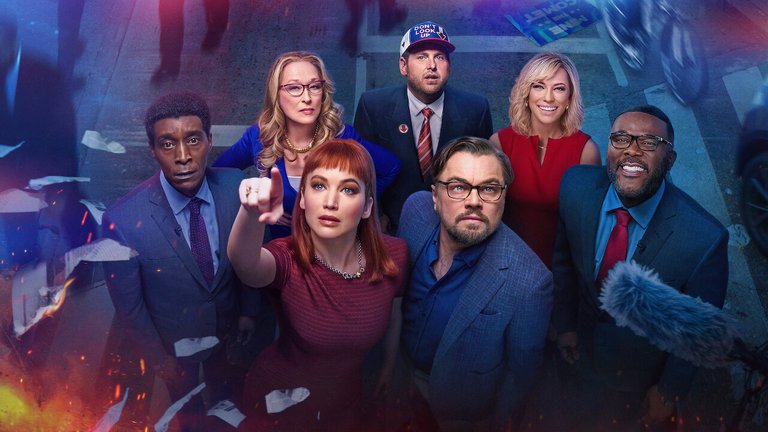 Now in theatres
Ahora en cines
The year 2021 was a year expected by all moviegoers because three films were released with luxury casts: the remake of Dune, by the hand of Denis Villeneuve and with the performances of Timothée Chalamet, Oscar Isaac, Josh Brolin, Jason Momoa , Stellan Skarsgård, Zendaya and Javier Bardem; the visually delicious The French Dispatch by Wes Anderson (you can read my review) with Benicio del Toro, Frances McDormand, Adrien Brody, Tilda Swinton, Timothée Chalamet, Léa Seydoux, Saorsie Ronan and Bill Murray; and Adam McKay's most recent film Don't look up with four Oscar winners, Leonardo DiCaprio, Jennifer Lawrence, Meryl Streep and Cate Blanchett, accompanied by Jonah Hill, Tyler Perry, Ariana Grande and, of course, Timothée Chalamet, the Hansel McDonald of our generation ("he's so hot right now").
El año 2021 era un año esperado por todos los cinéfilos debido a que se estrenaban tres películas con elencos de lujo: el remake de Dune, de la mano de Denis Villeneuve y con las actuaciones de Timothée Chalamet, Oscar Isaac, Josh Brolin, Jason Momoa, Stellan Skarsgård, Zendaya y Javier Bardem; la visualmente deliciosa The French Dispatch de Wes Anderson (acá pueden leer mi reseña) con Benicio del Toro, Frances McDormand, Adrien Brody, Tilda Swinton, Timothée Chalamet, Léa Seydoux, Saorsie Ronan y Bill Murray; y la película más reciente de Adam McKay, Don't look up con cuatro ganadores del Oscar, Leonardo DiCaprio, Jennifer Lawrence, Meryl Streep y Cate Blanchett, acompañados de Jonah Hill, Tyler Perry, Ariana Grande y, por supuesto, Timothée Chalamet, el Hansel McDonald de nuestra generación ("he's so hot right now").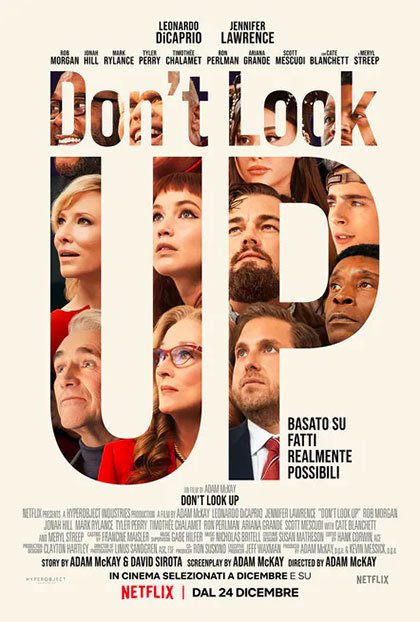 Italian Poster
Being an Adam McKay movie I could deduce that there would be black comedy, humor mixed with politics, but I confess that I didn't see any trailer and didn't know what the film was about when I wanted to see it. In short, the film tells the story of Astronomy graduate student Kate Dibiasky (Jennifer Lawrence) and her professor, Dr. Randall Mindy (Leonardo DiCaprio) who make a discovery (it was actually her, but he takes some of the credit ) wonderful and at the same time spooky: a huge comet is heading directly to Earth and will hit it in six months and fourteen days. We are talking then about a science fiction film, apocalyptic (the collision of the celestial body on our planet would end life as we know it), dramatic, absurd (in the good sense of the word) and funny about the end of the world.
Por tratarse de una película de Adam McKay podía deducir que habría comedia negra, humor mezclado con política, pero confieso que no vi ningún trailer y no sabía de qué trataba la película cuando quise verla. En resumen, la cinta cuenta la historia de Kate Dibiasky (Jennifer Lawrence), estudiante de posgrado de Astronomía, y su profesor, el doctor Randall Mindy (Leonardo DiCaprio) quienes hacen un descubrimiento (en realidad fue ella, pero él toma parte del crédito) maravilloso y a la vez espeluznante: un enorme cometa se dirige directamente a la Tierra y la impactará dentro de seis meses y catorce días. Estamos hablando entonces de una película de ciencia ficción, apocalíptica (la colisión del cuerpo celeste sobre nuestro planeta acabaría con la vida como la conocemos), dramática, absurda (en el buen sentido de la palabra) y cómica sobre el fin del mundo.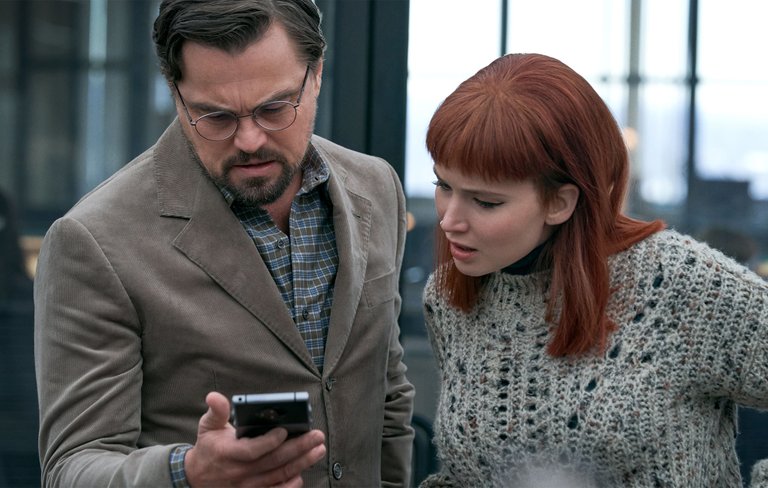 Randall & Kate
The not so young will remember Armageddon (1998) with Bruce Willis and Ben Affleck, a drama in which an asteroid would destroy the earth as well. The solution, both in that film and in this film, is the same: divert the comet from its course so that it does not fall to the ground. The problem is that at Armageddon people take the problem seriously. Not so in Don't look up, at least not at first.
Los no tan jóvenes recordarán Armageddon (1998) con Bruce Willis y Ben Affleck, un drama en el que un asteroide destruiría la tierra también. La solución, tanto en aquella como en esta cinta es la misma: desviar el cometa de su curso para que no caiga en la tierra. El problema es que en Armageddon la gente se toma el problema en serio. No así en Don't look up, al menos no al principio.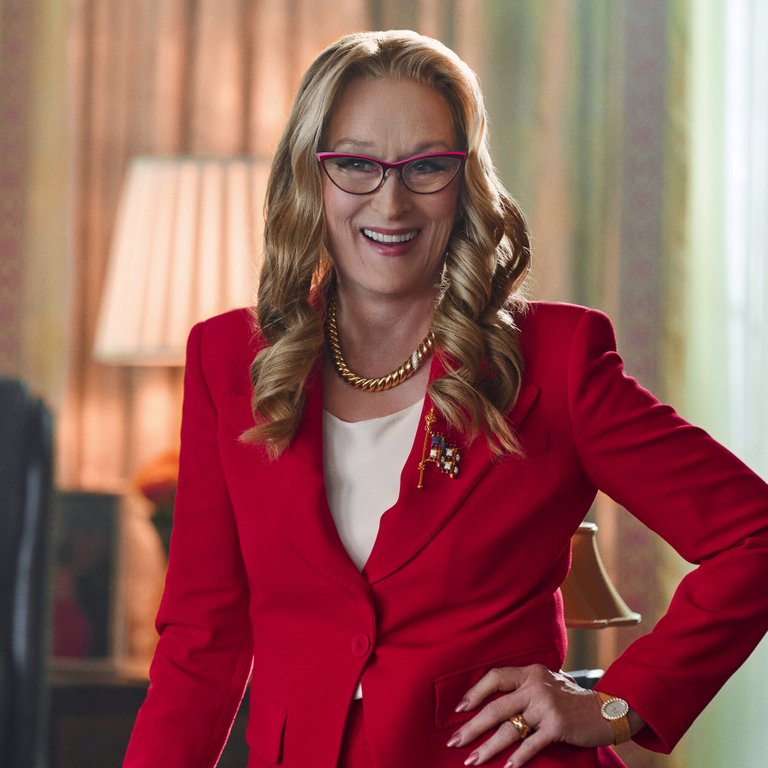 The President Orlean
Why? Because from the outset, nobody believes it. And when they do, they don't care. Or rather, there are other things that seem more important to them, more important than a mass extinction of Cretaceous proportions, more important than the end of the world? Well, yes, and what are those things? gossip, press, election campaigns, celebrities... Kate and Randall go on a media tour to warn humanity and go to President Orlean (Meryl Streep) and her son and chief of staff, Jason (Jonah Hill), who don't take it very seriously, not even when they take it seriously. They then go to a morning show hosted by Brie (Cate Blanchett) and Jack (Tyler Perry), but contrary to what they would expect, people aren't alarmed and start tweeting and making memes about the interview. Although it is an extreme situation and the exaggeration is fun, the film makes us seriously reflect on our mania for trivializing the important things and in turn giving too much importance to the trivial.
¿Por qué? Porque de entrada, nadie lo cree. Y cuando lo hacen, no les importa. O mejor dicho, hay otras cosas que les parecen más importantes, ¿más importantes que una extinción masiva de proporciones cretácicas?¿más importantes que el fin del mundo? Pues, sí, ¿y qué son esas cosas? los chismes, la prensa, campañas electorales, la farándula... Kate y Randall emprenden una gira mediática para advertir a la humanidad y acuden a la presidenta Orlean (Meryl Streep) y su hijo y jefe de gabinete, Jason (Jonah Hill), quienes no se lo toman muy en serio, ni siquiera cuando se lo toman en serio. Luego van a un programa matinal presentado por Brie (Cate Blanchett) y Jack (Tyler Perry), pero al contrario de lo que esperarían, la gente no se alarma y comienzan a twittear y a hacer memes sobre la entrevista. Aunque se trata de una situación extrema y la exageración resulta divertida, la película nos hace reflexionar seriamente sobre nuestra manía de banalizar las cosas importantes y a su vez darle demasiada importancia a lo banal.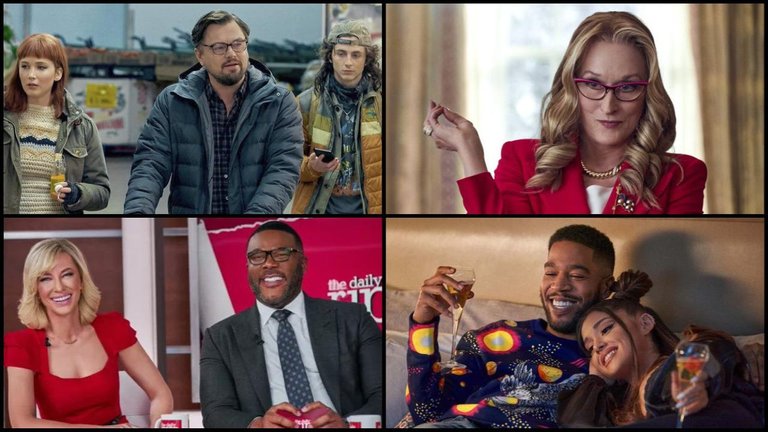 Scenes from the movie | Escenas de la película
If by watching this movie you begin to investigate things like whether in fact a 9 km wide comet can cause a mass extinction and cause tsunamis two kilometers high, you haven't understood the matter. When entering a work of fiction, be it a book or a movie, you have to accept the conditions of that work, as long as that mini-universe is consistent and true to itself. Within the film, the facts are valid, we must believe what they tell us and accept that this will happen, that the North American society of the film (not very distant from the real one) is a frivolous, manipulative and manipulated society, superficial and lover of the show, from the show business. Doing a concert when the comet is going to fall, writing a song about it, setting up a helpline for those who feel uneasy about the fate of humanity... these are things that haven't been done (not around the fall of a comet, at least), which would probably be done if it were the case, but mostly things that happen in the plot. As absurd, exaggerated, or ridiculous as it may seem, they are actions consistent with the society portrayed in the film.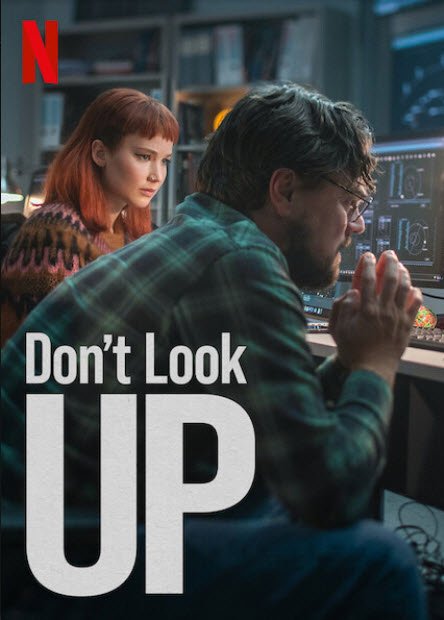 Poster
Si al ver esta película comienzan a investigar cosas como si en verdad un cometa de 9 km de ancho puede causar una extinción masiva y provocar tsunamis de dos kilómetros de alto, no han entendido el asunto. Al adentrarse en una obra de ficción, ya sea un libro o una película, hay que aceptar las condiciones de esa obra, siempre y cuando ese mini universo sea coherente y fiel a sí mismo. Dentro de la película, los hechos son válidos, debemos creer lo que nos cuentan y aceptar que eso ocurrirá, que la sociedad norteamericana de la película (no muy distante de la real) es una sociedad frívola, manipuladora y manipulada, superficial y amante del espectáculo, del show business. Hacer un concierto cuando el cometa va a caer, escribir una canción al respecto, establecer una línea telefónica de ayuda para quienes se sientan intranquilos con el destino de la humanidad... son cosas que no se han hecho (no alrededor de la caída de un cometa, al menos), que probablemente se harían si fuera el caso, pero sobre todo, cosas que suceden en la trama. Por absurdo, exagerado, o ridículo que parezca, son acciones coherentes con la sociedad retratada en la cinta.
I liked that the president was a woman and that she also had that crazy personality. Normally women in high political office are portrayed as exemplars in fiction, leaving stupid presidents to be men (the case of Lloyd Bridges in Hot Shots 2); Plus, it was fun to see Meryl Streep and Cate Blanchet in non-serious roles, far removed from the roles they usually play. I also enjoyed the performances of Jennifer Lawrence in her role as an energetic and rebellious defender of the truth at all costs and of Leonardo Di Caprio, in a role for which I would not have thought, but which he fulfills satisfactorily. Not in vain both have nominations for the next Golden Globes.
Me gustó que la presidenta fuese mujer y que además tuviese esa personalidad tan alocada. Normalmente las mujeres que poseen cargos políticos altos son retratadas como ejemplares en las ficciones, dejando que los presidentes estúpidos fuesen hombres (el caso de Lloyd Bridges en Hot Shots 2); además, fue divertido ver a Meryl Streep y a Cate Blanchet en papeles poco serios, muy alejados de los roles que suelen interpretar. También disfruté las actuaciones de Jennifer Lawrence en su papel de enérgica y rebelde defensora de la verdad a toda costa y de Leonardo Di Caprio, en un papel para el cual yo no lo habría pensado, pero que cumple de forma satisfactoria. No en vano ambos tienen nominaciones a la próxima entrega de los Globos de Oro.
Some of the main characters | Algunos de los personajes principales
Dressing serious questions in satire and showing through exaggeration and humor how absurd our existence and our society sometimes is, is something that Adam McKay had already done. Highlighting real events that are funny, funny, incoherent, absurd, or seem unreal, such as the existence of the Planetary Defense Coordination Office, had also done so. However, his two previous films, Vice (2018) and The Big Short (2015) (one of my favorite films) were based on true events, while Don't look up is based on possible facts and is a science tragicomedy fiction, a genre in which I don't handle so many references because science fiction is usually seria.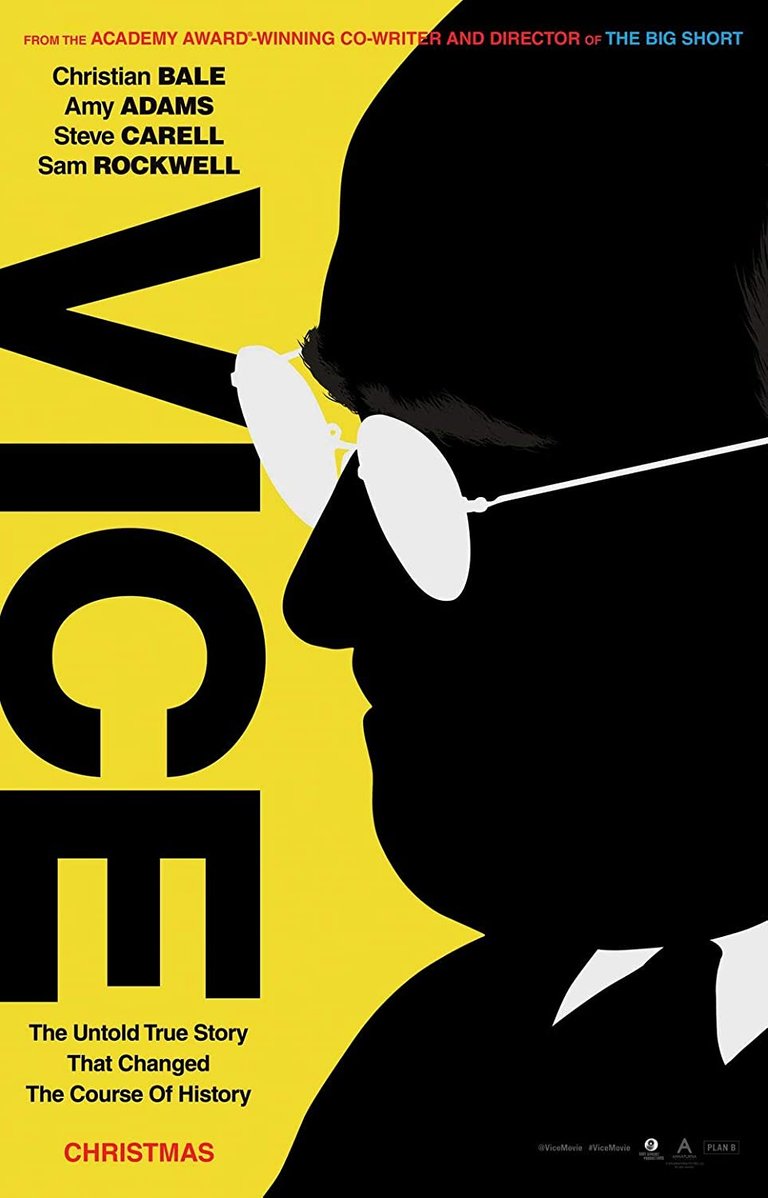 Poster
Vestir de sátira cuestiones serias y mostrar a través de la exageración y el humor lo absurdo que a veces es nuestra existencia y nuestra sociedad, es algo que Adam McKay ya había hecho. Destacar hechos reales que son graciosos, divertidos, incoherentes, absurdos o que parecen irreales, como la existencia de la Planetary Defense Coordination Office (Oficina de Coordinación de Defensa Planetaria_), también lo había hecho. Sin embargo, sus dos películas anteriores, Vice (2018) y The Big Short (2015) (una de mis películas favoritas) estaban basadas en hechos reales, mientras que Don't look up está basada en hechos posibles y es una tragicomedia de ciencia ficción, un género en el que no manejo tantos referentes porque la ciencia ficción suele ser seria.
I didn't enjoy it as much as his two previous films, it's not as well accomplished technically as those two (the productions made by and for Netflix still don't convince me), but I did have fun with this film. Now, I wouldn't recommend it openly, because to understand it better and enjoy it, you would have to know a little about Andy McKay's previous works and above all be soaked in North American culture. Cultural references, the idiosyncrasies of the American people, the way in which crises have been handled in the past, their politics, their love of show business, their economic system... you have to know a little about all this. But if you still want to get closer to this movie because it's the one that everyone is talking about this week (apart from Spiderman and Matrix), I suggest that you let yourself be absorbed by the story without questioning the truthfulness of what is being told. Think that in the universe of the film everything is possible and that it has its own rules, different from those of our real world. Think and believe that the end of the world is near, what do you think would happen? I read you in the comments.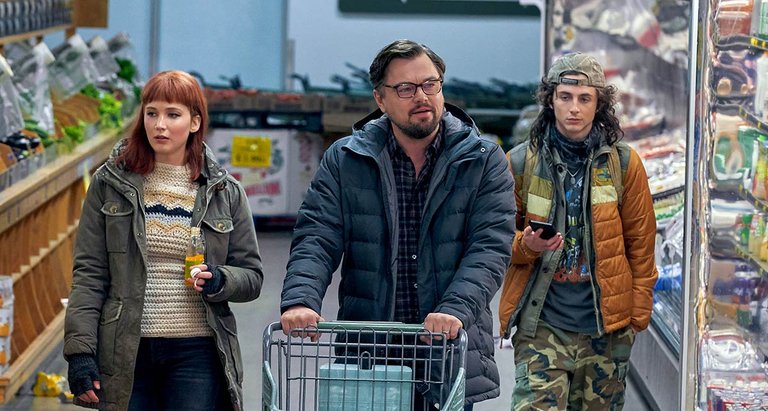 Scene from the movie | Escena de la película
No la disfruté tanto como sus dos películas anteriores, no está tan bien lograda en lo técnico como aquellas dos (siguen sin convencerme las producciones realizadas por y para Netflix), pero sí me divetí con este film. Ahora bien, no la recomendaría abiertamente, porque para entenderla mejor y disfrutarla habría que conocer un poco los trabajos previos de Andy McKay y sobre todo estar empapado de la cultura norteamericana. Referencias culturales, la idiosincracia del pueblo americano, la forma en que se han manejado crisis en el pasado, su política, su afición al show business, su sistema económico... hay que saber un poco de todo esto. Pero si aún así quieren acercarse a esta peícula porque es de la que todo el mundo está hablando esta semana (aparte de Spiderman y Matrix), les sugiero que se dejen absorber por la historia sin cuestionar la veracidad de lo que se cuenta. Piensen que en el universo del film todo es posible y que tiene sus propias reglas, diferentes a las de nuestro mundo real. Piensen y crean que el fin del mundo está cerca, ¿qué creen que pasaría? Los leo en los comentarios.
---
Other posts that may interest you | Otros posts que pueden interesarte: