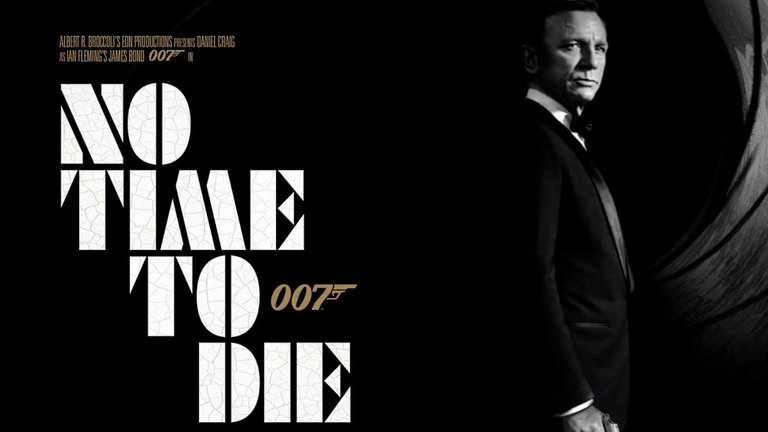 The 25th James Bond Movie
La 25a película de James Bond
It took me a while. The initial idea, thought of in October 2021, was to see Daniel Craig's first four films as James Bond in one week and go to the cinema to see this one. Not only did I not (obviously) but 2021 ended without having seen any of these films (although years ago I had seen Casino Royale and remembered scenes from Skyfall). But finally I did my job.
Me tomó tiempo. La idea inicial, pensada en Octubre de 2021, era ver en una semana las cuatro primeras películas de Daniel Craig como James Bond y acudir al cine a ver esta. No sólo no lo hice (obviamente) sino que el 2021 culminó sin haber visto ninguna de estas cintas (aunque años atrás había visto Casino Royale y recordaba escenas de Skyfall). Pero, finalmente, cumplí mi cometido.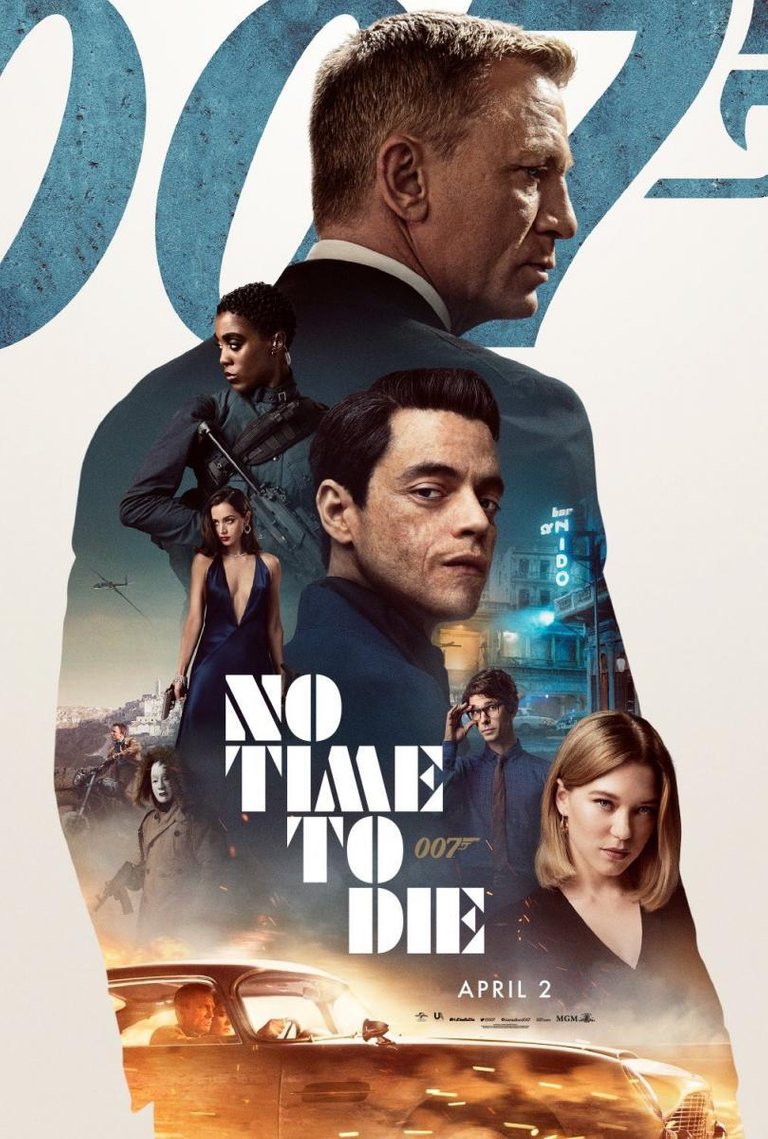 Original Poster
No time to die is the last James Bond film starring Daniel Craig and the 25th in the entire saga. Because it is not a minor number, and round as well, we thought of doing something special and it's not for nothing that it's the longest film of this Bond (163 minutes). We had left agent 007 in Spectre, whose ending seemed to indicate his final retirement from the world of espionage. He earned it, after dismantling a worldwide criminal organization that included every enemy he had ever faced. Seeing him go, walking beside Madeleine (Léa Seydoux) as she delivered Blofeld (Christoph Waltz) to MI6 at the end of Spectre gave us the feeling that James deserved to be happy for a while with the love of a woman, something he hadn't felt since the first film. However, for better or worse, a tiger does not change its stripes and it is as difficult to escape from one's past as it is from oneself. In his retreat, in the middle of an Italian town, the ghost of Specter reappears, forcing him not only to return to action but to abandon Madeleine, whom he believes to be involved in this new conspiracy.
No time to die es la última película de James Bond protagonizada por Daniel Craig y la 25a de toda la saga. Por tratarse de un número no menor, y redondo además, se pensó en hacer algo especial y no por nada es la película más extensa de este Bond (163 minutos). Habíamos dejado al agente 007 en Spectre, cuyo final parecía indicar su retiro definitivo del mundo del espionaje. Se lo ganó, después de desmantelar una organización criminal de alcance mundial que incluía a todos los enemigos que había enfrentado hasta entonces. Verlo marchar, caminando al lado de Madeleine (Léa Seydoux ) al entregar a Blofeld (Christoph Waltz) al MI6 al final de Spectre nos dio la sensación de que James merecía ser feliz un tiempo junto al amor de una mujer, algo que no sentía desde la primera película. Sin embargo, para bien o para mal, un tigre no cambia sus rayas y es tan difícil huir del pasado propio como de sí mismo. En su retiro, en medio de un pueblo italiano, el fantasma de Spectre reaparece, obligándolo no sólo a volver a la acción sino a abandonar a Madeleine, a quien cree involucrada con esta nueva conjura.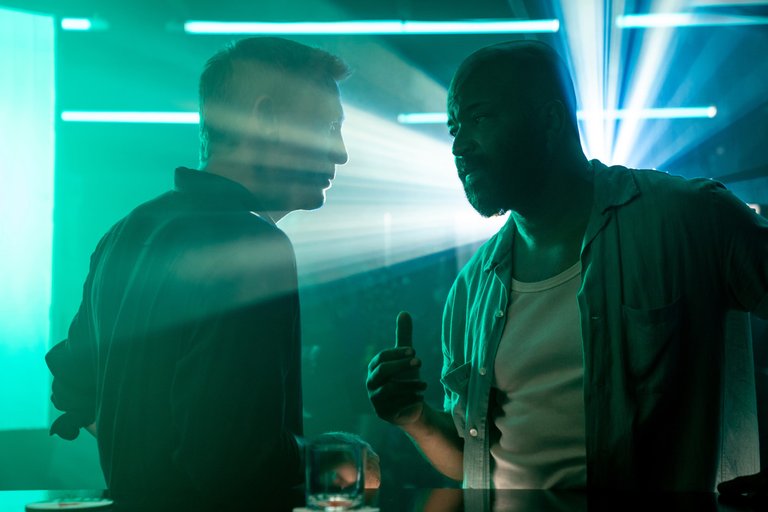 Bond & Felix
His friend from the CIA, Felix Leiter (Jeffrey Wright), also reappears to ask for his help. The mission is to rescue a kidnapped Russian scientist, in whose possession is found a weapon with inconceivable power that is intended to be used by a mysterious character who is somehow linked to Madeleine.
Su amigo de la CIA, Felix Leiter (Jeffrey Wright), también reaparece para pedirle ayuda. La misión es rescatar a un científico ruso secuestrado, en cuyo poder se encuentra un arma con un poder inconcebible que pretende ser utilizada por un personaje misterioso que, de alguna manera, está ligado a Madeleine.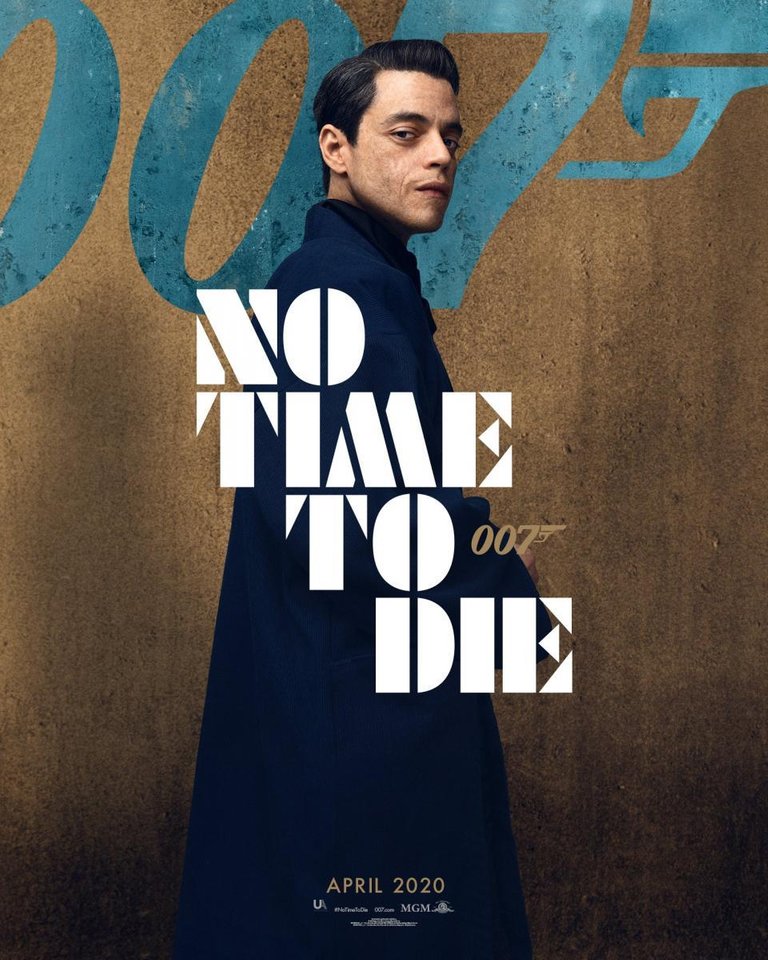 Safin
Lyutsifer Safin (Rami Malek) had a score to settle with Mr. White who, let's remember, was Madeleine's father. But that debt wasn't paid off by the death of his family's killer, it grew to permeate the entire organization as well, so Safin wants to destroy Spectre, but that doesn't make him an ally of Bond because the weapon he intends to use has a unprecedented scope that can literally change the history of mankind. Malek is a good actor and plays his role well, but compared to other Bond villains, he is not the most fearsome, nor did I find him to be a flashy character. He carries with him ideals (strange, but ideals after all), he has the money, the power, the determination, an important emotional charge as well, but he did not finish convincing me despite the scars on his face, the mask and his personal history which also links him to James Bond.
Lyutsifer Safin (Rami Malek) tenía una cuenta pendiente con Mr. White quien, recordemos, era el padre de Madeleine. Pero esa deuda no se saldó con la muerte del asesino de su familia, sino que creció para impregnar también a toda la organización, así que Safin quiere destruir Spectre, pero eso no lo convierte en aliado de Bond porque el arma que pretende utilizar tiene un alcance sin precedentes que puede cambiar, literalmente, la historia de la humanidad. Malek es un buen actor e interpreta bien su papel, pero comparado a otros villanos de Bond, no es el que infunde mayor temor, ni me pareció un personaje llamativo. Lleva consigo ideales (extraños, pero ideales al fin), tiene el dinero, el poder, la determinación, una importante carga emocional también, pero no terminó de convencerme a pesar de las cicatrices en su rostro, de la máscara y de su historia personal que lo une también a James Bond.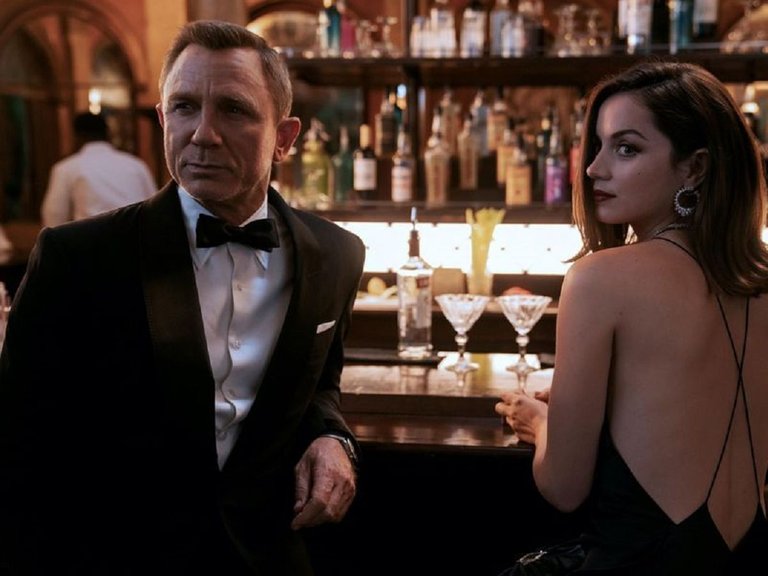 Bond & Paloma
A character that I liked was Paloma (Ana de Armas), a very young agent with very little training who accompanies Bond on a mission on the island of Cuba. Paloma is charismatic, perhaps too charismatic to be an agent, which is both refreshing and strange, since we were used to the coldness and professionalism of European Bond girls, their passion, their exoticism, but not that a CIA agent, Latina, with a sweet smile and a submachine gun in her hand. Judging by the film's poster and trailer, I thought Ana de Armas' involvement would be longer and more important, but she appears briefly in a single sequence. I would have liked to see a little more of this character who is one of the few Bond girls who is not romantically or sexually involved with Bond, which cannot be said for many, but what I saw was enough to say that she did a good job.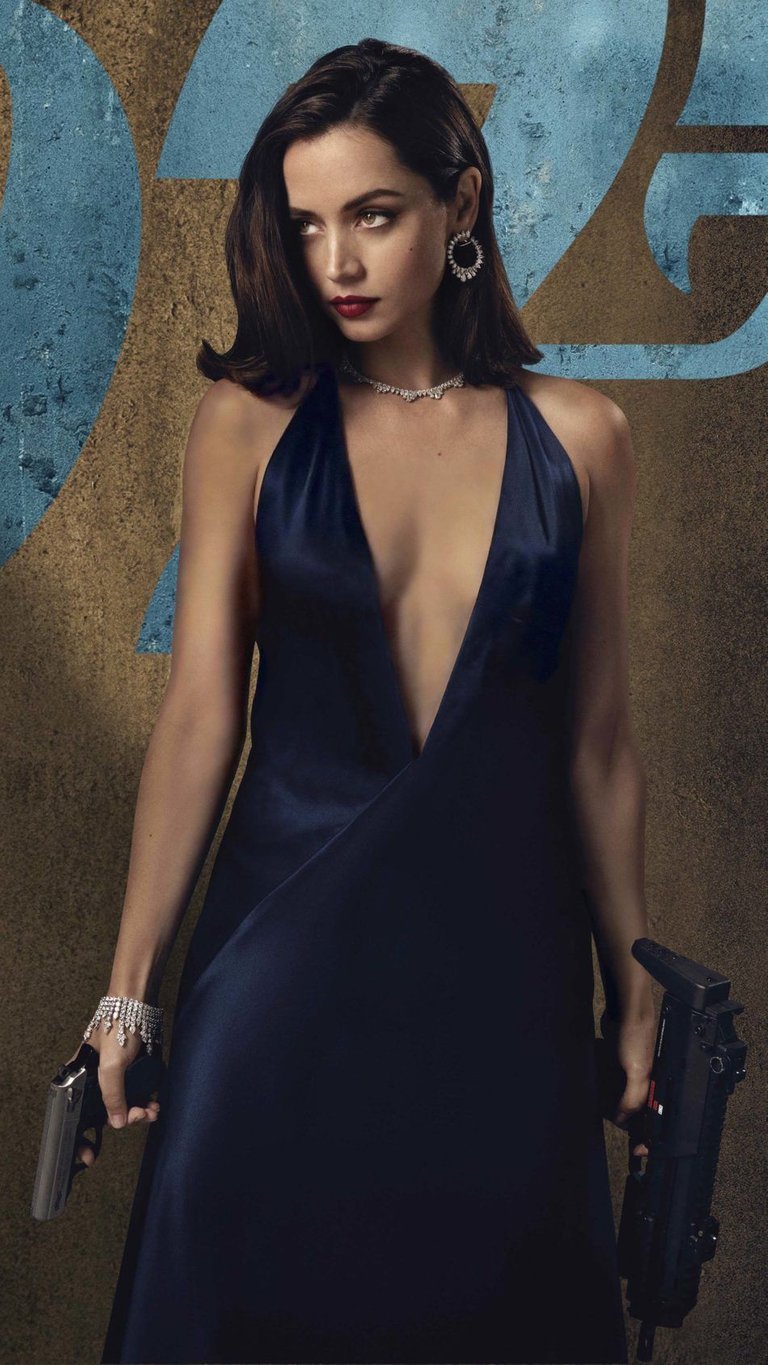 Paloma
Un personaje que me gustó fue el de Paloma (Ana de Armas), una agente muy joven y con muy poco entrenamiento que acompaña a Bond en una misión en la isla de Cuba. Paloma es carismática, quizás demasiado para ser agente, lo que resulta a la vez refrescante y extraño, pues estábamos acostumbrados a a frialdad y profesionalismo de las chicas Bond europeas, a su pasión, a su exotismo, pero no a que una agente de la CIA, latina, con una sonrisa tierna y una subametralladora en la mano. A juzgar por el poster de la película y a su avance, pensaba que la participación de Ana de Armas sería más extensa y más importante, pero aparece brevemente en una única secuencia. Habría querido ver un poco más de ese personaje que es una de las pocas chicas Bond que no se involucra sentimental ni sexualmente con Bond, lo que no se puede decir de muchas, pero lo que vi fue suficiente para decir que hizo un buen trabajo.
The plot has interesting elements: the return of Bond, a new 007 agent appointed in his absence, the advanced technology of the weapon that falls into the hands of the villain, the sentimental relationship between James and Madeleine, the reappearance of emblematic characters of the franchise, the threat of the end and a couple of surprises that I don't reveal out of consideration for those who haven't seen the film. We've already seen Bond go down on a mission and recover to get back in the game, but would he die for a good cause? When the definitive moment arrives in which to defend his ideals and everything that has always mattered to him, would he give up all of it to save him? That is the central question of this film whose answer you will only know by watching it. Those who have already seen it, what did you think of No time to die? I read you in the comments.
Scene from the movie | Escena de la película
La trama tiene elementos interesantes: el regreso de Bond, una nueva agente 007 designada en su ausencia, la avanzada tecnología del arma que cae en manos del villano, la relación sentimental entre James y Madeleine, la reaparición de personajes emblemáticos de la franquicia, la amenaza del final y un par de sorpresas que no revelo por consideración a quienes no han visto la película. Ya vimos a Bond caer abatido en una misión y recobrarse para volver al ruedo, pero, ¿sería capaz de morir por una buena causa? Llegado el momento definitivo en el cual defender sus ideales y todo lo que siempre le ha importado, ¿renunciaría a todo ello para salvarlo? Esa es la pregunta central de esta película cuya respuesta sólo conocerán viéndola. Quienes ya la vieron, ¿qué les pareció No time to die? Los leo en los comentarios.
---
Other posts that may interest you | Otros posts que pueden interesarte: