The challenge this week is to write a review about an action movie that must be extremely loud, my mind flew and I thought of:

John McClane
El desafío de esta semana es escribir una reseña sobre una película de acción que debe ser extremadamente ruidosa, mi mente voló y pensé en:

John McClane
---
BRUCE WILLIS - DIE HARD (1988)
DURO DE MATAR.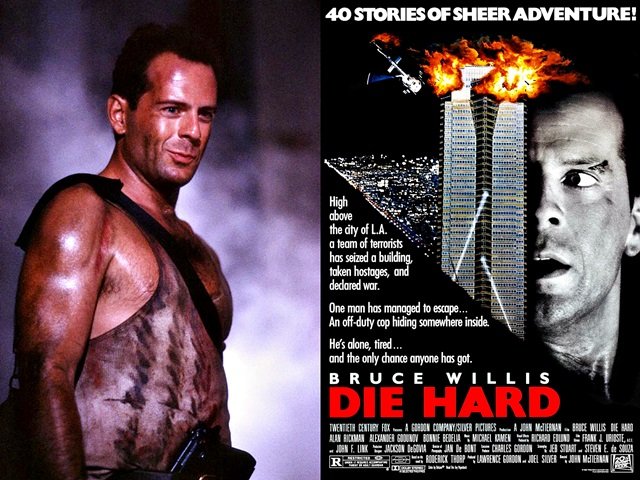 Die Hard revolutionized the genre, since it presents us with a real ordinary man, with marital problems, trapped in an unforeseen situation, he is alone, barefoot, dirty, uses his gun and his brain to face the bad guys.
Based on the novel Nothing Lasts Forever (1979) by Roderick Thorp and directed by John McTiernan (Predator/1987). Michael Kamen was in charge of the soundtrack.
Starring: Bruce Willis as John McClane, NYPD detective, and Alan Rickman as the brilliant, cold, calculating, and evil villain Hans Gruber.
Die Hard revoluciono el género, ya que nos presenta a un hombre común real, con problemas matrimoniales, atrapado en una situación imprevista, esta solo, descalzo, sucio, usa su pistola y su cerebro para enfrentar a los malos.
Basada en la novela Nothing Lasts Forever (1979) de Roderick Thorp y dirigida por John McTiernan (Depredador/1987). La banda Sonoro estuvo a cargo de Michael Kamen.
Protagonizada por: Bruce Willis como John McClane detective del Departamento de Policía de Nueva York, el actor Alan Rickman como el villano Hans Gruber brillante, frio, calculador y malvado.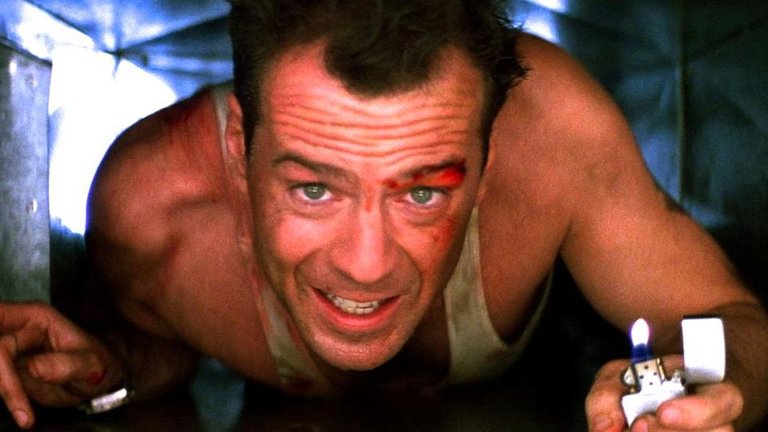 It's Christmas time and policeman John McClane is visiting his wife Holy in the Nakatomi Plaza skyscraper where he works. At the same time, Hans Gruber starts his plan to steal $640 million and takes the company's employees hostage. McClane is the only cop inside the building who will confront the thieves.
Es Navidad el policía John McClane está visitando a su esposa Holly en el rascacielos de Nakatomi Plaza donde trabaja. Al mismo tiempo, Hans Gruber inicia su plan para robar 640 millones de dólares y toma a los empleados de la empresa como rehenes. McClane es el único policía dentro del edificio que enfrentara a los ladrones.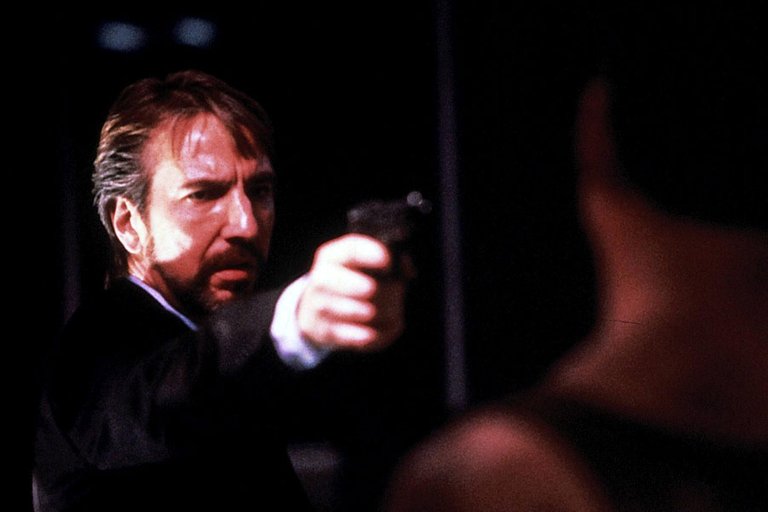 Hans interrogates Mr. Takagi about the code to open the vault as he refuses to collaborate and kills him. The cops, upon hearing the shots, contact Sergeant Al Powell (Reginald VelJohnson) to investigate, as they thought it was a bad joke. Upon entering the patrol car, the body of one of the robbers falls.
McClane begins to give information about the kidnappers to the police and warns them that they are very dangerous, however they enter and end up defeated.
Hans interroga al Sr Takagi sobre el código para abrir la bóveda como se niega a colabora lo mata. Los policías, al escuchar los disparos, contactan con el Sargento Al Powell (Reginald VelJohnson) para que investigue, ya que creían que era una broma de mal gusto. Al entrar en la patrulla cae el cuerpo de uno de los ladrones.
McClane comienza a dar datos de los secuestradores a los policías y les advierte que son muy peligros, sin embargo entran y terminan derrotados.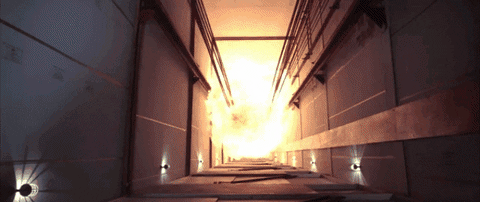 The FBI arrives and disconnects the electricity and this deactivates the vault, Hans takes the money and asks for a helicopter, but his intention is actually to detonate the explosives to kill the hostages, simulate their death and that of their friends.
El FBI llega y desconecta la electricidad y esto desactiva la bóveda, Hans toma el dinero y pide un helicóptero, pero su intención en realidad es detonar los explosivos matar a los rehenes, simular su farsa muerte y la de sus amigos.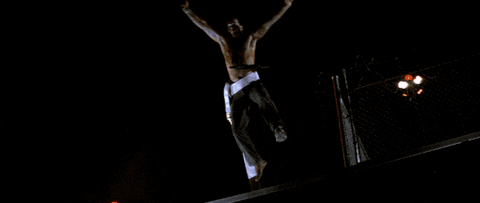 McClane finds Hans holding Holly (Bonnie Bedelia) hostage at gunpoint, In an oversight, McClane shoots him and Hans dies falling to the void.
McClane encuentra a Hans que tiene de rehén a Holly (Bonnie Bedelia) apuntandole con una pistola, En un descuido le dispara y Hans muere cayendo al vacio.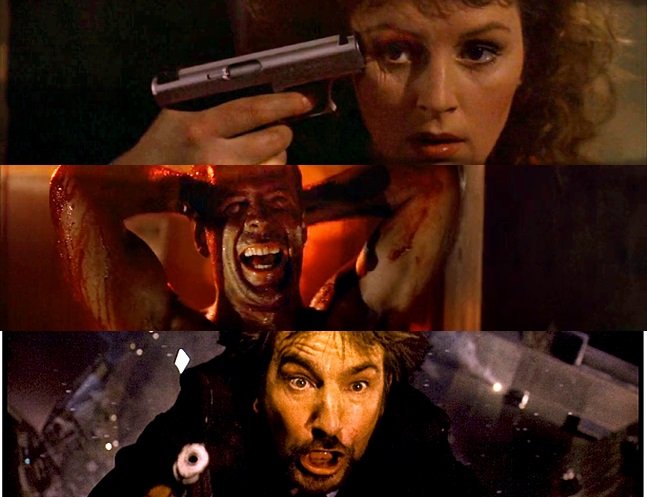 This film obtained 4 Oscar nominations and launched Bruce Willys to stardom, it became a franchise of 6 films.
None equaled the success and fame of the Die Hard.
Este film obtuvo 04 nominaciones al Oscar y lanzo a Bruce Willys al estrellato, se convirtió en una franquicia de 06 películas.
Ninguna igualo el éxito y la fama de Duro de Matar

I loved this movie because it keeps the rhythm, great performances, dialogues, with extraordinary real explosions, special effects, and action sequences that make it:

The unique and unrepeatable classic favorite of action movies
Me encanto esta película por que mantiene el ritmo, magnificas actuaciones, diálogos, con explosiones reales extraordinarios efectos especiales y secuencias de acción que la convierten en
El clásico favorito único e irrepetible del cine de Acción.

To participate in the contest / Para participar en el Concurso:
League of Movies
I invite / Invito a
@acont and @darruiz
Thank you / Gracias
@eve66

📷 Photography:
All photos belong to the gallery of/
Todas las fotos pertenecen a la galeria de
Idmb
Stickers:
1 - 2
✂️ Edition by: @eve66 In PhotoScape
Separator @ thepeakstudio