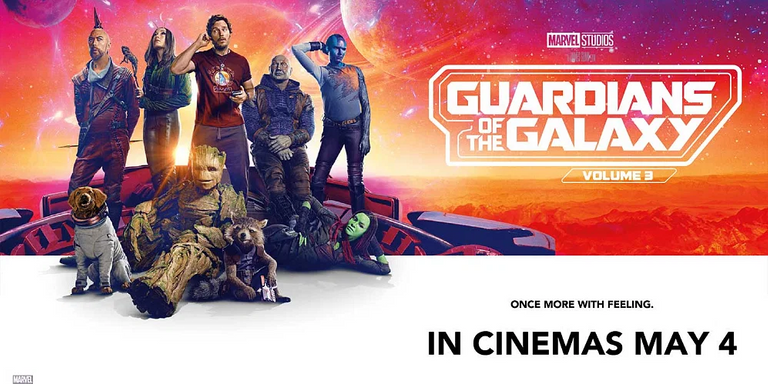 Source
Hello my dear cinephile friends! I hope you are very well, today I am here to share with you a movie that I had wanted to see for a few weeks and finally today I was able to go to the cinema, it is "Guardians Of The Galaxy Vol. 3" which is starring Chris Pratt , Zoe Saldaña, Dave Bautista, Pom Klementieff, Karen Gillan, Vin Diesel and Bradley Cooper. I hope you like it.
¡Hola mis queridos amigos cinéfilos! Espero estén muy bien, hoy estoy por aquí para compartir con ustedes una pelicula que había querido ver desde hace unas semanas y por fin hoy pude ir al cine, se trata de "Guardians Of The Galaxy Vol. 3" la cual esta protagonizada por Chris Pratt, Zoe Saldaña, Dave Bautista, Pom Klementieff, Karen Gillan, Vin Diesel y Bradley Cooper. Espero les guste.

Brief Plot / Breve Synopsis
On this occasion, the Guardians will launch a new fight to save the life of Rocket, who was seriously injured at the beginning of the movie and could not be treated since his creator, the High Evolutionary, put a switch on him, for which his companions had to They have to go to where the Orgocorp headquarters (the company where Rocket was created) is located to find the code that deactivates the switch and Rocket can be saved. During their journey the Guardians get help from Gamora, so they manage to infiltrate the headquarters and face a whole group of villains, in the process they manage to obtain the code they were looking for and save Rocket. During the movie we can also see Rocket's past in flashbacks which he has while he is dying, in which it is revealed that it was the creation of the Orgocop company which creates anthropomorphic beings with animals to create another earth, in the cages he makes friends and manages to escape after a tragedy that happened to him. In the end they win the battle against the High Evolutionary and the whole team manages to save all the experiments of the Orgocorp company, humans and animals.
En esta oportunidad los Guardianes se lanzarán en una nueva lucha para salvar la vida de Rocket el cual resultó gravemente herido al principio de la pelicula y no podía ser atendido ya que su creador el Alto Evolucionador le puso un interruptor, por lo que sus compañeros tuvieron que ir a donde se encuentra la sede de Orgocorp (compañía en la que crearon a Rocket) para buscar el código que desactiva el interruptor y Rocket pueda salvarse. Durante su viaje los Guardianes obtienen ayuda de Gamora, por lo que logran infiltrarse en la sede y se enfrentan a todo un grupo de villanos, en el proceso logran obtener el código que buscaban y salvan a Rocket. Durante la pelicula también podemos ver el pasado de Rocket en flashbacks los cuales tiene mientras agoniza, en el que se revela que fue creación de la compañía Orgocop la cual crea seres antropomorfos con animales para crear otra tierra, en las jaulas consigue amigos y logra escapar luego de una tragedia que le sucedió. Al final ganan la batalla contra el Alto Evolucionador y todo el equipo logran poner a salvo a todos los experimentos de la compañía Orgocorp, humanos y animales.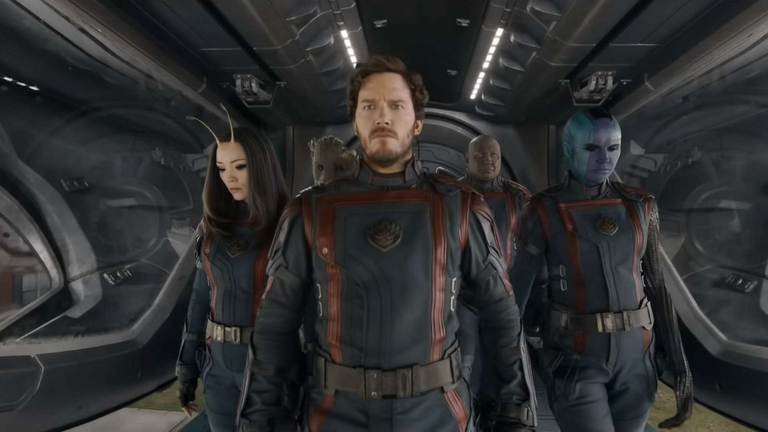 Source

My Opinion / Mi Opinión
eI think this is the best movie I've seen this year, I wanted to wait to see it with my dad and boy did we enjoy it. The work of the cast in general is masterful, I really like the chemistry they have and they contribute a lot to the movie, in my opinion they are the best characters that the UCM has given us since they seem to me the funniest and most charismatic of all ( although in general all the characters from other UCM movies are very good). I was waiting for this movie for a long time due to all the delays it had due to the firing and rehiring of James Gunn, and thank goodness they rehired him since in my opinion he did a great job. The story was also incredible, I really liked learning about Rocket's past, which is one of my favorite characters, and although it seemed a bit strong to me, I also liked how they showed the cruel way in which they experiment on animals, since that's how it happens for example with the cosmetics industry and I am totally against that practice. Something that I also loved is the tribute they pay to Laika, the dog that NASA left to die in space through the character Cosmo, the space dog (it should be noted that in the original story he is male, however his gender was changed as a clear homage to Laika). The story has a good mix of action, comedy and drama that makes it totally entertaining and I totally loved it.
Esta creo que es la mejor película que he visto este año, quise esperar para verla con mi papá y vaya que la disfrutamos. El trabajo del elenco en general es magistral, me gusta mucho la química que tienen y le aportan mucho a la película, en mi opinión ellos son los mejores personajes que nos ha dado el UCM ya que me parecen los más graciosos y carismáticos de todos (aunque en general todos los personajes de otras películas del UCM son muy buenos). Esta película la estuve esperando durante mucho tiempo debido a todos los retrasos que tuvo por el despido y recontratación de James Gunn, y menos mal que lo recontrataron ya que en mi opinión hizo un gran trabajo. La historia también fue increíble, me gustó mucho conocer el pasado de Rocket el cual es uno de mis personajes favoritos, y aunque me pareció un poco fuerte también me gustó como mostraron la manera tan cruel en la que experimentan con animales, ya que así pasa por ejemplo con la industria cosmética y yo estoy totalmente en contra de esa práctica. Algo que también me encantó, es el homenaje que le hacen a Laika, la perrita que los de la NASA dejaron morir en el espacio a través del personaje Cosmo, el perro espacial (cabe destacar que en la historia original es masculino, sin embargo su género fue cambiado como un claro homenaje a Laika). La historia tiene una buena mezcla de acción, comedia y drama que la hace totalmente entretenida y me encantó totalmente.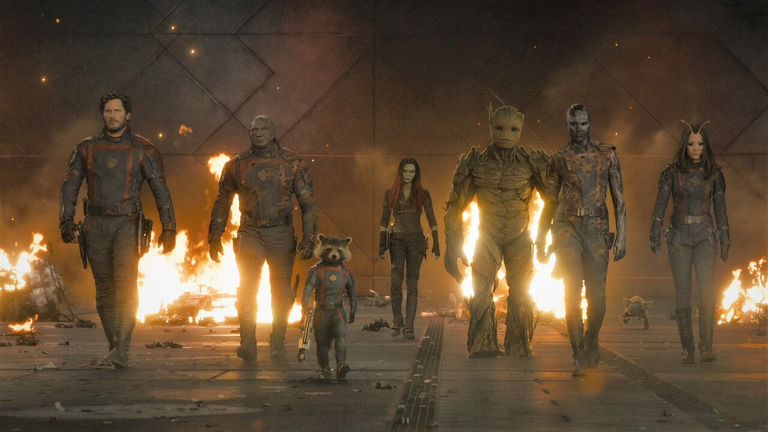 Source
The photography is really incredible as well as the special effects which fascinated me and the costumes and makeup is another thing that I love about the movie, my favorite characters are Gamora and Nebula whose characterizations are really incredible. The soundtrack of the film also seems too good to me, they chose incredible songs which adapt really well to the plot and I really did not dislike any of them, I think that the Marvel movie saga with the best soundtrack is this one since this one is delivery was not far behind and I hope to be able to acquire it very soon since my dad is living in the USA. In general terms, I think that it has been one of the best films after the phenomenon of Avengers: Infinity War and Endgame, since in my opinion, with some exceptions, the productions have fallen a bit and although this is the end of this saga, it is always the I will consider one of the best that has existed in the MCU, and I will really miss you, I would like to recommend the movie to all the fans of superhero movies who have not seen it yet, I assure you that you will love it and be surprised so much like me.
La fotografía es realmente increíble al igual que los efectos especiales los cuales me fascinaron y el vestuario y maquillaje es otra cosa que amo de la película, mis personajes favoritos son Gamora y Nébula cuyas caracterizaciones son realmente increíbles. El soundtrack de la pelicula también me parece demasiado bueno, escogieron canciones increíbles las cuales se adaptan realmente bien a la trama y de verdad no me desagradó ninguna, creo que la saga de peliculas de Marvel con los mejores soundtrack es esta ya que el de esta entrega no se quedó atrás y espero poder adquirirlo muy pronto ya que mi papá está viviendo en USA. En términos generales creo que ha sido una de las mejores películas luego del fenómeno de Avengers: Infinity War y Endgame, ya que en mi opinión, con algunas excepciones las producciones han caído un poco y aunque ya este es el cierre de esta saga siempre la consideraré una de las mejores que ha existido en el UCM, y de verdad los voy a extrañar, me gustaría recomendar la pelicula a todos los fanáticos de las peliculas de superhéroes que todavía no la han visto, les aseguro que la amarán y se sorprenderán tanto como yo.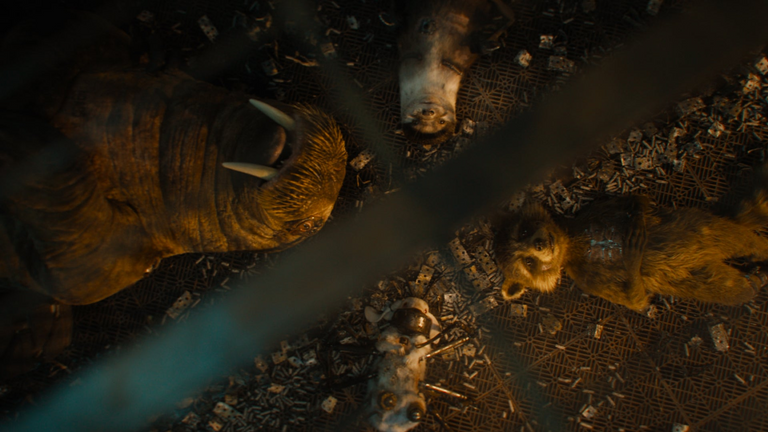 Source

Well dear friends this has been all for today's post, I hope you liked it and entertained. Thank you all very much for your attention and support of my work, I send you all a big hug and we will meet again in a new post.
Bueno queridos amigos esto ha sido todo por el post de hoy, espero que les haya gustado y entretenido. Muchas gracias a todos por su atención y apoyo a mi trabajo, les mando un fuerte abrazo a todos y ya nos reencontraremos en un nuevo post.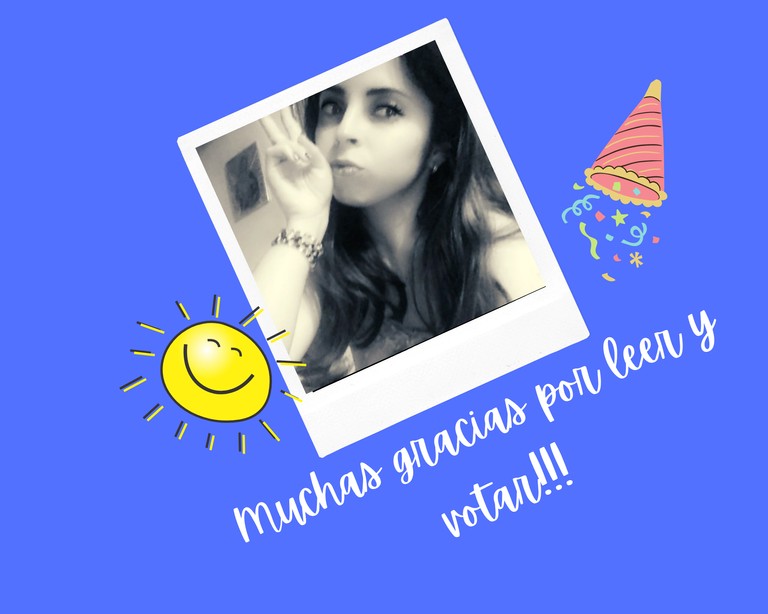 The farewell image was made by me with the canva editor
La imagen de despedida fue realizada por mí con el editor canva.