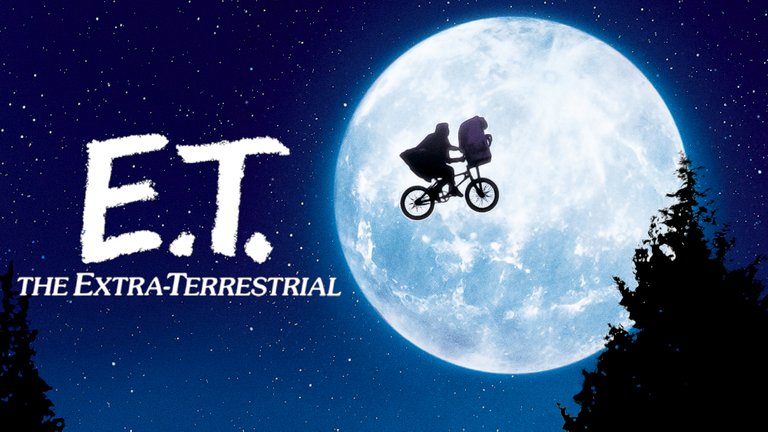 E.T. the Extra-Terrestrial

Hi Hivers, we are at the beginning of the fifth edition of "League of Movies" created by @wiseagent, in this first week the theme for our post is very nostalgic and full of memories, it's about "The First Time", it's the first time we went to the movie theater, this is an excellent theme to start this new edition so I will invite @joseda32 and @danielapevs to participate, just follow the rules that are the next link League of Movies.




"Hi, can I borrow your phone to make a call?"
I won't say that the other topics of the four previous editions haven't been important for the realization of many posts about cinema, but this week's one is very important because it made me talk about movies with my older brother as with my parents and just as we remembered the many movies that my brother and I watched, we realized that our first time in a movie theater was watching a movie by Steven Spielberg, he saw at the age of two "Close Encounters of the Third Kind" (1977) and then we were taken to see "E. T. the Extra-Terrestrial", I thought it was something predetermined, but it was pure coincidence and it is thanks to my parents that I have this great passion for watching movies so when we talk about this theme and this movie it has something special for me.
E.T. the Extra Terrestrial Original Trailer 1982
It is very difficult to relate something that you experienced at the age of three, that is why I turned to my mother to tell me how it was not only my behavior but also that of my brother who by that time would be 7 years old, I had turned three years old, my mother tells us that both my brother and I remained calmly watching in front of the big screen without making any problem without being scared by the sound or image of men chasing "E. T." and the kids, I was very happy to see my mom telling everything about that day because she seemed to be proud of my and my brother's behavior, her words were "You were listening to me and you were very quiet watching everything" and that makes me see that my behavior in a movie theater has been maintained for all the years I have.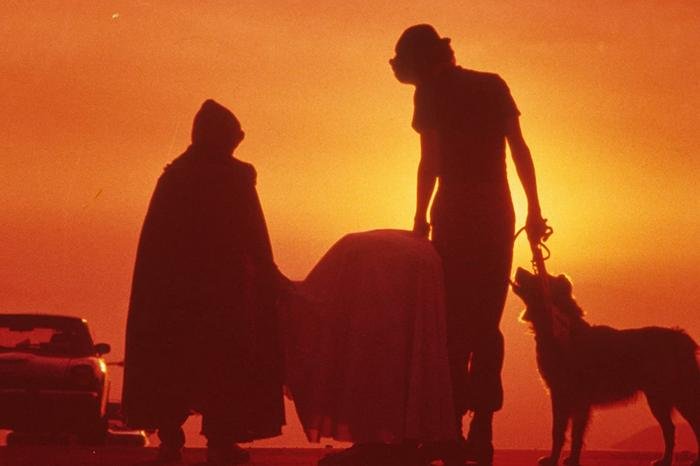 source
I love this movie, "E.T. the Extra-Terrestrial" became for me as a child a film that I always wanted to see at any time and my parents realized that it would serve to keep me calm, in my house we had a VHS player and my father got a copy of this film, it lasted so long that when I was older before my 10 years I thought that it had a kind of magic that would keep it intact and that there was never any problem when I wanted to see it, I really liked the story of a boy who makes friends with someone who does not belong to this world, it did not matter that they spoke the same language, only that there was always a way to communicate, this film made me want to learn to ride a bike and have fun with my friends, it even gave me the courage to kiss the prettiest girl in the classroom, well at least it gave me the idea to do it, actually this film is very special.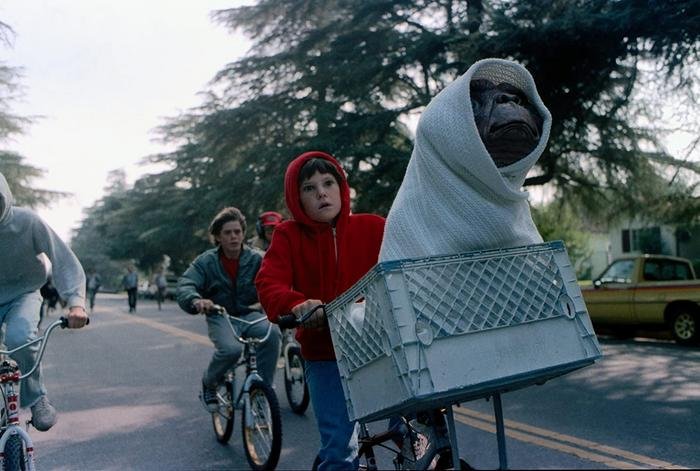 source
Now as an adult, after having spent so much time since its release, I still see the importance of this film, it is not only the image and the story of a great friendship between a child and an alien, I see the union of a family to protect one of their own, I see the loyalty that was formed and even a religious image in more than anything the last act of the film, but if there is something that makes me nostalgic and I know that as a child I call a lot of attention, That was the music of the great composer John Williams, all the themes are perfect, I don't think there is a composition in all the films that have worked together that has an effect on me as it happens with this film, for example the final scene would not be as perfect as it is without the music created by Williams, from the nostalgic to the victorious and with that ending when I see the ship leave, it is perfection and I think I have maintained that since I was a child until today.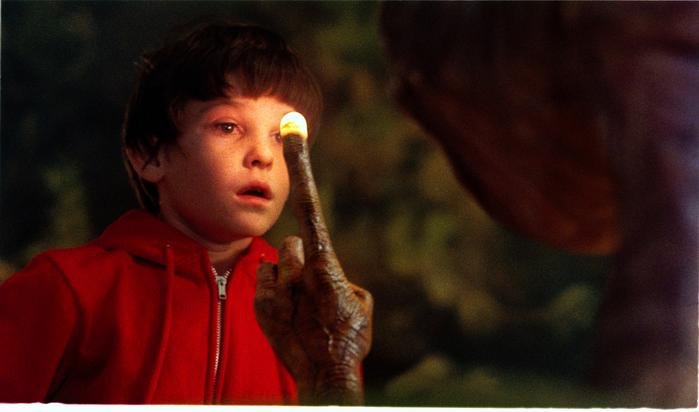 source
I want to thank @wiseagent for taking this topic for this week, that finally made my brother want to talk about movies, it made us talk and remember many things when we were kids, it made my mother remember many things and it was fun to be the three of us talking for a good time, but the best thing is that it made me see this jewel of the cinema again, I haven't seen this film for a long time and it is really pure magic for me, it is one of the best I have seen and I am glad it was my first film I saw in the cinema even though I don't remember anything about that day, for those who haven't seen it I say that in Amazon Prime Video you can find it and enjoy it, recommended forever.