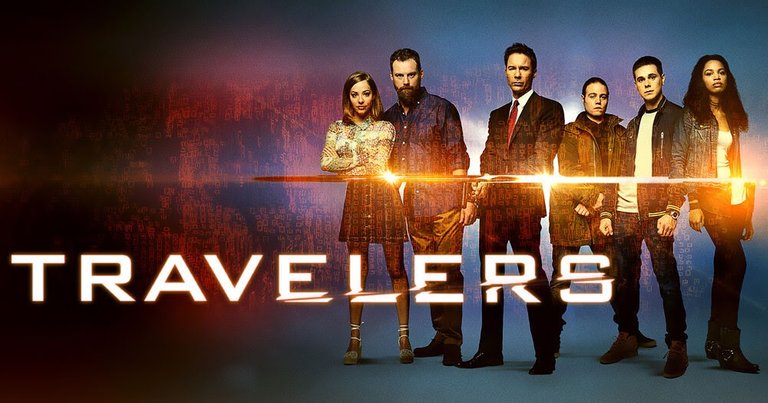 Travelers, es una serie de ciencia y ficción de Netflix que me recomendó ver @josecarrerag, que por cierto le agradezco por la recomendación ya que quede fascinado con la serie.
Esta serie consta de 3 excelentes temporadas, cada una de ellas se va desenvolviendo según las diferentes circunstancias y eventos que pasan en diferentes eras, o digámosle mejor "presente y futuro", ya que todos sabemos que cualquier cambio en el pasado o presente afecta en la misma medida al futuro, o inclusive con mayor impacto, y esto es una de las cosas que más se destaca en esta serie.
En la primera temporada podemos ver la llegada de estos viajeros del futuro. La primera viajera entra en el cuerpo de una chica con problemas de deficiencia mental el cual trabaja en una biblioteca. Una vez que se da cuenta que una amiga esta siendo victima de un robo y acoso, toma la valentía de salir a defenderla, sin embargo es golpeada y esta cae al suelo por la contusión. En ese momento siente un fuerte dolor de cabeza y algo apoderándose de ella, y es a los segundos antes de su muerte que la viajera 3569 toma el control de su cuerpo, y el inicio de su nueva vida. Debemos dejar en claro que esta murió una vez que el viajero toma el cuerpo del huésped.
Otra de las viajeras toma el cuerpo de una mujer que es victima de violencia domestica, una vez que su pareja en estado de ebriedad la golpea fuertemente y esta cae al suelo retorciéndose del dolor por la contusión y por el proceso de posesión del viajero en su cuerpo.
A estas dos se les suma otros dos viajeros, uno de ellos es un atleta de un instituto quien parece haber tenido una vida desenfrenada y arrogante todo lo que su nuevo huésped es. Y por otro lado tenemos a un adicto a la heroína quien iba a morir por una sobredosis de droga, pero que cuyo cuerpo fue salvado por el nuevo huésped del futuro.
Cabe destacar que estos viajeros fueron entrenados para evitar catástrofes y ciertos eventos importantes del pasado que afectaron su futuro. Ellos son humanos también en un mundo donde la tecnología les ha permitido transferir sus conciencias como viajeros del futuro, a cuerpos del pasado, pero para que la ecuación se de, el cuerpo del huésped tiene que morir, es decir, digamos que tiene que estar sentenciado a muerte, puede ser natural o por posible asesinato.
Travelers, is a science and fiction series by Netflix that I recommended to see @josecarrerag, which to the way I thank you for the recommendation since I was fascinated with the series.
This series consists of 3 excellent seasons, each one of them unfolding according to the different circumstances and events that happen in different eras, or let's call it better "present and future", since we all know that any change in the past or present affects the future in the same way, or even with greater impact, and this is one of the things that stands out the most in this series.
In the first season we can see the arrival of these travelers of the future. The first traveler enters the body of a girl with mental deficiency problems who works in a library. Once she realizes that a friend is being robbed and harassed, she takes the courage to go out and defend her, however she is beaten up and falls to the ground to the bruise. At that moment she feels a severe headache and something taking hold of her, and it is seconds before her death that the traveler takes control of her body, and the beginning of her new life. We must make it clear that she died once the traveler takes over the body of the host.
Another traveler takes over the body of a woman who is a victim of domestic violence, once her partner in a drunken state hits her hard and she falls to the ground writhing in pain from the contusion and from the process of the traveler's possession of her body.
These two are joined for two other travelers, one of whom is a high school athlete who seems to have had an unbridled and arrogant life all that his new host is. And on the other hand we have a heroin addict who was going to die from a drug overdose, but whose body was saved to the new host of the future.
It should be noted that these travelers were trained to avoid catastrophes and certain important events of the past that affected their future. They are human too in a world where technology has allowed them to transfer their consciousness as future travelers, to bodies of the past, but for the equation to work, the host body has to die, that is, let's say it has to be sentenced to death, it can be natural or by possible murder.
---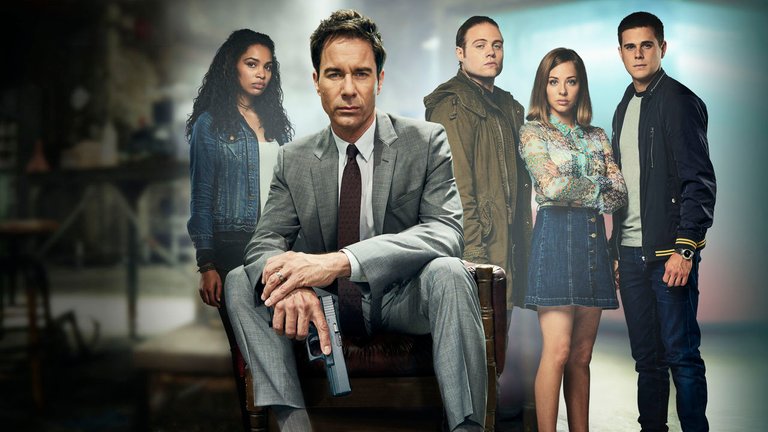 Estos viajeros empezaron a levantar sospechas por su comportamiento, haciendo que uno de los detectives del FBI le hiciera seguimiento hasta descubrirse que él también seria uno de los cuerpos huéspedes para el líder de dicho grupo de viajeros. Que al final esta conformado por Phillip, un historiador (el drogadicto) el cual juega un papel fundamental ya que es la persona que sabe cuales son las fechas, las personas y todo los eventos y sucesos, una persona con una capacidad de recuerdos enorme.
También tenemos a un medico que en este caso es Marcy la huésped del cuerpo con deficiencia mental, cuya vida se le complica por el error ecuacional del director (maquina que se encarga de mirar entre millones de posibilidades para calcular cual es la solución y evitar ciertos eventos, así como elegir el cuerpo huésped del viajero). Carly, (táctico del equipo) que antes era una ama de casa abusada por su pareja. Trevor, el joven futbolista que ahora es el ingeniero del grupo de viajeros y por ultimo el líder Grant.
These travelers began to raise suspicions about his behavior, causing one of the FBI detectives to follow him until it was discovered that he would also be one of the guest bodies for the leader of this group of travelers. That in the end is made up of Phillip, a historian (the drug addict) who plays a fundamental role since he is the person who knows the dates, the people and all the events and happenings, a person with an enormous capacity of memories.
We also have a doctor who in this case is Marcy the host of the body with mental deficiency, whose life is complicated to the director's equation error (machine that is in charge of looking among millions of possibilities to calculate which is the solution and to avoid certain events, as well as to choose the host body of the traveler). Carly, (team tactician) who was once a housewife abused for her partner. Trevor, the young footballer who is now the engineer of the travelers group and finally the leader Grant.
---
---
La primera temporada se centra en que los viajeros deben evitar una explosión de un dispositivo nuclear que acaba con un numero importante de personas, pero a su vez utilizar este elemento para evitar el choque de un meteorito que esta por amenazar la raza humana y acabar con millones de personas.
En esta temporada los viajeros empiezan a dudar entre si mismos, ya que deben vivir la vida de cada uno de sus huéspedes las cuales tienen vidas particulares, y a su vez asegurar que cada una de las misiones se cumplan. Mientras por un lado vemos como uno de ellos lucha contra la adicción, otra con las amenazas de su pareja, por otro lado nos conseguimos con un matrimonio que empieza a ser un tanto disfuncional, y cambios en un joven rebelde que alerta a sus conocidos.
The first season focuses on travelers avoiding an explosion of a nuclear device that kills a significant number of people, but at the same time using this element to avoid the collision of a meteorite that is about to threaten the human race and kill millions of people.
In this season, travelers are beginning to doubt themselves, since they must live the life of each of their guests who have particular lives, and at the same time ensure that each of the missions are fulfilled. While on one hand we see how one of them fights against addiction, another with the threats of his partner, on the other hand we get a marriage that begins to be somewhat dysfunctional, and changes in a young rebel who alerts his acquaintances.
---
---
En la segunda temporada se deja notar el éxito de la primera misión, sin embargo todo no termina allí, los viajeros tienen una nueva amenaza llamada "facción" un grupo de viajeros que buscan tener el poder por encima de las decisiones del director, dando el poder enteramente a las decisiones humanas, lo que amenaza cada una de las misiones inclusive corre el riesgo de que se haga publico el proyecto de los viajeros, haciéndoles ver como terroristas.
La facción usa las mismas señales del directos para la creación de un cuadro cuántico que permite resguardar un sin fin de números de datos para nuevos huéspedes, sin embargo se descubre que este artefacto es usado para traer del futuro a decenas de viajeros del grupo de facción, algo con el que los viajeros junto con los directores tienen que ir descubriendo uno tras otro para sobrescribirlos, es decir, que otro viajero no corrupto tome posesión del cuerpo.
La viajera Marcy se ve muy afectada saludablemente por un error del director, sin embargo tiene una esperanza de vida lo que le conlleva a perder ciertas memorias importantes de su vida y su relación con su amigo y cuidador social David.
Tanto como la primera y segunda temporada contienen 16 capítulos cada uno, cada segmento te deja con ganas de ver más, algo de lo que ya me habían advertido, es realimente fascinante como todo se va conectando y la perspectiva de vida que tienen cada uno de los viajeros a pesar de que la misión esta primero que todo.
In the second season the success of the first mission is noted, however it does not end there, the travelers have a new threat called "faction" a group of travelers who seek to have power over the decisions of the director, giving the power entirely to human decisions, which threatens each of the missions even runs the risk of making public the project of the travelers, making them look like terrorists.
The faction uses the same signals from the live show to create a quantum picture that allows to safeguard an endless number of data for new guests, however it is discovered that this device is used to bring from the future dozens of travelers from the faction group, something that the travelers along with the directors have to discover one after another to overwrite them, that is, that another non corrupt traveler takes possession of the body.
The traveler Marcy is very much affected for a director's mistake, however she has a life expectancy that leads her to lose certain important memories of her life and her relationship with her friend and social caretaker David.
As much as the first and second season contain 16 chapters each, each segment leaves you wanting to see more, something I had already been warned about, it is really fascinating how everything connects and the perspective of life that each of the travelers have even though the mission comes first.
---
---
En la tercera temporada se deja ver el descubrimiento de los viajeros ante los demas, pero ademas de ello se descubre que el primer viajero es el lider de la faccion, muchas vidas se ven amenazadas, inclusive personas con las cuales seguramente tuviste una conexion pierden la vida. El FBI termina por decidir si acabar con los viajeros o trabajar junto a ellos por la paz de la tierra.
Sin embargo, podemos ver que todas las deciones no son perfectas, todas conllevan cambios y consecuencias, traciones y alianzas necesarias por un objetivo colectivo, salvar la humanidad de los mismos humanos.
En travelers, podras ver escena de amor, acción, frustracción entre otras que te tendra siempre entretenido, sin embargo para opinion personal, creo que es una serie prometedora que pudo haber tenido muchas más temporadas con un mejor final, sin embargo, leyendo un poco sobre la posible 4ta temporada, me he encontrado con que la han cancelado, es una tristeza, y para el final de la tercera temporada, realmente era algo de esperarse. Aun así la recomiendo con los ojos cerrados, vale la pena verla, y tiene muchos mensajes importantes, y uno de ello es que no debemos olvidarnos quienes somos realmente y que tenemos sentimientos que nos llevan a decidir el bien de aquellos que amamos por encima de todo.
In the third season, the discovery of the travelers is seen before others, but in addition to that it is discovered that the first traveler is the leader of the faction, many lives are threatened, even people with whom you surely had a connection lose their connection. lifetime. The FBI ends up deciding whether to kill the travelers or work alongside them for peace on earth.
However, we can see that all decisions are not perfect, they all entail changes and consequences, tractions and alliances necessary for a collective goal, to save humanity from humans themselves.
In travelers, you can see a love scene, action, frustration among others that will always keep you entertained, however for personal opinion, I think it is a promising series that could have had many more seasons with a better ending, however, reading a bit about the possible 4th season, I have found that they have canceled it, it is a sadness, and by the end of the third season, it was really something to be expected. Even so, I recommend it with my eyes closed, it is worth seeing, and it has many important messages, and one of them is that we must not forget who we really are and that we have feelings that lead us to decide the good of those we love above everything.