I tried to live like I didn't have a paycheck and below is some retell of how things are going. Last year, I was working for more than 6 months without pay and on survival mode. The influx of income screwed some of my financial decisions allowing some spending on things I like but don't need. Around 3 months ago, I made a budget plan and a goal of not checking what's on my bank account for 3 months.
Disclaimer: None of this is financial advice and I expect people to take what they read with a grain of salt. I don't endorse people to YOLO their money into crypto if they haven't done their research and assumed their informed risks.
The Financial Challenge
No ATM withdrawals unless it's an emergency (hasn't happened yet).
Stick with the reasonable budget
Cut down expenses that aren't necessities
Abandon social life and just sacrifice a few life points to be a diligent wage slave (optional and fighting).
It's been 3 months since I last checked what's on my bank account and I'm thinking of extending the living thrift challenge. But then the taste of food and other mundane luxury grows enticing as days go by. It's not a surprise that what I earn by my country's minimum wage standards as markedly high for the average person as a perk to working in a specialized field.
Here's the frequent remark that became an internal pet peeve, "You're a doctor? You must have a lot of money", there is a good reason for the stereotype but it's not like people really think above the appearances for the sake of small talk. I could make a comeback about the living expenses I have to shoulder because I'm in the profession, filial piety for living in an Asian culture, having to pay more taxes, and the disadvantage of people assuming I got my life better because a few more digits on my pay slip.
The rich doctors tend to be from wealthy and established family names, or those with a lot of disposable income to maintain an appearance (this profession has a lot of side gig opportunities). Those that are in the average and below zone (where most doctors are) tend to have a lot of bills to pay, use their income on strangers for the common good, and maybe just irresponsible with the excess cash flow.
Anyway, 3 months of not checking what's on my ATM challenge was inspired by how long could I last given the level of financially literacy and resources I have accumulated for the past months. After making a budget plan, and destroying the EMV chip on my ATM card, I'm all set. I did have some reserve funds for emergency cases relating to health. Living below my means prior to the challenge made me last this long and I think I could go for another 3 months more for kicks and giggles.
I walk to work (around 1.5-2 km distance), went on diet, and stayed away from scenarios where I get tempted to spend more than the budget. That's game plan and it worked considering food and transports were the only necessities I have more control compared to utilities and tax.
Telling you right now that plain bread tastes the best when you use hunger as your only spice. Fried eggs and bananas are efficient to fill up your stomach. At first it felt like self punishment but when comparing how much is spent daily versus previous months, there is some dopamine kick to it.
Subtracting my other financial obligations, my total expense was around 175 to 250 dollars a month (more or less). I could've cut down the expenses lower if I didn't live in a city and commercial food didn't have to taste good.
Financial literacy is like a bad medicine to a virtue signaling conservative society nurtured by consumerism. It's the lesson everyone needs but a hard pill to swallow. I live in a country where there is strong emphasis on religion and the pursuit of money is bad even if learning about it can make people financially capable and functioning members of society.
Inspirations
I came across the book called Poor Economics: A Radical Rethinking of the Way to Fight Global Poverty and it was mentioned in the books I sought after mentioned here. I already knew some of the contents of the books I planned to buy, it's just a matter of wanting them on pdf or paperback.
Poor Economics has a lot of interesting insights about how people living poverty make complex financial decisions and still be irrational.
A snippet on the content explores about why the poor spends so much on money on food and the complex choices they make when it comes to their food purchase. The gist is that acquiring nutritionally balanced food items for your meal can be cheap and yet people would opt for food items that have more flavor (a higher price). An egg that contains a lot of protein, bread, rice, salt, and maybe some green leafy vegetables cooked at the most basic recipe one could come up with can be nutritionally balanced. But we know this doesn't sound like one is living, it sounds more like survival mode and living is what people want to do.
So articles like this PH poverty: You're not poor if you spend more than P18.62 per meal didn't make sense until I expanded what I knew about economics. People make complex financial decisions especially those living in poverty. And making rational decisions become simpler when you got plenty of resources to have room for trial and error. This was a reflection I came across when I wanted to cut down my food expense at the most basic level and yet eating fried eggs, bread, veggies, and milk for weeks seemed like punishment.
I'm stuck in a zone where I'm happy that I'm able to live below my means yet dissatisfied that even after stacking up my resources, they fall short to some ambitious financial goals in mind. But it's a long term process and I just started so meh.
Pursuit of Self Improvement
I got a decayed art blogging account @artofadamada but there's a noticeable lack of content there. Lately my focus shifted on increasing my financial smarts to balance my procrastination when I should be productive at art. Just to make it less scathing to do self-evaluation whenever I reflect on how I spend my time, I have to balance it by doing something equally productive. While my artsy side degrades, my money smarts increased and learning more about macroeconomics broadened my view about the world.
US recession is happening and the bear markets got me excited. The Philippine peso keeps getting rekt on the exchanges and everyone's eyes are on the US market. I checked the Philippine's central bank and their recent 4.25% and not much buzz has been given to these changes on the daily television programming. The fact that most Filipinos couldn't care less about what happens in the economy until it starts affecting their daily living is amazing. The default to blame will be who's running the country for areas they aren't in control of like the world market and this is exactly how you'd expect from a country with low financial literacy levels.
The transition period right after getting a degree to being a fully functioning adult to society is a jump in a volcano strapped to a bomb. Unless your course has something to do with finance, you're stuck trying to figure how out what healthy personal finance is and how you can make your own portfolio (the average person here doesn't know the concept of a portfolio).
There is a steep hill to overcome when you want to convince people to make better financial decisions. It only takes an escalator ride if it's just convincing them to buy something online. Everyone can acknowledge they need to expand their financial smarts but procrastinates on it. If there is a sound financial advice to be given here, it's just opening a bank account, check out available traditional investment vehicles offered, get a life insurance, and spend more time reading more on personal finance because those activities don't hurt anyone.
In addition to the above, I'm just shopping for some tokens, land and local stocks for sale just to diversify. I'm mostly focusing on passive cash flow opportunities.
The HBD Being a Financial Hack, Sort of
If HBD is pegged to the US Dollar, this functions like a pseudo dollar savings account for people that don't have one. If you look at the the USD/Philippine peso exchange rate, it doesn't look good for the local currency. I made a forecast that it's going to get higher back when it was just 54 pesos per USD and dang. While the uninformed would celebrate knowing that their USD remittances get more value, eventually everything within the country will start inflating in price.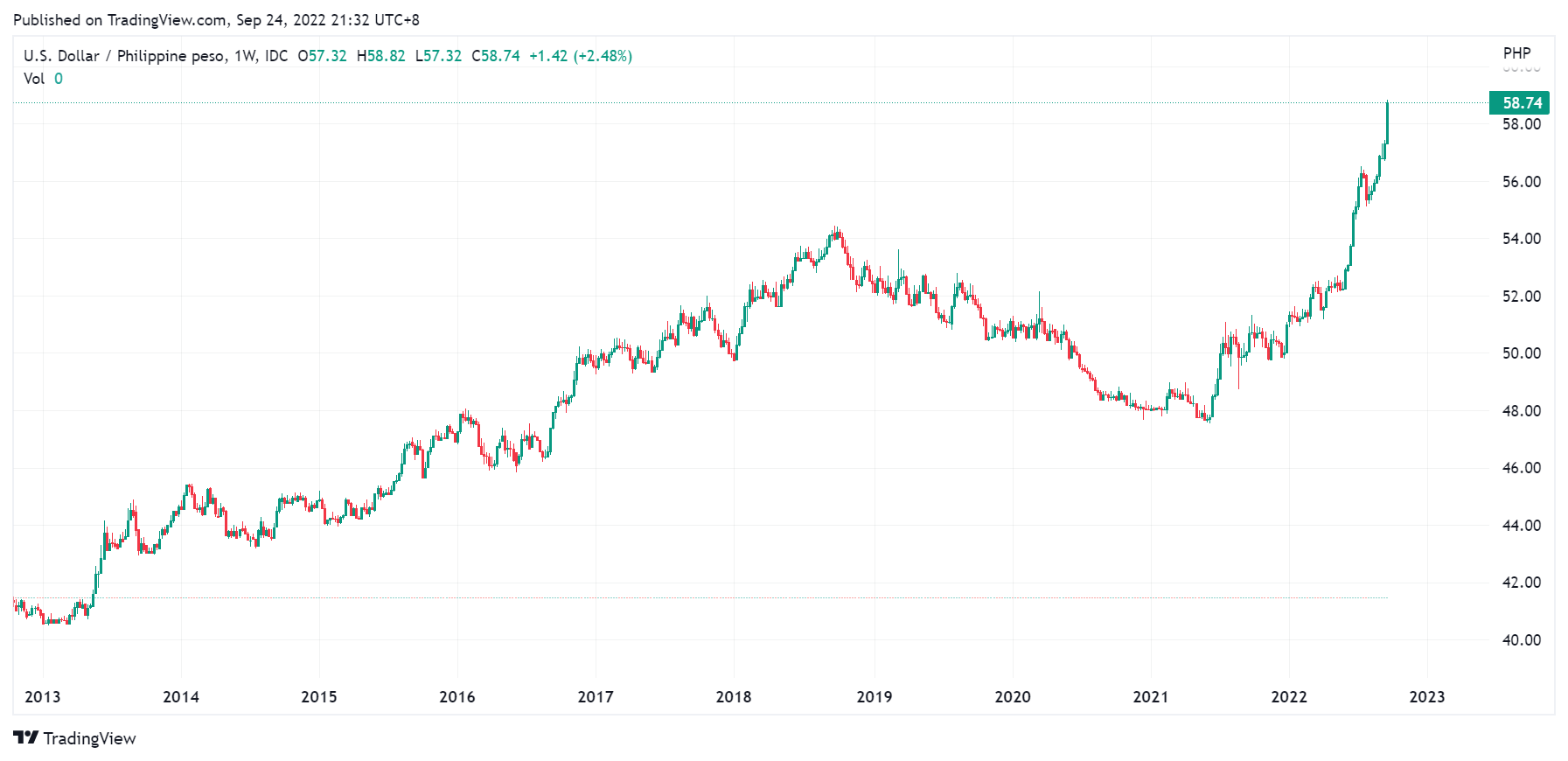 The country reported around 6.3% inflation for the month of August 2022. Now a lot of people here don't really know or are aware of how this affects their daily living because inflation is not a term one uses daily. The terms often used daily are increase in price of basic necessities and oil but to expect an average person here understands the basics of how things are the way they are in the economy is fantasy.
If I wanted to make a bet between the USD and Peso, I'll be taking my chances with HBD. It's not an endorsement to go YOLO, this is still crypto. It's nice to have some stockpile but not beyond the level you'd gamble your retirement on it.
The previous bear market taught me stuff that I should be doing and some of those are set in motion. What's more important to me now is exponentially increasing that knowledge of surviving bear market conditions because this is the season where riches can be made.
Insert: An inspirational quote here from some random finance wizard online or a proverb to make the post look less bad.
If you made it this far reading, thank you for your time.
Posted Using LeoFinance Beta