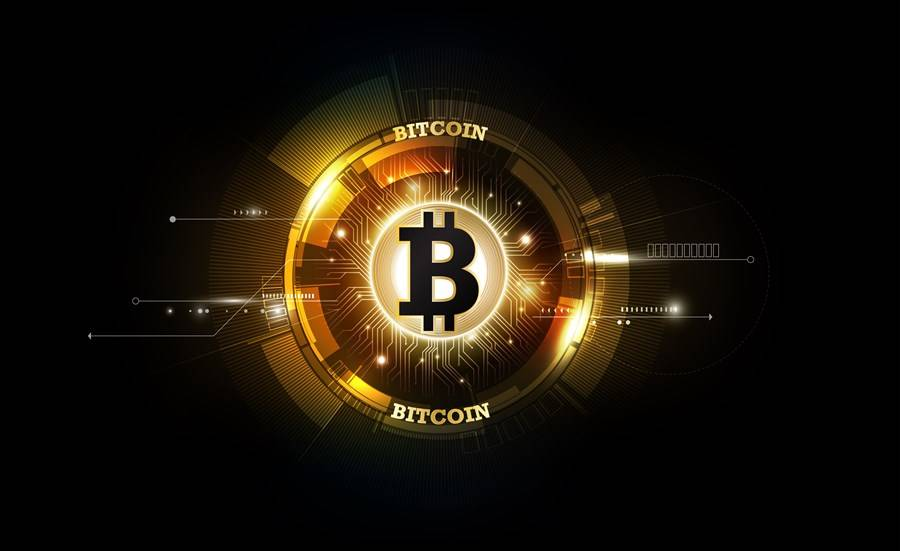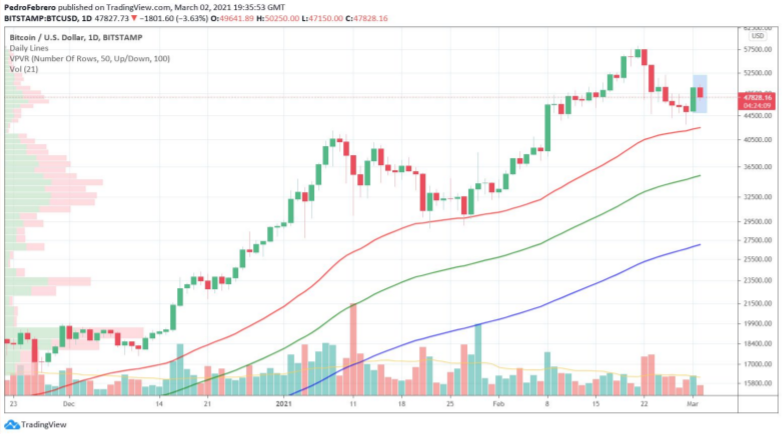 Yesterday, bitcoin had an impressive rally, rising back above $49,000. In the past 24 hours, bitcoin grew over 12% and was trading around $47,800 at the time of this writing, according to CoinGecko.
Nevertheless, today has been a red day for bitcoin, and since it reached the daily top, it has fallen around 4%. Hence, there may be a significant price decline during the next few days.
However, if the price trend continues to move up, we think BTC/USD will start a brand new upward movement, hopefully toward $60,000 and higher. Let's wait until the end of the trading day to see whether bitcoin holds above $50,000 or not. That will make the overall picture more clear.
Still, we notice that the reason for the recent pump in BTC/USD is that a horde of new buyers arrived in the market. Hence, we could see bitcoin's price rising shortly.
Also, as CoinDesk's Omkar Godbole reported today,
"Institutional traders look to be positioning for a bitcoin price rally to $75,000 and beyond in coming months, according to options market data."
Hence, if the futures markets tell us anything, it is that bitcoin's price could soon climb to $70,000 and even higher.
Coming back to the chart above, we also noticed that BTC/USD did not reach the predicted bottom and started a new leg up without touching the 20-day MMA (Modified Moving Average).
The reason why we think bitcoin's price may still fall is linked to the last drop at the end of January. If BTC/USD follows a similar pattern, we could be in for a dreadful week.
To conclude, bitcoin's price traded within the predicted range (blue), and if it finds support above $50,000, we think there's a high chance BTC/USD will continue to move up.
As a reminder, we are confident that BTC/USD will reverse its downtrend soon, and the long-term uptrend to resume right after. We remain bullish on BTC/USD as long as:
BTC/USD remains above its 20-day MMA (red), 50-day MMA (green), and 200-day MMA
(blue).
BTC/USD doesn't drop below $47,000.
BTC/USD daily volume goes above its 21-day Moving Average soon.
What Do Traders Think?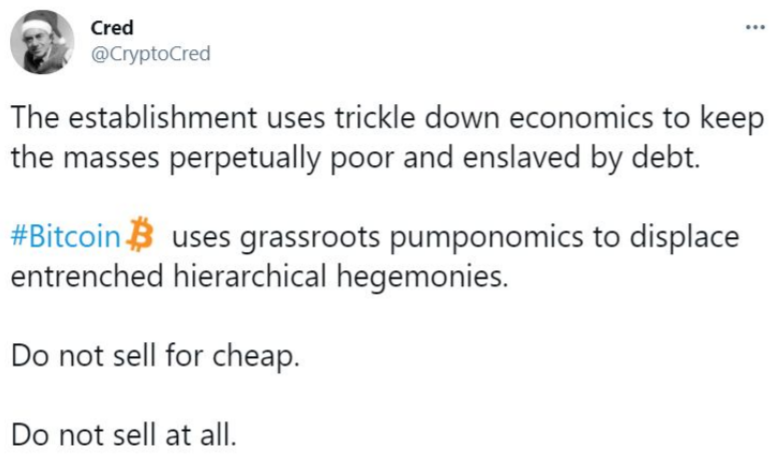 This week's first tweet comes from Cred, a cryptocurrency trader with over 215,000 followers on Twitter.
In his post, Cred makes a comparison between inflation-based and deflation-based economies. He writes,
"The establishment uses trickle-down economics to keep the masses perpetually poor and
enslaved by debt. #Bitcoin uses grassroots pumponomics to displace entrenched hierarchical hegemonies."
While we cannot know for a fact that a disinflationary currency (i.e., bitcoin) would solve poverty or debt problems, we know there have been instances where deflation promoted economic growth and higher pay. Pedro Febrero, an analyst at Quantum Economics, explains how this works in this research essay.
Adding to that, we think bitcoin may help its users store value during long periods.
Hence, we understand why Cred wrote
"Do not sell for cheap."
Of course, we think it is important for traders to take profits at appropriate times, even if you're thinking long term, in order to play it safe.

The next post comes from The Wolf Of All Streets (Scott Melker), whose Twitter describes him as an investor, podcaster, and author of The Wolf Den Newsletter.
In his post, Melker writes something that we agree with, stating that
"I would feel much more confident that the correction is over if $BTC was trading firmly above 51K or so."
Essentially, Melker thinks that until bitcoin's price finds support above $51,000, we're not out of the woods.
Could we still see BTC/USD dropping below $45,000? We don't think that will happen, but there's still a chance. Hence, trade with care.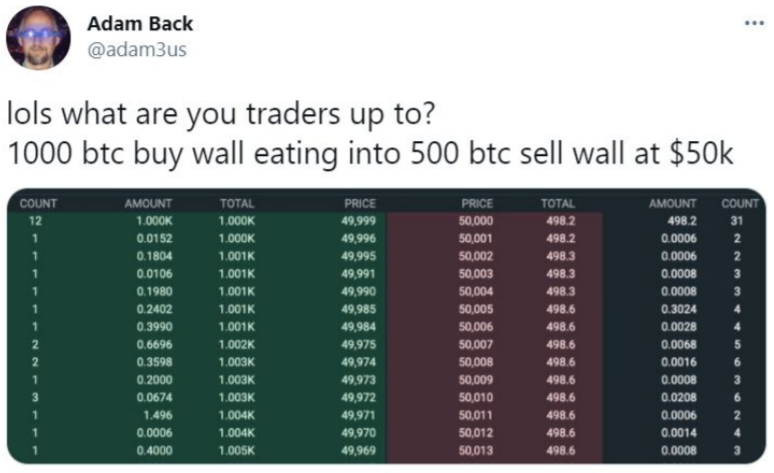 The next tweet comes from Adam Back, a prominent cryptographer who is the co-founder and CEO of Blockstream.
In his post, Back builds on Melker's tweet, writing that
"1000 btc buy wall eating into 500 btc sell wall at $50k."
In other words, there are a significant number of buy orders near $50,000. At the time of this writing, bitcoin's price is trading close to $48,000, which means that the uptrend could be turning bearish.
We think that if today's close is above $48,000, bitcoin's price may continue its upward trend. In case the opposite happens, the $41,000 target could be met in just a few days.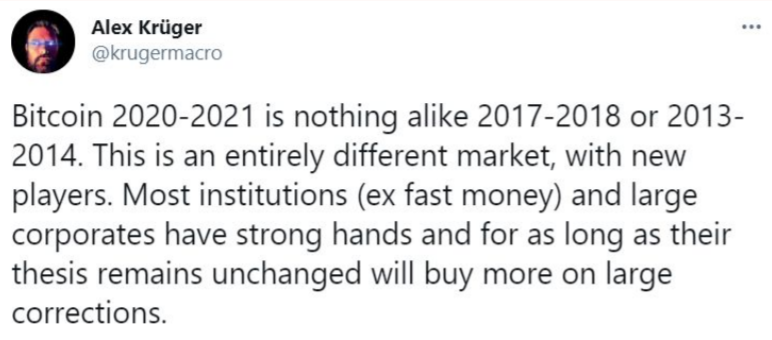 The last post of the day comes from Alex Kruger, an economist and trader with more than 66,000 Twitter followers.
In his tweet, Kruger shares the main reason he thinks the current bull cycle is substantially different from previous ones.
As we've explained in previous editions of the "Daily Roundup," the main reason is that the players are quite different today than those who participated in previous bull markets. Namely, there are now corporations, institutional investors, and wealthy individuals acquiring large amounts of bitcoin, instead of just retail traders.
This means that bitcoin's price may perhaps suffer less volatility than it did in previous cycles; hence price corrections may never reach 30% again. Of course, that also means less upside volatility.
In any case, we think that these new players are buying bitcoin for the long term; therefore, we expect the price of bitcoin to continue to rise.
Bitcoin Price Prediction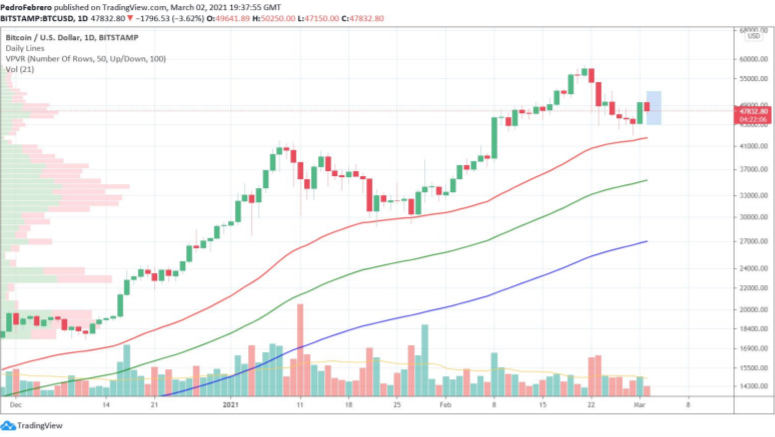 Today, bitcoin's price had a minor drop after the excellent rebound yesterday, which took the cryptocurrency back above $49,000. At the time of this writing, BTC/USD was trading close to $47,800.
While we think there's still a chance for a drop today, bitcoin's price is holding well above $47,000, which could mean a new bull run just started. We hope it goes far above $60,000 before BTC/USD has another 20% to 30% correction.
Like Kruger mentioned in the previous section, as long as institutional buyers keep accumulating bitcoin, there is little chance for a reversal of the long-term uptrend.
Additionally, yesterday, bitcoin's price traded within the predicted range (blue).
How do we think the price will trade today? As shown in the above chart, we believe that bitcoin could top around $52,000 if new buyers enter the space. However, we think at that price range, new sellers will get involved, so we think bitcoin may need to consolidate below $50,000 before making a run toward $60,000.
On the other hand, we don't expect the cryptocurrency to drop much below$45,000 due to the sheer number of buy orders located around this price region. Also, there's still a chance BTC/USD moves toward its 20-day MMA.
To finalize, the Volume Profile Visible Range (VPVR) shows a high number of buy orders between $45,000 and $50,000, and then again at $41,000, which means BTC/USD should not go below $40,000, even if things go south.
As a reminder, we believe BTC/USD will most likely return to its uptrend in less than a week.
Posted Using LeoFinance Beta