EN: Hello everyone. The bear market continues. It is now spread over a medium-term period. I hope we don't experience a long-term bear market. 🙂 People are usually willing to invest in bull runs. Few people are active in a bear market. But to be different from the majority, we must start investing while the bear run continues.
I've been trying to increase my investments for a while. I started collecting POB and LEO last September. I never stop my Hive investments. In July, I made a post about the current status of my account. A month ago, I also talked about the POB investment and my goals. I will add the relevant links at the end of the article. In this article, I will talk about the current status of my account.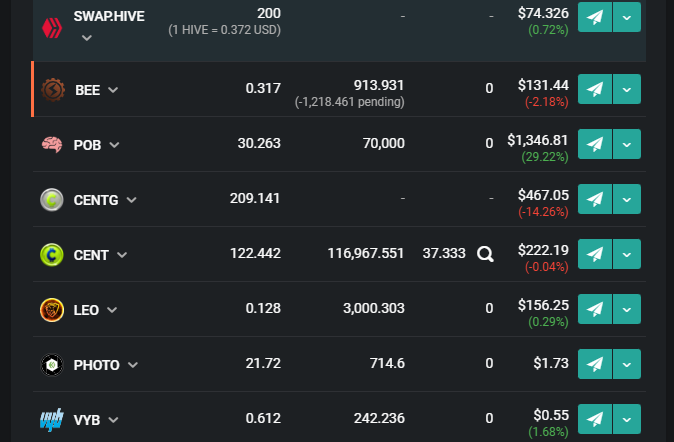 Hive Power:
I reached the level of 3.625 HP. I am not staking the new Hive. I usually collect from my articles. I also continue to rent HP. I currently have 10,550 leased Hive Entitlements. My first goal in accumulating HP is to reach 5000 HP.
Cent:
I have reached the 117,000 Cent Power level. I mentioned earlier that I stopped saving Cent. The number of Cent curators and the volume of Cent Power have increased significantly. However, I will not start staking Cent yet. My new Cent earnings consist of curating operations and writing.
Leo:
I have reached 3,000 Leo Power level. My new staking process continues. I mostly buy LEO. My first goal in LEO is to reach 5000 Lion Power level.
Pob:
I reached 70,000 POB power level. In my previous article about POB, I mentioned the 75,000 Pob Power target. At that time I had staked 55,000 POB. I have 5000 POBs left before I reach my goal. I usually buy and stake.
Bee, Sps, Vyb, Photo, Glx etc. I have cryptocurrencies that I trade from tokens. I also stake a lot of tokens. However, I do not have a specific goal in these. I can make strategy changes.
My curation trail.
https://hive.vote/dash.php?trail=anadolu&i=1
Previous my account status:
https://peakd.com/hive-173575/@anadolu/current-status-of-my-account
I mentioned that I started collecting Pob Power:
https://peakd.com/hive-150329/@anadolu/i-staked-55-000-pob
This article is not investment advice. I usually write for myself. I check my progress by looking at past posts. Setting goals also motivates me. See you in new articles. Stay tuned.
---

TR: Herkese merhaba. Ayı piyasası devam ediyor. Artık orta vadeli bir sürece yayılmış durumda. Umarım uzun vadeli bir ayı piyasası yaşamayız. 🙂 İnsanlar genellikle boğa koşuları devam ederken yatırım yapmaya isteklidirler. Ayı piyasasında ise çok az kişi aktif olur. Ancak çoğunluktan ayrışmamız için ayı koşusunda yatırıma başlamamız gerekiyor.
Ben de bir süredir yatırımlarımı artırmaya çalışıyorum. Geçtiğimiz Eylül ayında POB ve LEO biriktirmeye başladım. Hive yatırımlarıma zaten hiç ara vermiyorum. Hesabımın güncel durumuyla ilgili Temmuz ayında bir paylaşım yapmıştım. Ayrıca bir ay önce POB yatırımından ve hedeflerimden bahsettim. ilgili bağlantıları yazının sonuna ekleyeceğim. Bu paylaşımda ise hesabımın güncel durumundan bahsedeceğim. Ayrıca beni motive etmesi için hedeflerimi de paylaşacağım.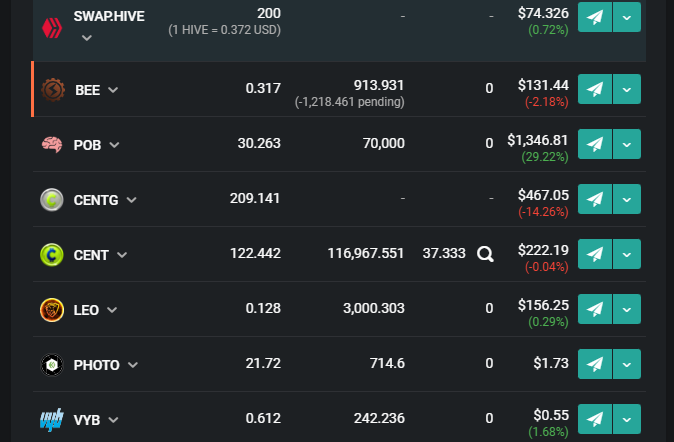 Hive Power:
3.625 HP seviyesine ulaştım. Yeni Hive stake etmiyorum. Genellikle yaptığım paylaşımlardan biriktiriyorum. Ayrıca HP kiralamaya devam ediyorum. Şu anda 10.550 adet kiralanmış Hive Power sahibiyim. HP biriktirme konusunda ilk hedefim 5000 HP seviyesine ulaşmak.
Cent:
117.000 Cent Power seviyesine ulaştım. Daha Cent stake işlemlerini durduğumdan bahsetmiştim. Cent küratörlerinin sayısı ve Cent Power hacmi oldukça arttı. Ancak henüz Cent stake etmeye başlamayacağım. Yeni Cent kazançlarım kürasyon işlemlerinden ve yazarlıktan oluşuyor.
Leo:
3.000 Leo Power seviyesine ulaştım. Yeni stake etme işlemlerim devam ediyor. Çoğunlukla satın alarak power up yapıyorum. LEO'da ilk hedefim 5000 adet Leo Power seviyesine oluşmak.
Pob:
70.000 POB Power seviyesine ulaştım. POB'la ilgili önceki paylaşımda 75.000 Pob Power hedefinden bahsetmiştim. O zaman 55.000 adet POB stake etmiştim. Hedefe ulaşmama 5000 POB kaldı. Genellikle satın alarak stake ediyorum.
Bee, Sps, Vyb, Photo, Glx vb. jetonlardan ticaret yaptığım kripto paralar oluyor. Ayrıca bir çok jeton stake ediyorum. Ancak bunlarda belirli bir hedefim yok. Strateji değişiklikleri yapabilirim.
Kürasyon izi:
https://hive.vote/dash.php?trail=anadolu&i=1
Bir önceki hesap durumu paylaşımım:
https://peakd.com/hive-173575/@anadolu/current-status-of-my-account
Pob Power biriktirmeye başladığımdan bahsetmiştim:
https://peakd.com/hive-150329/@anadolu/i-staked-55-000-pob
Bu paylaşım bir yatırım tavsiyesi değildir. Paylaşımı daha çok kendim için yapıyorum. Geçmişteki gönderilere bakarak ilerlememi kontrol ediyorum. Ayrıca hedefler belirlemek beni motive ediyor. Yeni paylaşımlarda görüşmek üzere. Takipte kalın.