Hello. I shared the current Hive/USDT chart that I followed about twenty days ago. In those days, as in the crypto money market, there was a price drop in Hive. When I shared the chart, the hive price was 0.38. There was a spike in the Hive price this morning. I saw that it was traded at the price levels of $ 0.96. It currently stands at 0.78 USDT. I wanted to share with you the current version of the Hive graphics that I follow. I got the chart data from Tradingview site. I took a screenshot from the data of this exchange, as the highest trading volumes took place on the Binance exchange.
Like other cryptocurrencies, Bitcoin has a lot of influence on Hive's price movements. Apart from abnormal situations, Hive Coin also adapts to Bitcoin price. For this reason, we need to closely monitor not only the Hive price, but also the Bitcoin price.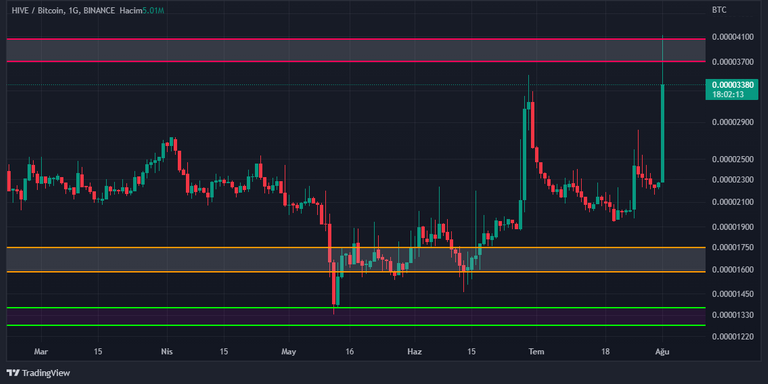 The chart above is taken from the daily time frame. Hive/BTC chart. Above is a supply-demand zone passing through the price of 0.000037-0.00004 BTC. Below is a supply-demand zone that runs through the 0.000017-0.0015 BTC price range.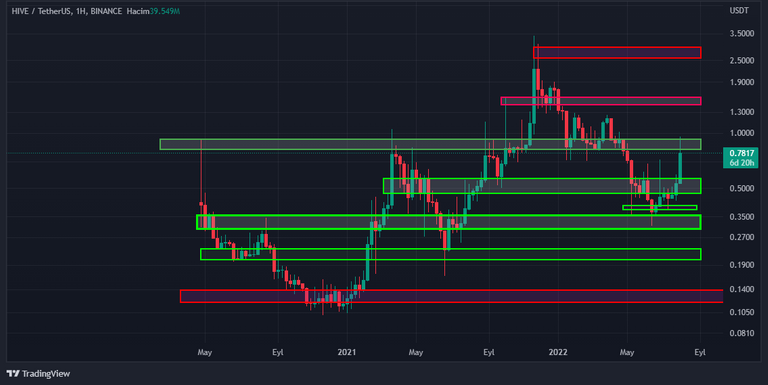 The chart above is on the weekly time frame. I've been following this chart for a long time. Hive price retested its highest price in 2020 and 2021 today. The 0.80-0.90 price range is a strong supply-demand zone. Below is a supply-demand zone in the 0.56-0.46 price range.
The chart below is for traders who trade for short periods. The screenshot is taken from the daily time frame.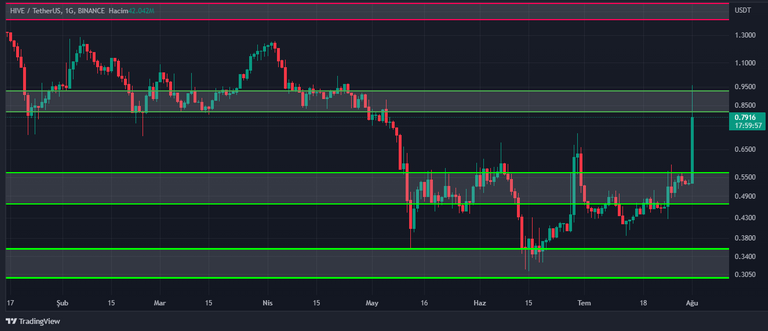 Previous Hive chart submission:
https://peakd.com/hive-167922/@anadolu/current-hive-usdt-chart
This is not a bullish-bearish signal. And this post is not investment advice. You should make your investment decisions yourself according to your psychological state and your financial situation. It would be more helpful to see this sharing as an educational work. See you.