The invention of AMMs could be considered the biggest revolution in the DeFi world. They have been playing a huge role in driving DeFi and democratizing liquidity provision but they are not without limitations.
A new wave of innovation is needed for mainstream users to effectively manage their financial risks and continue participating in the DeFi revolution. To understand where it all started, let's go back to the beginning!
The Evolution of Exchanges
For beginners, the gateway to enter the crypto world was through centralized exchanges (CEX) such as Binance. They offer sufficient liquidity and ease of use. An easy and often familiar onboarding process has made these the preferred platforms.
However, relying entirely on CEXs in a decentralized blockchain world was a bit odd, especially when your funds are held in their custody, and the tradable assets are subject to their discretion. These DEXs had some flaws. They also employed the same order book model as CEXs and often suffered from a severe lack of liquidity.
In a Web3 world where DeFi is the source of democratizing all financial services, to still be relying on mechanisms fetched from the old 'traditional world', a fundamental rethinking of exchanges and liquidity was needed.
That's When Automated Market Makers Came Into Place!
Automated Market Makers (AMMs) were first introduced into the crypto world by Uniswap and just after their launch, they soon became the obsession for DEXs and liquidity in DeFi.
Traders gain access to increased liquidity while other users can earn more financial benefits simply by providing liquidity using their own idle assets.
Along with the incentives earned through liquidity mining, AMMs witnessed explosive growth as they introduced a new way to unlock financial possibilities. They made liquidity available for crowdsourcing and started democratizing market making.
The AMM model made a strong case for being the innovation to bring decentralized trading to the masses.
However, the AMM isn't exactly the perfect solution we all expected it to be. It does come with several limitations like –
Low fund utilization, high idle liquidity
Additional risk exposure, due to acceptance of lower tier stablecoins
User experience, confusing for many.
A core tenet of DeFi has always been focusing on delivering efficiency and yield. While AMMs have helped democratize liquidity provision, the current model still requires further innovation to be aligned more closely to the true ethos of DeFi.
Archimedes is building a lending/borrowing marketplace on top of any AMM!
How Archimedes is Setting New Standards for How An AMM Should Be!
We believe the capital should never be idle, but instead constantly utilized! Be it through providing loans through decentralized lending or providing liquidity to on-chain AMMs. Hence, we have come up with Archimedes, with a vision to 'Unify all idle liquidity across all AMMs and chains'.
How Archimedes Helps You Make the Best Use of Your Investments?
Among all the great values DeFi brings to the table, 'the tokenization of assets' is one of the best ways to democratize access to investments in the future. Archimedes supports this via its tokenized position. On top of that, sustainability has always been a priority for us and we focus on delivering quality rather than quantity.
We plan to launch our lending and borrowing marketplace tentatively in September 2022, pending results of the security audit with Halborn Security. Our product is fully backed by collateral. It's highly transparent and engineered to generate higher returns to our valued users while mitigating the existing risks with the current DeFi ecosystem.
So, here's how you can turn your investments into profits with Archimedes.
Let's start by understanding how lending works with Archimedes!
Archimedes plans to attract lenders by creating a few Curve pools and offering higher native APY to them –
Upon launch:
3CRV/lvUSD*
ARCH/lvUSD
Potential pools in the future:
ETH/lvETH
sBTC/lvBTC.
*lvUSD is a fully-collateralized USD pegged stablecoin that is backed by interest bearing tokens and is issued by Archimedes Finance.
But the APY won't be coming only from CRV emissions, instead by performing 'native' activity of the liquidity.
Archimedes aims to be one of the few pools that doesn't rely primarily on CRV emissions. That means we are going to help Curve scale.
All the liquidity that CRV cannot support, will "overflow" to the Archimedes pool given its characteristics.
Archimedes will then lend this liquidity and pay interest to the pool's liquidity providers.
We lend 'idle liquidity' to our investors to take leverage on assets. These investors also provide some collateral. The leverage assets will be swapped for 3CRV/OUSD to create leveraged positions on a meta-vault like OUSD.
Then, we wrap the leveraged position with an NFT. It makes it easier to trade the position and incur secondary royalties for liquidity providers. Hence, the liquidity providers/investors will always be in a win-win position. With their leveraged position in Archimedes, they can constantly earn yield and profits from rebases.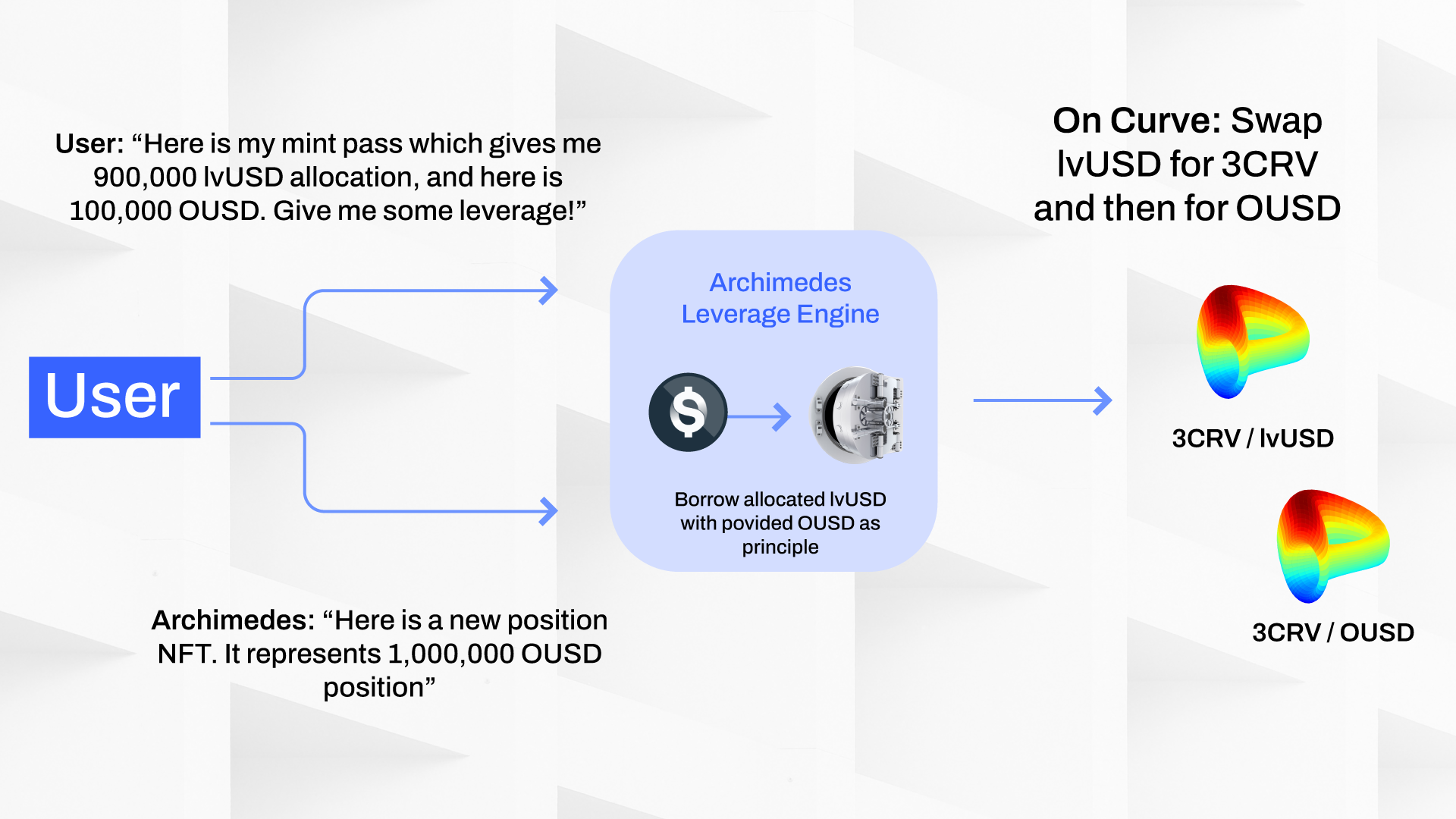 Today, Curve is the largest but not the only AMM with idle liquidity. The same mechanism that we're using can support other AMMs and other blockchains.
We will expand to where the largest amount of idle liquidity is.
Moving Forward
The world of DeFi is wild yet imaginative! It's an entirely different space where innovations are given ample opportunities to rise and thrive. The current growth that we've seen with AMMs is one part of it, and will undoubtedly continue to play a crucial role in driving DeFi's mission of democratizing financial access and services. But there's a lot more to come.
So strap up, the journey is yet to begin. Stay tuned for all the latest updates!
Want to learn more about our project, join our community, or be a contributor? Join us: