Starting from yesterday, Bitcoin has been breaking its all-time high which is simply a beautiful thing to observe, especially if you own Bitcoin or any other crypto! At the time of writing this article, 1 Bitcoin is worth more than $23,300! Is it the start of the bull-run people have been talking about? If we're talking about Bitcoin specifically, it has been bullish the whole year rising by more than 235%!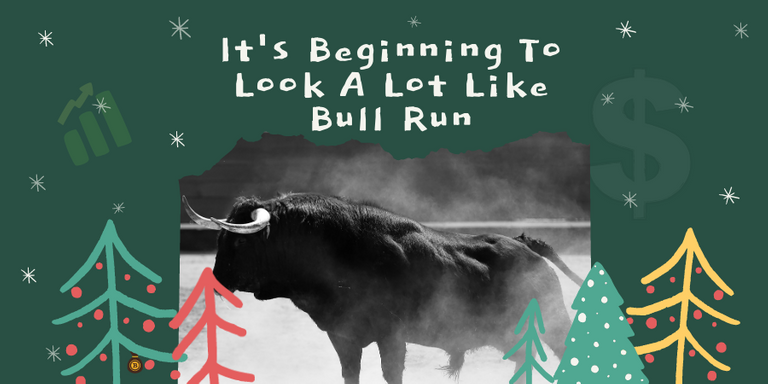 Are we all finally getting rich?
I can guess that many lives will be made during this run everyone's talking about but at the same time - many people will lose their assets by investing in projects that will either rug-pull or get lost in the ocean of thousand cryptos. Even though we all know it's important to do the proper research yourself and not simply trust someone on Twitter, people are still falling for cryptos that are only there for the pump and dump.
Which Coins Do You Have, Boi?
I don't have a lot of coins on me but those I have could be enough to improve my financial situation. For one, I have a growing bag of LEO/CTP/HIVE and other hive-engine tokens that I'm getting for every article on LeoFinance. I'm pretty close to my goal of getting 1 thousand LEO tokens powered-up and it feels awesome.
I also have some Bitcoin and Ethereum which, I think, is a must if you're living and breathing crypto! But then there are other coins that could bring a difference if stars align in the right way.
Other Moon Coins
$DRC - Digital Reserve Currency which I already wrote about here. What I like about it is that it cannot be split into less than 1 DRC. Hodling this bag! CoinGecko link here.

$RUNE - Thorchain. Going into RUNE was partly because there was a ton of information on LeoFinance about it. And mostly, the articles were inspiring and made me buy some RUNE myself.

$CRO known as crypto.com.I bought 2500 CRO a few weeks back to order a crypto card that I can freely use without worrying about various institutions in my country if I used one of my national banks. CoinGecko link here. To me, it looks like the only way is up now for crypto.com. If it reaches its all-time high, I'll triple my investment. Oh, and I'm participating in their Supercharger where you can stake your CRO in a pool and get a certain coin. Here's my invitation if you want to join.

$CHSB - this is a native coin for Swissborg application that I talked about on my website. As I wrote that post, I bought CHSB worth about $50, and now it's more than $85! Why did I start using it? First of all - you can easily buy crypto with your bank card and second, you participate in a lottery once you deposit at least $50 worth of crypto. CoinGecko here.

$RSR - Reserve Rights Token with a lot of hype. In the last year, it has increased by more than 1300% and that says it all! I have a small bag which I'm hodling until 1 RSR is worth $1. It may never happen but then again, bull-runs can be a crazy thing! CoinGecko here.

$XTM - this coin is not yet on the market but I have managed to earn more than 2K of it. It's a native token for Torum social media network where one can share all their online endeavors, articles, and news while earning tokens as rewards! Here's my Torum Review.

$POLS - last but not least are my Polkastarter tokens. Bought them when they were $0.35 per token and now it's already $0.47. Polkastarter is a Polkadot project that will enable cross-chain token pools, auctions, and fund-raising for new blockchain projects.
Thank you for reading! Enjoy the exciting times ahead!
Posted Using LeoFinance Beta