As many of you know, I have a personal website with the same name that my nickname is here on HIVE - @bagofincome, respectively, the page is www.bagofincome.com. Even though I have this domain for almost a year now and I haven't done as much as I imagined when I started the money-earning journey, I'm pretty happy about the progress I've made. Especially here with the LeoFinance community.
Today I did something I wanted to do for a long time and created a new front page where a visitor can instantly see various ways on how to earn cryptocurrencies online. I postponed this task for so long that it became harder to start with every passing day. Today, after taking some inspiration from similar sites, I finally made this menu you're seeing in the image.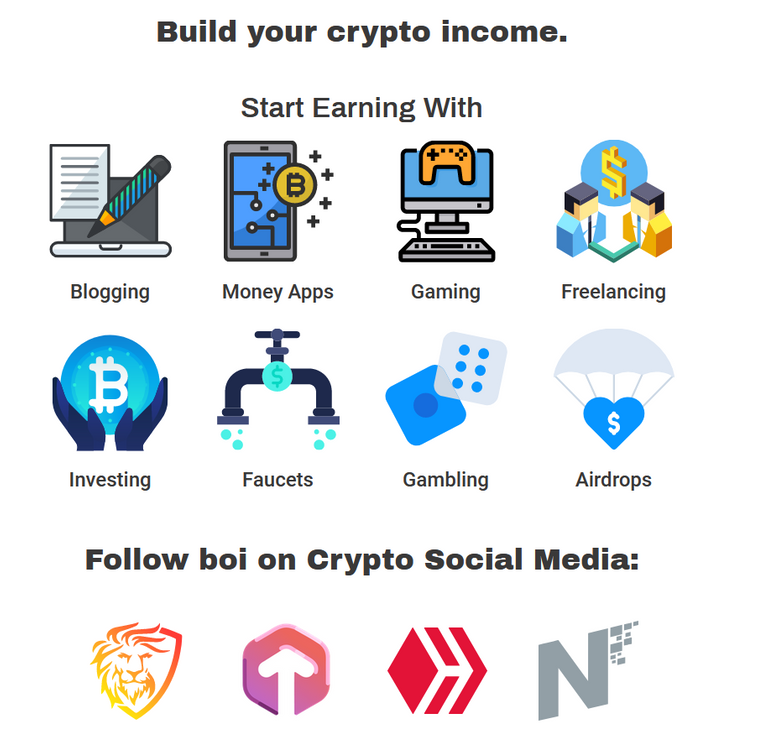 Some of the pages you'll press will be half-empty because the work is still in progress and I haven't yet researched all the apps and faucets but if you press on the first one called blogging, a new page will open. Scroll down just for a little bit and you'll see this.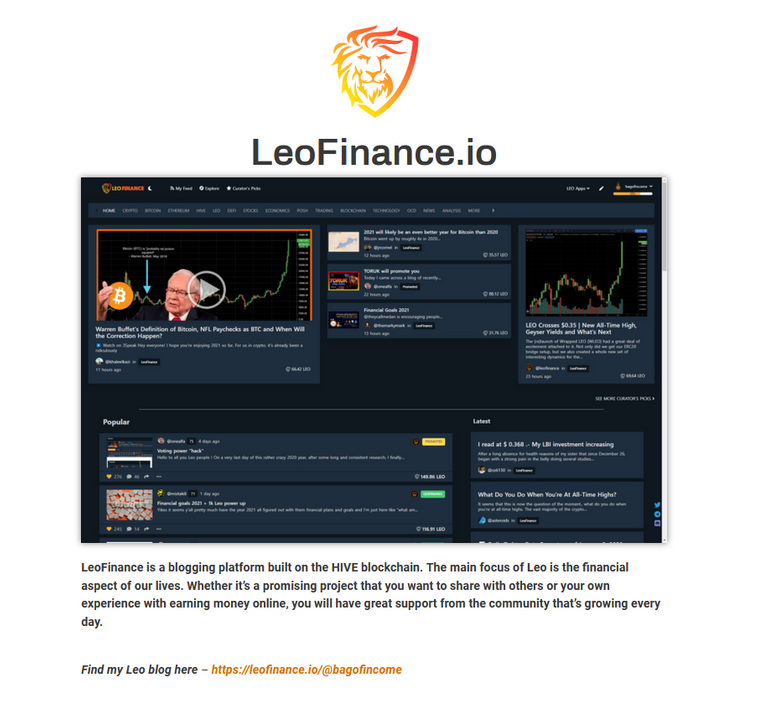 I decided to promote Leo on my site because it's the place where I've grown the most. I want people to know that they don't have to pay for hosting or domain anymore (even though I'm doing it), and instead of paying, they're getting paid for using a blogging platform like LeoFinance and HIVE.
In the next few days, I'm adding a separate section for HIVE; our dapps, games, and communities. As for the investment section of my site, I'll have to mention all sorts of HIVE projects, but the main thing, account power-ups which, in the essence, is an investment choice.
In the future, I plan on adding separate sections for various cryptocurrency wallets and ways of storing your cryptos. I mean, ''not your keys, not your crypto'' kind of section. In addition to that, I plan on creating video reviews for those people who are better listeners than readers. Thanks to HIVE, I'll be able to host my videos on the 3speak platform.
Any advice?
First of all, you can be as harsh as you want to be. If you think the look of my site sucks, be honest and say it. If it loads too slowly, I'll try to do my best to improve the loading-time. If you think there's no way I will earn something with this site, please say it.
What else to add?
If you know some great apps or platforms that I should review and add to my site, tell me about them, and leave referral links if you want. If I'm not on your suggested platform already, I'll use your invitation.
Thank you for reading and have a productive day/night ahead!
Posted Using LeoFinance Beta