As Bitcoin keeps pushing, we can say pretty easily that there is no bear market nowhere near us. Many new coins and projects are reaching new heights and like every bull run - Ethereum likes to follow in the footsteps of its big brother, Bitcoin. I saw an interesting chart today that shows the amount of Ethereum held in all exchanges' wallets. Here it is: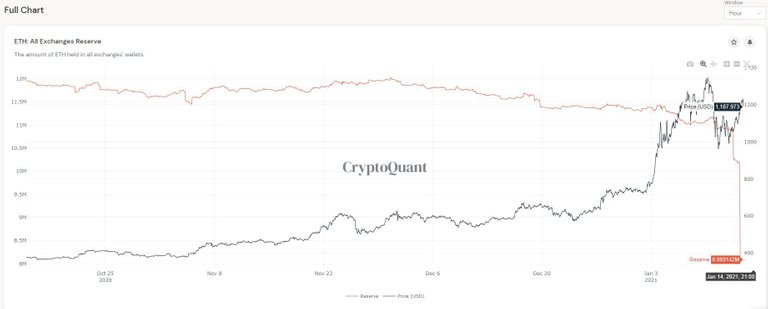 I borrowed this chart from CryptoQuant on Twitter. He has some really nice charts on his feed so I suggest you give him a follow if you're using Twitter. As you can see in the chart, in the last couple of hours, Ethereum supply on exchanges has drastically decreased! It means that HODLERS are not selling their ETH in the $1K - $2K range. They know that ETH is going to surpass its all-time high during this run so there's no point in selling. At the same time, many want to buy Ethereum before it blows off the top and they are using every dip there is to achieve that!
What Happens as ETH Supply Decreases?
Obviously, if the demand remains as high as it is or even increases, and there's not much ETH left on exchanges, the price will skyrocket! And not only will impact Ethereum but many alt-coins and the crypto market overall. Here's another chart. I took this one from GalaxyBTC. He's saying we'll see $2K Ethereum in less than two weeks from now. I wouldn't be mad about it!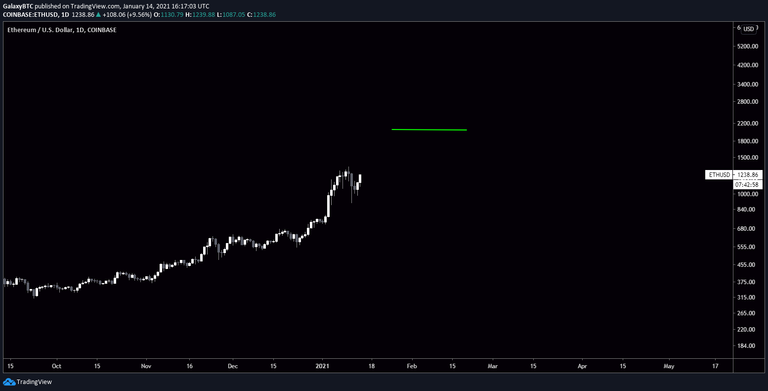 What do you think?
I'm not a financial expert of any kind but I like seeing bullish charts whenever I open my Twitter. It's actually the last centralized application that I'm using right now. The crypto Twitter can be harsh but it can also be inspirational, especially if you're following the right people. I can't wait for the LeoFinance microblogging platform to go live. We'll show the world the real microblogging - uncensored!
Meantime
Thank you for reading and have a bullish weekend ahead! Keep writing, creating, engaging, and sharing your stories with the world. Everything you create here will go down in history and it will always remain on the chain. Imagine looking back at your posts in 20 years when the HIVE blockchain has millions of users! That's the real history book!
Until the next time!
Posted Using LeoFinance Beta