Honeygain is an amazing way to use our unused internet to earn some free income. I've been using Honeygain for quite some time already. More than a year I think and I already cashed out two times. I know the rewards are not that much but something is better than nothing. It at least helps me pay my internet bill a couple of times which is good. That's one of the biggest reasons why I wanted to continue using Honeygain.
A few months back they introduced JMPT tokens. It is more like a tie-up with JMPT where all the rewards from Honeygain are distributed in the form of JMPT cryptocurrency. This is really a good move. I immediately opted for this and as of today, I have earned about 15 JMPT tokens which price around 26$ at the current market price. The price keeps going up and down but it is pretty stable comparatively.

I'm not going to lie but the earnings from Honeygain are very slow. I'm a bit lucky to grab better rewards because I have around 100 Referrals and most of my income comes from referrals. Without referrals, I myself wonder if I would continue to use Honeygain or not. I have installed it on my laptop and it keeps running in the background and whenever I'm on my laptop the gathering happens. Maybe I can say that the earnings for me are a little over 5$ per month. I can at least pay my internet bill with that or even a part of the bill with that money.
I have not yet cashed out the money. I was thinking if this was the best time to cash out. The price of JMPT is also affected due to the red market. I want to give it some more time and maybe withdraw the token later. JMPT token is on Binance smart chain and I'm glad they picked BSC for this because the transaction cost would be a little decent compared to ETH. I guess I can buy or sell JMPT in PancaseSwap if I want to.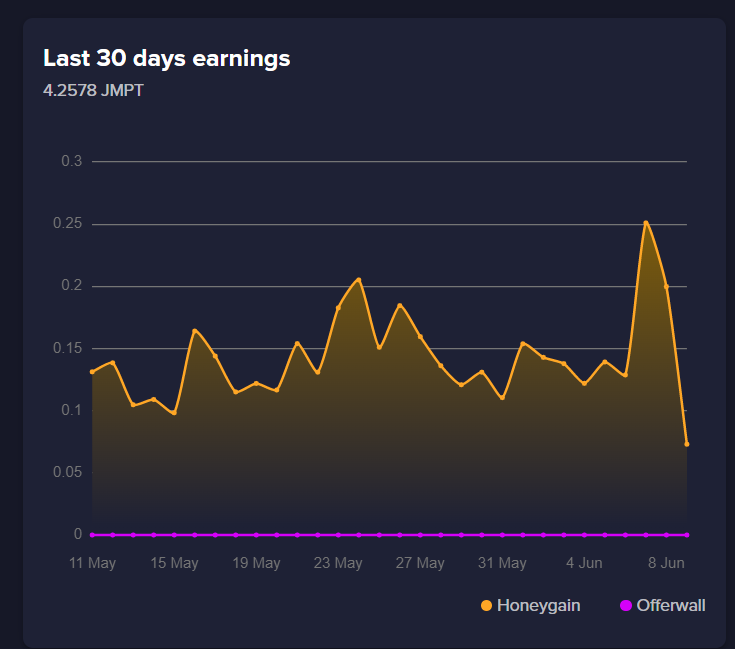 If you look at my last 30 days' rewards from Honeygain, it appears to be pretty decent I should say. There is also something called OfferWall that JMPT is offering. We will be able to complete some offers and earn JMPT tokens for the same. It looks more like surveys and installing apps. I did not give it a try but maybe others who are interested can probably give it a try.
It was not an easy journey to get 100 Referrals on honeygain. I was writing about this and looks like many people joined and they are also referring others and the network is big. That could be one of the reasons why I'm getting a consistent amount of rewards from just my referral alone. Even if I stop gathering on my devices, I would still get a decent passive income from referral alone I guess. If you want to use my referral link to Honeygain, you can use the below.
https://r.honeygain.me/BALA4F8CD5
---
If you like what I'm doing on Hive, you can vote me as a witness with the links below.

Vote @balaz as a Hive Witness
Vote @kanibot as a Hive Engine Witness
---
---
Posted Using LeoFinance Beta