Today is Leo Power up day. On the 15th of every month, it is going to be Leo Power up day. We had so many articles last week describing this. I'm very glad to be a part of this. I already completed my goal of reaching 8000 Leo power and did not focus on powering up more LEO tokens. But considering the fact that this is a new initiative and it is interesting, I would like to participate with 500 LEO tokens.
I have powered up 500 LEO on my alternative account @bala-leo. I have delegated all my LEO tokens to the @india-leo account for supporting manual curation and for a 100% curation reward share. I hope this initiative becomes a success and many people power up for this initiative. There are so many projects from the Leofinance team and it is one of the active communities on Hive. But I personally think it has slowed down a bit. Hope they get back to speed and start building some real things.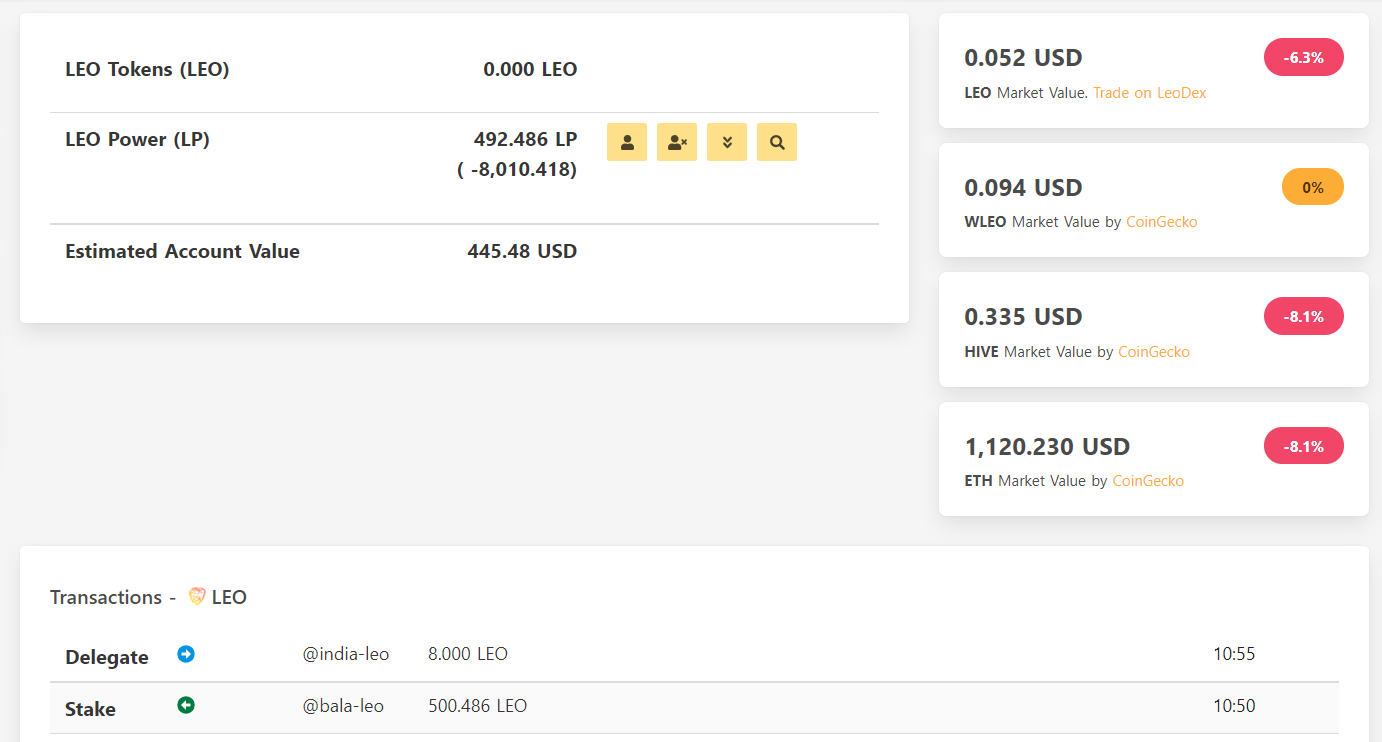 I'm still happy to stay invested but sometimes I get this feeling that this project is not going anywhere. There used to be a time when the project was at its peak and many people invested a lot of money in this project by buying lots of LEO. Now that we have so many other tokens, I was wondering if people are getting distracted by other tokens and if the focus on the main token is getting away. Let's see how it goes. One other concern I had was what happened to the advertising revenue.
https://leofinance.io/@leofinance/introducing-the-new-leoads-mechanic-or-leo-power-balances-will-begin-growing-with-built-in-apy-from-leofinance-ad-revenue
I saw the above article that talks about the new revenue sharing modal. But I'm not sure if it is already live or not. Though many people believe that burning a token is wrong, I believe buying or taking some tokens out of supply is absolutely necessary. If more LEO is distributed to people, it will only make them dump those LEO back in the market. I don't know how it will help tokenomics in the long run. Well, this is just my perspective.
Advertising revenue
During the initial days, I was attracted to Leofinance because they had this great concept of getting revenue from Advertisements and using that revenue to balance the price of Leo. I don't know what happened there but this initiative stopped. I was happy about this initiative because this brought a lot of funds to the Leo ecosystem and the Hive ecosystem from the outside world. I don't know if we are still getting ad revenues or to whose pocket the revenue is going.
I wish the team gets back to that and use that fund to recover the price of Leo. I understand they worked on so many new tokens, bridges, and chains but the price of LEO is not being focused and it is continuously dropping. This is not a complaint but I don't know when people would reach their ROI on the CUB they bought. It will be nice if the Leo team starts building again and give us all some hope.
I hope someday we see the price of Leo recover back and we have more options to burn Leo tokens. Right now the supply of LEO keeps on increasing. I understand we need innovations on other chains but there should also be plans to recover the value of the token and maintain the value of the token along with the growth. Maybe a few more income streams like Advertising revenue would be super cool for the project to grow.
---
If you like what I'm doing on Hive, you can vote me as a witness with the links below.

Vote @balaz as a Hive Witness
Vote @kanibot as a Hive Engine Witness
---
---
Posted Using LeoFinance Beta