I'm very happy and glad to share that I have reached a total of 50k SPS, well actually a little over 55k SPS to be precise. The stake is continuing to grow. I recently converted my Vouchers to SPS and staked them as well. That's what brought me from 49k to 55k. I would like to take the opportunity of the current price of SPS to buy and accumulate more SPS tokens. Something makes me feel that SPS will have a good impact on the splinterlands ecosystem. Especially not right now but in another few months when new features start to come.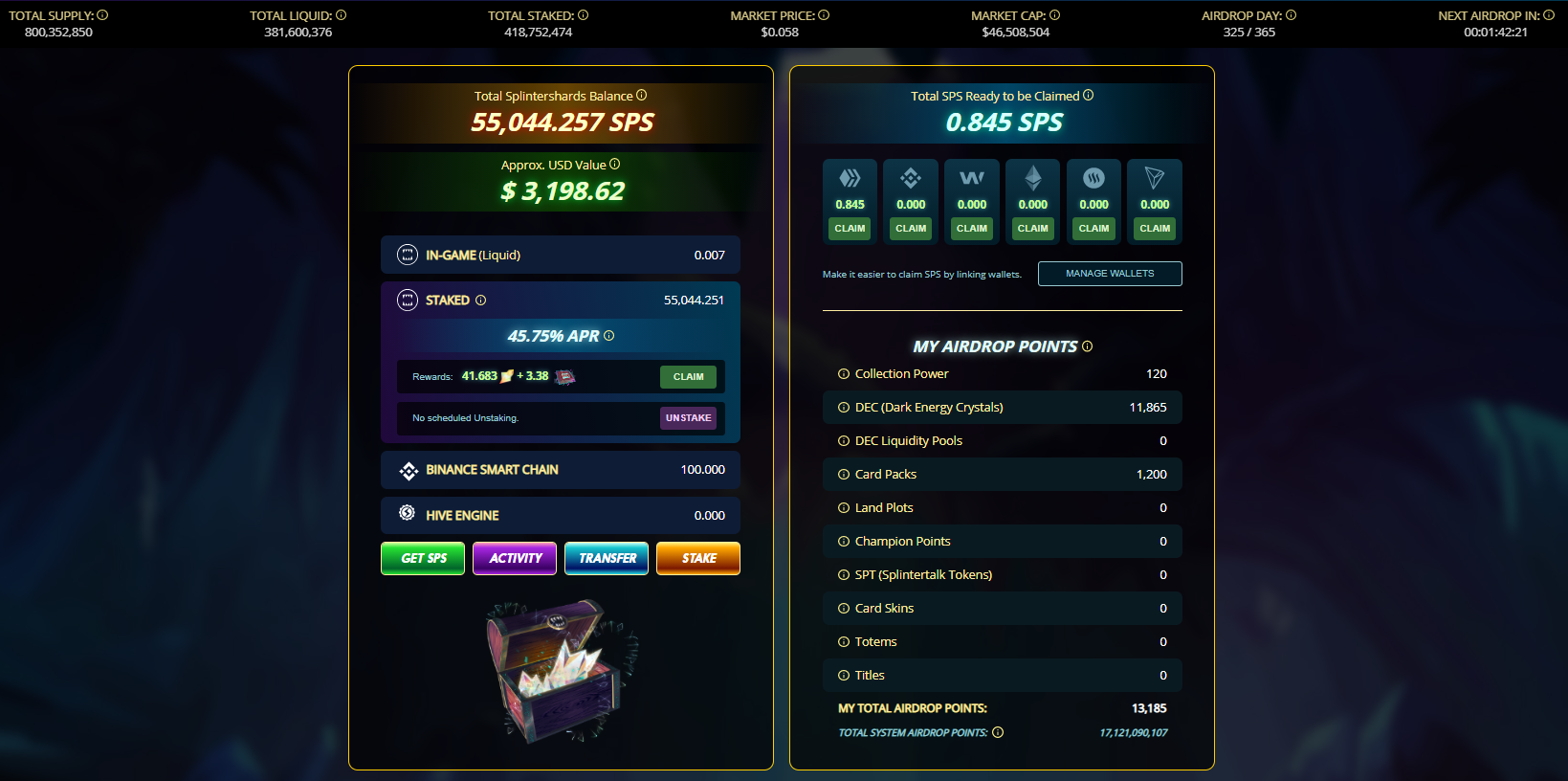 The Splinterlands team already told us that there will be new features in the months to come and SPS will play a vital role in some of those features. I do believe that it can have a great impact and the current price of SPS is just a joke. We might even talk about this current price after a year or so if the price pumps to over 2 or 3$ like all other popular game tokens.
I remember buying SPS when the price was around 1$ per SPS. I bought it for like 2000$. I was able to get only around 2000 SPS tokens. Imagine purchasing SPS for the same 2000 dollars today. It would give us more SPS tokens. I'm now waiting for a point where the price bounces back to 1 dollar per token. We would also need more investors from the outside world trading and investing in SPS. The game mechanics should also have many uses for SPS. Burning the token would also be a good thing in the future to reduce the number of tokens circulating.
I don't know if this is realistic but I'm thinking of increasing my SPS stake to about 100k before the end of this year. Probably after the airdrop is over, I guess the price of SPS can go further down giving additional opportunities to purchase cheap. There is also a possibility the price of cards can also go down. But by then the team would come up with something amazing again to keep the players engaged. Probably Lands is something that can bring more crowd and regular players to Splinterlands.
---
If you like what I'm doing on Hive, you can vote me as a witness with the links below.

Vote @balaz as a Hive Witness
Vote @kanibot as a Hive Engine Witness
---
---
Posted Using LeoFinance Beta