Keeping ourselves sane as crypto investors and finding equilibrium is not an easy task as you might think, but it requires respecting some rules and being conscious of the risks that this type of investment brings to us. While I have compiled a list of things to consider in order to keep our minds healthy and reactions appropriate based on the events on the market, I am trying also to answer if I am following these rules or not. At the same time, I am encouraging you to do the same and maybe provide more rules that we can pay attention to in the long run.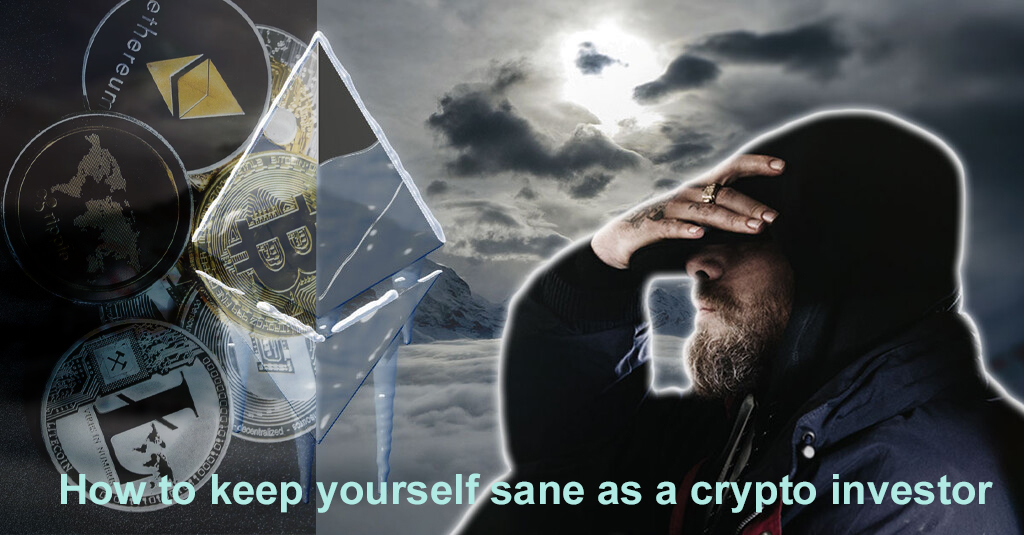 Invest in blue-chip crypto assets at first. It is clear that when we are in the new world of crypto we shouldn't dive into some dark corners in the hope to find some shining gems, but first bet on the right horses and chose those assets that proved their value. For example, we can consider Bitcoin and Ethereum at the top.
Do I follow this rule? Yes.

Manage the risk associated with holding and securing crypto assets. When investing in crypto there are also some security aspects to consider as we would need to store our assets in a wallet and ensure that we back up the phrase and do not forget the password to access the funds. Here we can take a step further and use a hardware wallet, but still, we will need to back up our keys/phrases and ensure to know the password. Holding assets on exchanges proved once again not so secure after the FTX downfall.
Do I follow this rule? Partially.

Size your portfolio properly. Too many assets might make your portfolio unmanageable, while fewer might not help it balance in the bear market periods. I would presume a good size portfolio one structured from up to 10 assets.
Do I follow this rule? No.

Don't put all your eggs into one basket. It is important not to be a maximalist or bet everything on a single asset, even if that's Bitcoin. We need to diversify the assets in order to manage the risk for unexpected price movements.
Do I follow this rule? Yes.

Do your own research (DYOR). It is good to do your own research (DYOR) before investing in anything even if it is easier to follow someone's token shilling. But in the end, we are the ones to suffer when we make bad decisions, so we need to own them.
Do I follow this rule? Partially.

Take profits or liquidate positions during a bull market. I didn't do this in 2017/2018 bull market and I repeated the same mistake during 2021/2022 bull market. I am promising myself to take profits in the next bull market, let's hope I will know when it is the most opportune to do so.
Do I follow this rule? No.

Use the bear market to strengthen positions and even accumulate more. Here different strategies can be used in order to build a stronger portfolio during a bear market and I am doing Dollar Cost Average (DCA). Simply buying on a weekly basis, regardless of the price on the market.
Do I follow this rule? Yes.
These are some of the rules that can keep someone sane while investing in crypto and navigating the market. As you see I have my wrongs, but I think there is still hope for me in the future as I understand more and more the crypto markets and how these are playing based on different conditions. While I have realized the weak points, I am currently in process of strengthening them and improving my portfolio through specific actions: hold my assets into my own wallets and not exchanges, put the assets at work using decentralized ecosystems, focus on fewer assets, and grow them within the portfolio, perform DCA and so on. I challenge you to respond on how the above rules apply to you and think about what you could do better. Learning from our mistakes is imperative and only by going through such a process we can be successful in the end.
Posted Using LeoFinance Beta