Last nights "crash" was actually a good thing as we just have to look at Hive compared to many other Alt coins and we came out relatively unscathed. Good projects have very string hands and this is where the community having so much staked comes into play. Hive is not Hive from 2 or 3 years ago and is just different with all the development happening and is by no means a push over and a pump and dump coin. The positive price action we have seen this year is justified and investors are not stupid as they know Hive will be making it's way up the market cap table.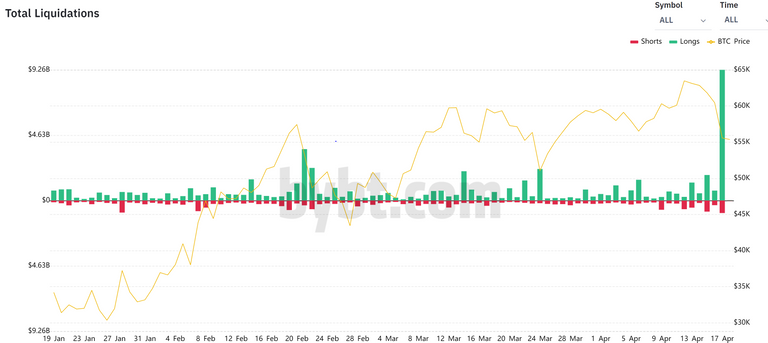 source
I have seen news stories mentioning the cause of the crash due to power outages and the SEC charging some financial institutions for money laundering using crypto. This doesn't quite add up and go with the reason that whales decimated the long investors who lad leveraged Bitcoin as they reportedly lost $10 billion in liquidations. That is the biggest loss in one day and makes more sense with market manipulation.

source
I am really bullish not only on Hive but for the entire market as I haven't really started trading yet as have been learning. The most important thing is if you have stop losses in place and take profits then you are always in a good position to take advantage of any dips and market corrections.
Hive as I have said before is different to many other crypto coins as we earn ours via the work we do on the block chain and a cheaper Hive actually benefits us as we can possibly earn more. When other traders were panicking I was smiling this morning as the possibilities are endless as most coins are only back to where they were two or three weeks ago according to prices.
I missed the bull market in 2017 where everyone talks about market corrections of 30-40 percent and this was not it. This is very healthy as losing 10 percent is not a big deal even though Bitcoin dropping $9000 in a few hours is big in monetary value, but as a percentage it isn't.
This week coming I will be starting my first trades since 2018 and this happening now has put an extra spring in my step as I expect this wee to be a big week for many alt coins. With so many coins down by 10-15 % this is exactly the opportunity I was hoping for.
Posted Using LeoFinance Beta