Hello, dear members of LeoFinance!
Today, I would like to comment on the price chart of Dogecoin because while the cryptomarket is experiencing deep pullback the price of Dogecoin is still relatively stable and intra-day is even increasing (+13%), according to CoinGecko.
In the 1-hour chart (1H), DOGE/USD formed a Bullish Flag (common trend continuation pattern):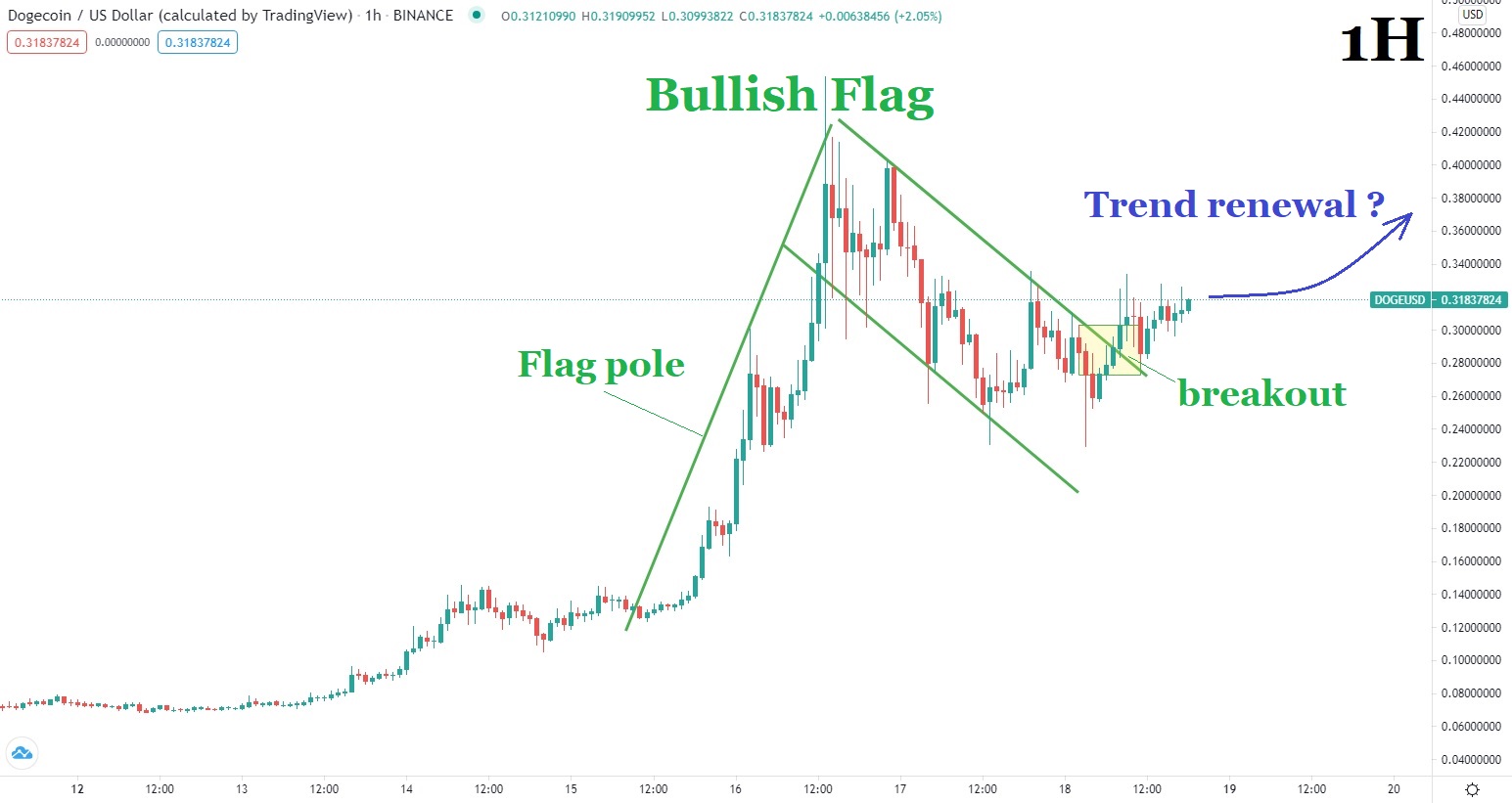 As can be seen from the chart, a breakout took place and the price is trying to resume the uptrend. That's really super interesting to watch because the rest of the crypto market is in the red zone.
Now, let me online some additional interesting things about Dogecoin:
DOGE/USD was able to exit a similar Bullish Flag in the middle of March as well. At that time, I wrote about it in the previous analysis of DOGE/USD.
I am really curious about what will happen to the price of the Dogecoin now. Because, first, the major cryptocurrencies are experiencing a solid pullback intra-day. Second, the price of Dogecoin has increased solidly recently. Dogecoin even became the 5-the biggest cryptocurrency by market cap for a short time, displacing Cardano and Polkadot, which really looks strange to many cryptocurrency enthusiasts. Charles Hoskinson (Cardano's creator) two days ago recorded a video a special video 'Doge Bubble Edition' in which he stated that 'Dogecoin is a bubble!'. And he recommended to the DOGE Hodlers to sell the crypto, otherwise, they will lose their money.
Also, yesterday, I asked Adam Back (Hashcash inventor, well-known Bitcoin Core developer, prominent cryptographer and cypherpunk, and CEO of Blockstream) about Dogecoin and he said the following:

Nevertheless, I would like to mention that based on my almost 15 year-long experience in the financial markets I won't be surprised to see any surprise! I have seen (and participated) in many Bubbles so I know that if a bubble forms, during the 'Mania'-phase the price of the asset may cut all ties with its fundamentals, the price may get crazy and draw any unbelievable levels. So, if Dogecoin enters a 'Mania'-phase I won't exclude seeing another price pump in the next weeks/months.
To sum up, I am very curious to see if Dogecoin will start the 'Mania' phase soon or will postpone it for a later time.
To be continued ...
As of the time of writing, one Dogecoin costs approximately $0,3183 on the Binance crypto exchange, according to TradingView.
---
A few words about me:
Just to let you know: I've been working professionally as a currency analyst for last almost 15 years, and as a cryptocurrency analyst for last almost 4 years.
---
Important!
Keep in mind, that thoughts expressed here are my own, and they should not be regarded as recommendations for any cryptocurrency/commodity trades, investments and etc.
---
Learn How To Earn PRE Tokens By Using Presearch Decentralized Search Engine
Join the crypto exchange Binance: https://www.binance.com/en/register?ref=28017531
Join the crypto exchange Bittrex: https://bittrex.com/Account/Register?referralCode=3GB-QAJ-BMW
Posted Using LeoFinance Beta