On January 1st, 2021, the total market cap in all of crypto was $766B. Today, after two days of bloodletting, the total market cap is 1.45T. In less than two months, and after a 20% drop, the market has still almost doubled. If anyone had told you the entire market was going to double in 50 days you would have been giddy (if you believed them).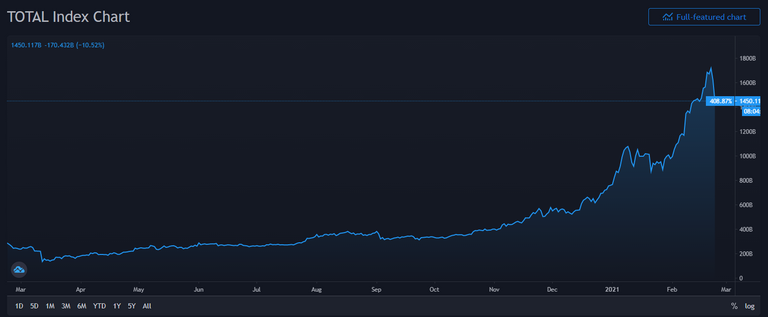 In other words, these are normal cycles in the crypto markets. The last thing anyone should be doing is panicking. If you are, then you have too much money in the market and you should probably look at getting some out here. It certainly could go down some more before it goes back up. If you're not, then now is the time to reevaluate each of your picks and decide whether you want to add a little more to them or possibly just shift some money out of one into another. Or, just sit tight. Crypto is not a market for the weak at heart. If these kinds of moves scare you, like I said, you've got too much money in the market.
In the meantime, I'm using this opportunity to add some things that are on sale. Namely Hive and Leo. It's funny how when we go shopping, we never want to pay full price for anything. We always want it on sale so that we feel like we're getting a deal. We need to apply some of that same thinking to the markets. No one wants to buy Hive at a discount. But, when it goes back to $.30, $.40, everyone will be buying it there wishing it would be cheaper. Go figure. :-)
As always, I'm not a financial advisor. These are just my opinions and you should do your own research.
Posted Using LeoFinance Beta