In the most recent announcements of Newdex, the number 1 block producer of the EOS chain, which would be launched in BSC, many wondered if it would completely abandon the chain that gave it birth.
En lo más recientes anuncios de Newdex el block producer numero 1 de la cadena de EOS, que seria lanzado en BSC, muchos se hicieron la pregunta de si abandonaría por completo la cadena que lo vio nacer.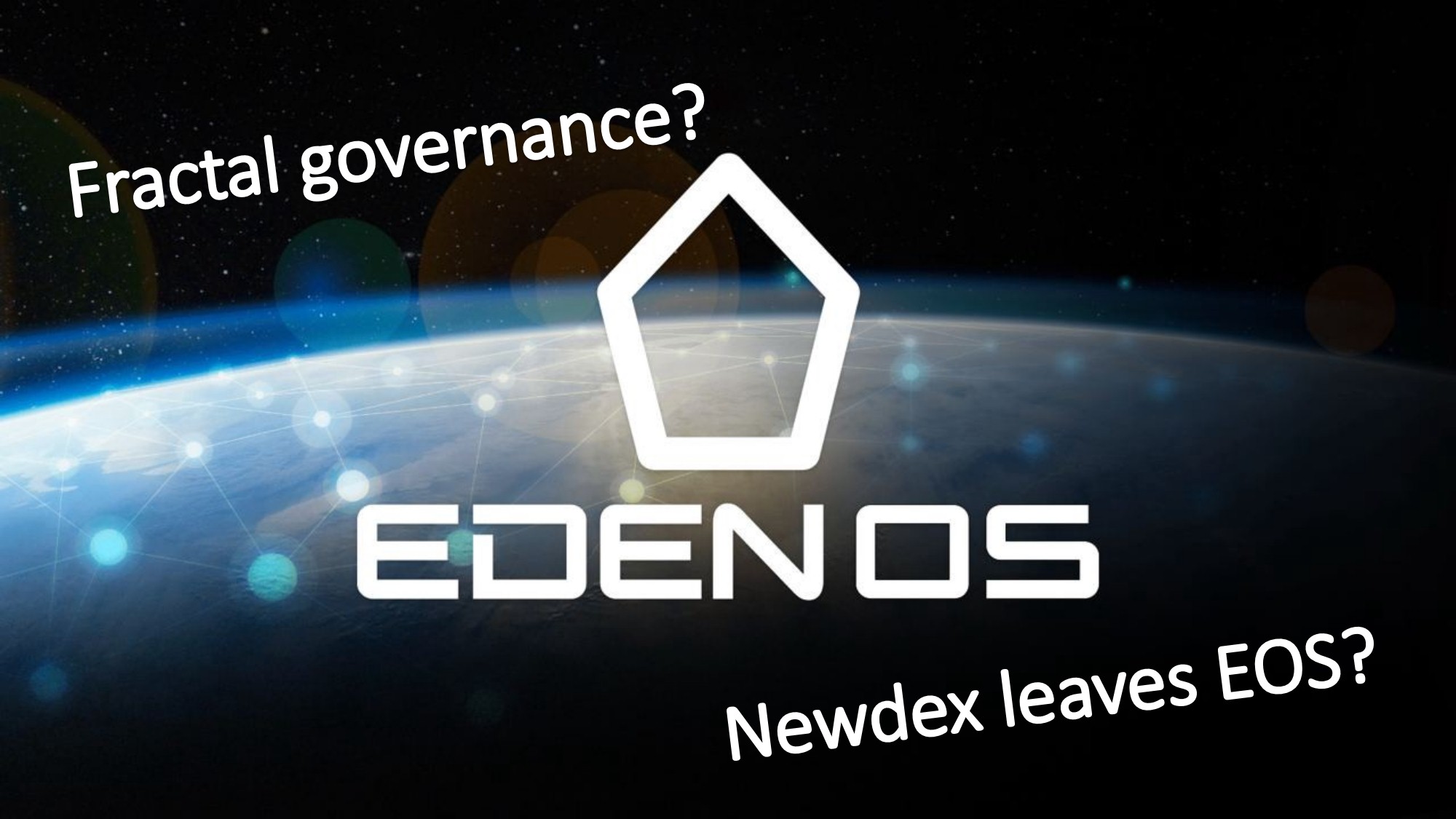 However, those who know this project will know that since its inception the task of being the number 1 DEX of the crypto ecosystem has been set, and to achieve this objective, it is necessary to be present in multiple chains, and to fulfill this goal, decided to do it with one of the most successful of the moment such as BSC.
Sin embargo, quienes conocen este proyecto sabrán que desde sus inicios se ha planteado la tarea de ser el DEX numero 1 del ecosistema cripto, y para alcanzar tal objetivo, es necesario estar presentes en múltiples cadenas, y para dar cumplimiento a esta meta, a decidido hacerlo con una de las de mayor éxito del momento como es BSC.
It is contradictory to think that being the number one BP of the EOS blockchain, with all the benefits that this implies, in addition to the investments that have recently been made, such as being the main commercial partner of Defibox, the number 1 DeFi in the EOS ecosystem at this time, is considering abandoning this blockchain.
Newdex continues to bet on the growth and strengthening of EOS, attentive to any new approach that is presented for the improvement of the chain, a sign of this was its most recent participation in the EdenOS conference, a new governance model, born from the ideas of the father of this technology Dan Larimer.
Es contradictorio pensar que siendo el BP número uno de la cadena de EOS, con todos los beneficios que esto implica, además de las inversiones que recientemente se han hecho, como ser el principal socio comercial de Defibox, la DeFi numero 1 del ecosistema EOS en este momento, se plantee abandonar esta blockchain.
Newdex sigue apostando al crecimiento y fortalecimiento de EOS, atento a todo nuevo planteamiento que se presente para el mejoramiento de la cadena, una muestra de ello fue su mas reciente participación en la conferencia de EdenOS, un nuevo modelo de gobernanza, nacido de las ideas del padre de esta tecnología Dan Larimer.
Many aspects that help to better understand this model were discussed at the conference, exposing its foundations as a fractal democratic governance process for communities powered by blockchain. Clarion's chief of staff, Mike Manfredi in his participation, stated that in order to understand this model it is necessary to be clear what true democracy is, stating:
"Everyone knows the concept of the power that the people give to their representatives, but using the term true democracy, seeks to find what it owes the people, because globally there is a phenomenon of high absenteeism in voting in each country, which is possibly a sign of discontent."
En dicha conferencia se hablaron muchos aspectos que ayudan a comprender mejor este modelo, exponiendo sus bases como un proceso de gobernanza democrática fractal para comunidades impulsadas por blockchain. El jefe de personal de Clarion, Mike Manfredi en su participación en dicha conferencia, declaro que para comprender este modelo es necesario estar claro que es la verdadera democracia, declarando:
"Todos conocen el concepto del poder que el pueblo da a sus representantes, pero utilizar el término verdadera democracia, busca encontrar lo que adeuda a la gente, porque mundialmente se da un fenómeno de gran ausentismo en las votaciones de cada país, lo que posiblemente sea una señal de descontento."
This debt of democracy is present in many areas of daily life, and the blockchain is no exception, for that reason fractal governance was proposed, a model proposes that the representatives of a project be selected by consensus by groups of 10 people, that carry their ideas, and take them to the next levels of selection, where consensus must continue, ending in a triumvirate or group of 3 in whom decision-making, such as the distribution of funds, will reside.
This election system seeks to end many vices that have arisen in governance systems, such as the influence of the media, knowing that things as they are portrayed by the media can lead to divided opinions among the expectant public who are Interested in the topic, however, in fractal democracy, the media do not fully affect the opinion of the participants because the issues are discussed by minority groups, and the opinions are expressed by the participants and not by a media.
Esta deuda de democracia esta presente en muchos ámbitos de la cotidianidad, y la blockchain no es la excepción, por esa razón se planteo la gobernanza fractal, un modelo que propone que los representantes de un proyecto sean seleccionados en consenso por grupos de 10 personas, que acarrean sus ideas, y las llevan consigo a los siguientes niveles de selección, donde debe continuar el consenso, para finaliza en un triunvirato o grupo de 3 en quienes residirá la toma de decisiones, como la distribución de fondos.
Este sistema de elección busca acabar con muchos vicios que se han presentado en los sistemas de gobernanza, como que tanta influencia tiene los medios de comunicación, a sabiendas que las cosas como son retratadas por lo medios pueden originar opiniones divididas entre el publico expectante que se interesa en el tópico, sin embargo, en la democracia fractal, los medios de comunicación no afectan del todo la opinión de los participantes porque los temas son discutidos por grupos minoritario, y las opiniones son expresadas por los participantes y no por un medio de comunicación.
A crucial factor, discussed at the conference, is the randomness of fractal democracy, which consists in the creation of random groups of 10 people to discuss a topic, where most of the time it was achieved that members agree with each other in a 50-50%, thus ending the one-sidedness of perspective offered in the media.
Another topic discussed, considered of utmost importance, is what happens with the succession in fractal governance, which can be terminated by the disagreement that some have in the current governance, through small groups it is possible that more people agree and seek succession, if it ends up that whoever is at the head is doing a bad management.
Un factor crucial, discutido en la conferencia, es la aleatoriedad de la democracia fractal, que consiste en la creacion de grupos de manera aleatoria de 10 personas para que discutan sobre un tópico, donde la mayoría de las veces se lograba que los miembros esten de acuerdos unos con otros en un 50 – 50 %, terminando de esta manera con la unilateralidad de perspectiva que se ofrece en los medios de comunicación.
Otro tópico tratado, considerado de suma importancia, es que ocurre con la sucesión en la gobernanza fractal, que puede terminarse por el desacuerdo que algunos tengan en la gobernanza actual, a través de los pequeños grupos es posible que mas personas estén de acuerdo y procuren la sucesión, si se termina que quien este a la cabeza esta haciendo una mala gestión.
Fractal democracy reduces the amount of time it takes to get someone out and also reduces the amount of time you have to spend money and funds, with the freedom to say that such person will not be elected again. For this reason, it is extremely important that the base groups are the ones who nominate the people who have been analyzed in the middle of their discussions to be brought to the top of governance.
All of these approaches are of utmost importance to any BP operating with the current EOS governance system, known as DPOS. Knowing them will allow the best decisions to be made for permanence and growth or cessation of operations in the chain. I believe that Newdex particularly, which was born in EOS, will remain and provide a better infrastructure service for EOS fans, without neglecting its aspirations and efforts to be multi-chain.
La democracia fractal reduce la cantidad de tiempo que lleva sacar a alguien y también reduce la cantidad de tiempo que tiene para gastar dinero y fondos, con la libertad de decir que tal persona no será elegida nuevamente. Por esta razón es sumamente importante que los grupos base sean quienes postulan a las personas que han sido analizadas en medio de sus discusiones para ser llevados a lo mas alto de la gobernanza.
Todos esto planteamientos son de suma importancia para cualquier BP que opere con el actual sistema de gobernanzas de EOS, conocido como DPOS. Conocerlos permitirá que se tomen las mejores decisiones para la permanencia y crecimiento o cese de operaciones en la cadena. Considero que Newdex particularmente, que nació en EOS, permanecerá y proporcionará un mejor servicio de infraestructura para los fans de EOS, sin dejar a un lado sus aspiraciones y esfuerzos por ser multicadena.
If you want to know more about this new governance system, and you can draw your own conclusions, you can read the details in depth in the following post from the people at EdenOS.
Si deseas conocer mas sobre este nuevo sistema de gobernanza, y puedas sacar tus propias conclusiones, puedes leer los detalles a fondo en la siguiente publicación de la gente de EdenOS
Fractal governance solution for blockchain communities - EdenOS
Posted Using LeoFinance Beta