Newdex ha entrado en nueva era de desarrollo, mediante un plan que en esta ocasión consideran les ayudara alcanzar la descentralización definitiva.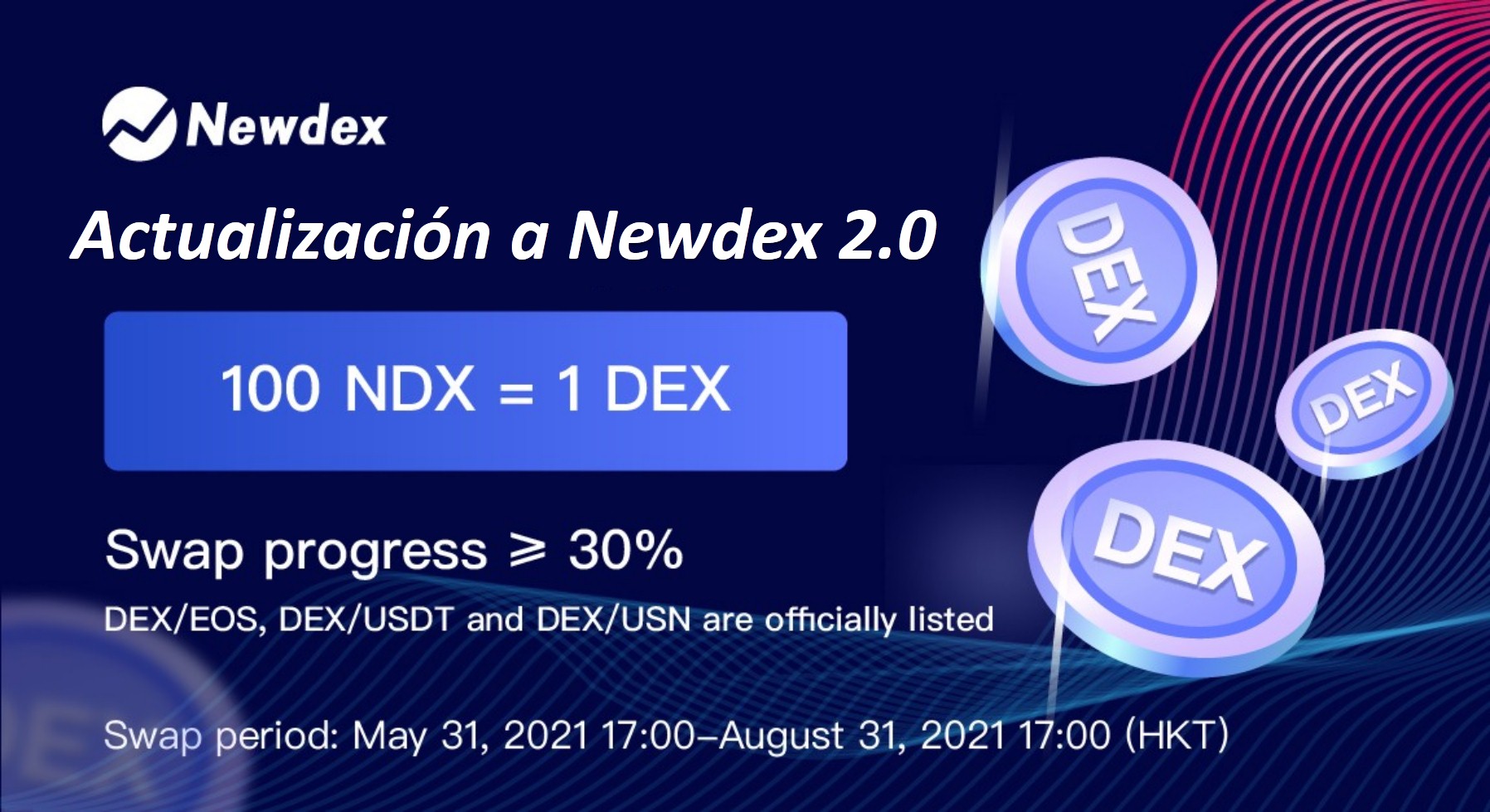 Para quienes no conocen que es Newdex, es la principal dex de la blockchain de EOS, y principal socio comercial de Defibox. Luego de su actualización mas resiente a un modelo agregado, solo en el mes de mayo el volumen total de operaciones de Newdex fue aproximadamente de 3,889,461.0167 EOS, con un volumen promedio diario de operaciones de 125,466.4844 EOS. También durante mayo, Newdex recompró y quemó 69,487,561.7715 NDX
Newdex has entered a new era of development, through a plan that this time they consider will help them achieve definitive decentralization.For those who do not know what Newdex is, it is the main dex of the EOS blockchain, and the main commercial partner of Defibox. After its most recent update to an aggregate model, in the month of May alone, Newdex's total trading volume was approximately 3,889,461.0167 EOS, with an average daily trading volume of 125,466.4844 EOS. Also during May, Newdex repurchased and burned 69,487,561.7715 NDX
Recientemente a sido lanzada la versión 2.0 de su libro blanco, donde se detallan los planes para alcanzar ciertos objetivos, donde resalta convertirse en un DEX multi cadena, lanzada en ETH, ETH layer 2 e incluso Binance Smarth Chain.
Uno de los esfuerzos para logara mayor aceptación es el cambio de su token NDX por un nuevo token llamado DEX, cuya campaña de intercambio (sawp) ya ha iniciado, con el fin de que todos los tenedores del token nativo puedan hacerse con el nuevo.
Recently, version 2.0 of its white paper has been launched, where the plans to achieve certain objectives are detailed, where it stands out to become a multi-chain DEX, launched in ETH, ETH layer 2 and even Binance Smarth Chain.
One of the efforts to achieve greater acceptance is the exchange of its NDX token for a new token called DEX, whose exchange campaign (sawp) has already started, so that all holders of the native token can get hold of the new one.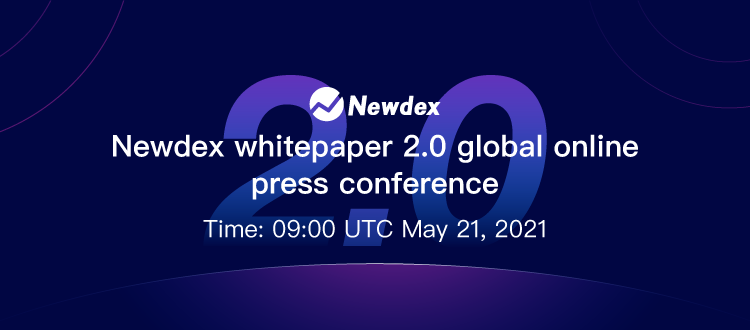 Los detalles del cambio son:
La oferta total se reducirá de 10 mil millones a 100 millones. NDX se cambiará a DEX en una proporción de 100: 1. El nombre del contrato es token.newdex.
A las 15:00 (HKT) del 31 de mayo de 2021, los miembros VIP de NDX stakedby se hara directamente. No hay tiempo de redención y se puede usar directamente para canje, pero los beneficios VIP relacionados se cancelarán simultáneamente.
Se mantendrá la sección de miembros VIP (31 de mayo, 15: 00-17: 00HKT). La función de actualización VIP se abrirá después de las 17:00 HKT, pero solo se admite el consumo y el replanteo del nuevo token DEX, y el nivel VIP se ajusta en una proporción de 100: 1.
Después de que se complete el 30% de los cambios DEX, los pares comerciales relacionados con NDX se eliminarán de la lista de Newdex, y los pares comerciales relacionados con DEX serán listados simultáneamente.
Después de que comience el intercambio, el contrato original de recompra y quema de NDX se suspende y se cambia a recompra y quema de DEX (contrato "buy.newdex", contrato de tarifas "newdexiofees");
Fecha límite de intercambio: 17:00 (HKT) 31 de agosto de 2021.
The details of the change are:

The total supply will be reduced from 10 billion to 100 million. NDX will be changed to DEX in a 100: 1 ratio. The contract name is token.newdex.
At 15:00 (HKT) on May 31, 2021, VIP members of NDX stakedby will be made directly. There is no redemption time and it can be used directly for redemption, but the related VIP benefits will be canceled simultaneously.
The VIP members section will be maintained (May 31, 15: 00-17: 00HKT). The VIP upgrade feature will open after 17:00 HKT, but only the consumption and staking of the new DEX token is supported, and the VIP level is adjusted in a ratio of 100: 1.
After 30% of the DEX changes are completed, the NDX-related trading pairs will be removed from the Newdex listing, and the DEX-related trading pairs will be listed simultaneously.
After the exchange begins, the original NDX buyback and burn contract is suspended and is changed to DEX buyback and burn ("buy.newdex" contract, "newdexiofees" rate contract).
Trade deadline: 17:00 (HKT) August 31, 2021.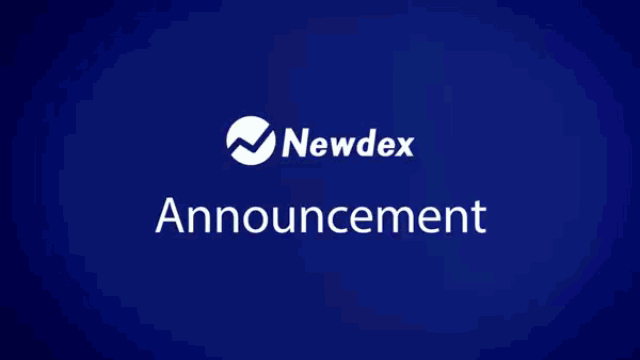 ---
Importante:
El sitio web oficial de Newdex es el único canal de intercambio. No confíe en terceros para evitar ser engañado.
---
Después de completar el cambio de nombre y la reducción del token, DEX se emitirá en múltiples cadenas con un suministro total de 100 millones. Las reglas de reducción de tokens originales permanecen sin cambios. Newdex reducirá el suministro total de tokens y aumentará su valor.
Important:
The official website of Newdex is the only exchange channel. Do not trust third parties to avoid being misled.
After completing the name change and token reduction, DEX will be issued on multiple chains with a total supply of 100 million. The original token reduction rules remain unchanged. Newdex will reduce the total supply of tokens and increase their value.
Posted Using LeoFinance Beta