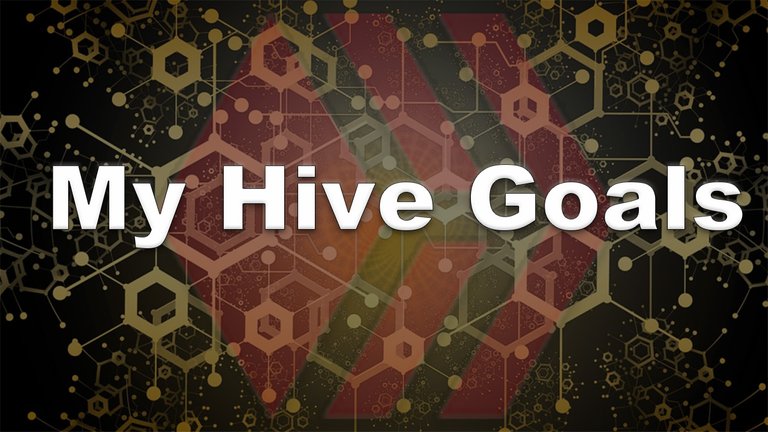 Greetings and salutations, my good Hivers. Hope you all are having a great day. Well it's that time again—time to look at my progress for the past week on Hive. This is something I suggest everyone do from time to time. It's good to have not only goals, but to track your progress so that you can have some sense of accomplishment. Judging from the comments I get on these, these posts are also some of your favorites too.
I'm afraid my progress on all but one thing this year might be less interesting than last. This is because my focus is on gaining Hive Power this year. I figure I've been here long enough to have more than only 10k HP, so time to do something about that! So far this year I am putting nearly everything I make into Hive.
That said, I am still watching the H-E tokens and I hope I can give you some insight into things that are going on right now.
Let's begin with Hive, but then we'll jump to a few H-E tokens, including Woo, BRO/LGN, and Pimp. Does that make you excited? Good! Let's jump in!

Hive & HBD
My current goal is 25k Hive. This past week I made 97.170! That brings me to 10,755.01 total Hive Power. That's 43.0% of my goal! I have over 1000 Hive sitting liquid in my account just waiting to power up with. Unless Hive spikes even more than it has the past week I plan to use this to power-up on Feb 1st for HPUD (Hive Power-Up Day).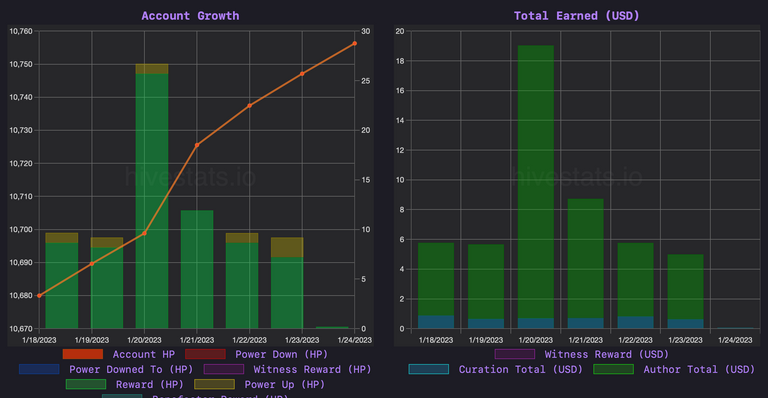 That's about double my average and might just be a record I had some good posts the previous week. I'd like to think this will be the new normal, but truth is I just got lucky and had a few big votes. But let's hope my luck can continue 😉— that will really help in reaching 25k.
Hive had a pretty good week. Will it continue? A lot of people on Leo seem to think there are no legs to these bumps, but... well, again we'll see. I'm not a trader, so I don't know. (If you want a chart guy, @scaredycatguide does some pretty good posts about that)
PIMP
Things are growing quickly at Pimp. The coin itself is continuing to improve. If you aren't aware, you might consider pimp a bit like an index fund: it invests in a little of everything and pays holders a percentage of that. @enginewitty is really making some amazing calls on his investments and things are going strong.
Along with that, we have a weekly meeting in the Pimp Discord where we discuss these investments. Lately these meetings have been attracting more and more pitches from other projects. A few weeks ago we had @ecoinstant stop by to tell us all about INCOME and ECOBANK, the next week we had @wrestorgonline drop by and give us an amazing pitch about Woo Wrestling, then last week we had the INK guys drop by. Not only is Pimp a great token to pick up, but it may also be worth your while to come for the meeting as well. (Wednesdays at 2pm UTC in the Alliance server)
Anyway, my current goal is 50k PIMP. This past week I made 318.857 PIMP, putting me at 43,739.2015 — 87.5% of my goal.
BRO/LGN
Not much to report on BRO. As I mentioned last week, the price has moved beyond my buy level. It's still probably worth it, but at this level I'd prefer to invest in other things. But I do still have some coming in from drops. Not much, tho. Only 0.147 last week, which puts me at 450.285.
My LGN on the other hand is up to 130.288. I haven't bought any yet, that's just from the airdrop to BRO holders. @raymondspeaks has mentioned that big things are coming to LGN soon. What will that be? Buy into LGN and find out before it moons!
Woo
I haven't started buying any WOO yet, but after the presentation at the Pimp meeting, I am much more excited about the coin.
It seems like funds from the game will be used to help out wrestlers in retirement. Just like many sports, wrestlers absolutely destroy their bodies in the game. Wrestling may be fake in that the results are predetermined, but it's very real in terms of the stunts they do, and those stunts take a serious toll on their bodies. Rather than help them, organized wrestling seems to be actively trying not to help them and trying to do everything they can to sweep the problem under the rug.
Anyway, I won't get too much into it. If you are interested in their challenges, I suggest you go read @grindan 's great post about it. I'm not a big wrestling fan (though I was when I was a kid), but I like the idea of a coin trying to help people in need.

Finally, here are some other recent Hive Goals posts I enjoyed reading
And forward we go! It was a strong week. Let's see how this coming one goes!