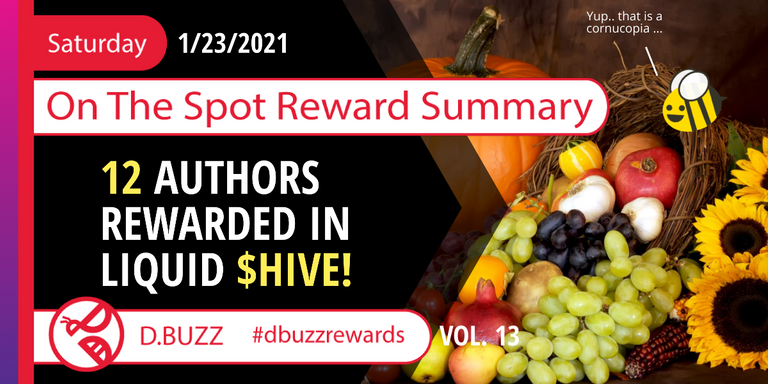 What good D.Buzz friends?
As you know each week we do a round up post of a few particular buzz's. These posts are ones that our in-house rewards team has manually curated and sent an award to.
This week there is a cornucopia of great content. Such as, @drwngcnclsns showing us an illustration of a zodiac porridge of sorts, featuring fastening imagery, and of course pets, like the post from @jiasally showing off their two lovely cats (Hey use the hash tag #petsofhive nex time).
@rmach, reminded us to stay motivated and keep making at least 1% growth each day. @trayan, a New user to D.Buzz dorping some hot fresh art (WOW), and @oleftinka, posting an amazing photo a winter landscape.
These are only a few of the authors we have highlighted, and only a small selection all of the many great posts you can discover while surfing on D.Buzz . What one is your favorite?
Join the wave and check out this week's authors below!
---
---
On the Spot, Spot-on Rewards.
Week #13 (Starting | 01/15/2021)
---
Congratulations all of you, your content and imagery inspires us to post more. Keep being amazing!
What do you think, do you like the way this program is going?
How can we improve it?
---
Want to Sponsor a week of Rewards?
You seem like a cool kid. Would you like to sponsor a weeks worth of D.Buzz rewards? If so reach out to us on discord (https://discord.gg/qjpD4nY8) and let us know.
In exchange for being a sponsor, we would thank you in each of the reward posts, i.e. "This reward is brought to you by X", and thank you in our weekly summary.
How do you earn a On-The-Spot Reward?
Quite simple, post quality content on D.Buzz. :D
---
As always thanks for reading and being part of our ever-growing community. D.Buzz is a platform for you, for the community.
Over and out.
---
---
Is a censorship-resistant short form microblogging platform that empowers you to share your thoughts in 280 characters or less.
Censorship resistant and built for the community with love.
---
We strive to have a fun and neutral stance on topics. If you have any concerns with the content, please contact @jacuzzi, who writes and generates the content for our articles, or the @dbuzz team for clarification.
---


---