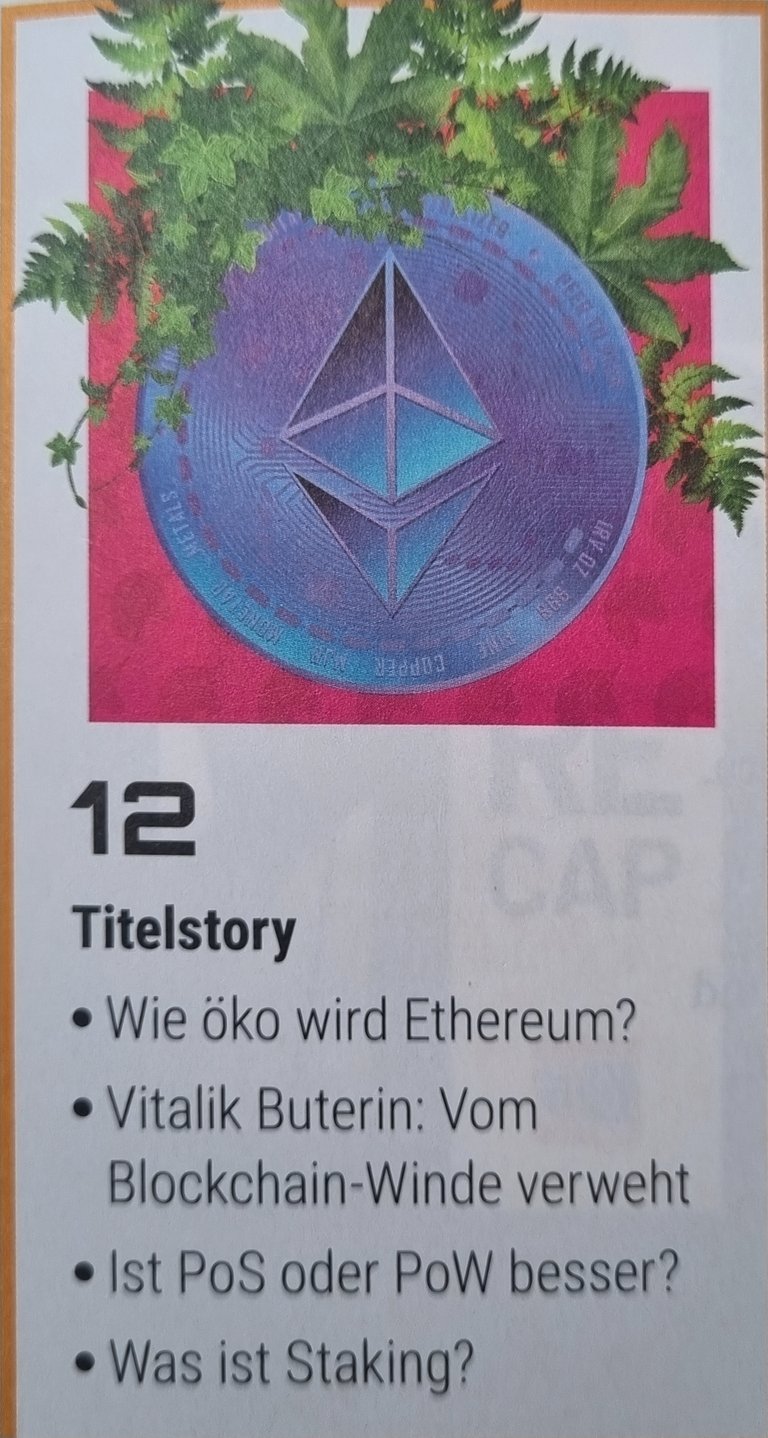 Fast geschafft: Der mühselige Wechsel von Proof-of-Work zu Proof-of-Stake...
Ob sich das wartet gelohnt hat,wird sich vermutlich im September zeigen!
Im September steht die verschmelzung der Ethereum-Blockchain mit der Beacon-Chain an ,daher der Name Merge.
Ohne Ethereum gäbe es kaum NFTs geschweige denn DEFI Anwendungen.
Fabrikhallen , in denen Tausende Hochleistungschips Mathematikrätsel lösen,um Kryptowährungen zu minen,sind zum Sinnbild einer verschwenderischen Kryptoökonomie geworden. Bei Ethereum könnte es bald vorbei sein.
Die Bedeutung des Stakings gegenüber dem Mining wächst. Allen voran der Wechsel von Proof of Work zu Proof of Stake bei Ethereum erhöht die Dynamik im Staking-Sektor. Wie der Ethereum Merge zu beurteilen ist, welche weiteren Argumente fürs Staking sprechen und auf welche Risiken man achten sollte, erklärt Mirko Schmiedl, Gründer und Geschäftsführer von Staking Rewards.
Hier...
https://btc-echo-experts.podigee.io/11-ethereum-merge-was-die-umstellung-fur-staking-bedeutet-mit-mirko-schmiedl
Durch den Wechsel auf Proof-of-Stake reduziert sich der Stromverbrauch um 99,95%. Auch die in der CO²-Bilanz kaum erfasste Entsorgung veralteter Mining-Hardware ist beim Proof-of-Stake kein Thema mehr.
Ethereum wird also in diesem Punkten zum ÖKO-COIN.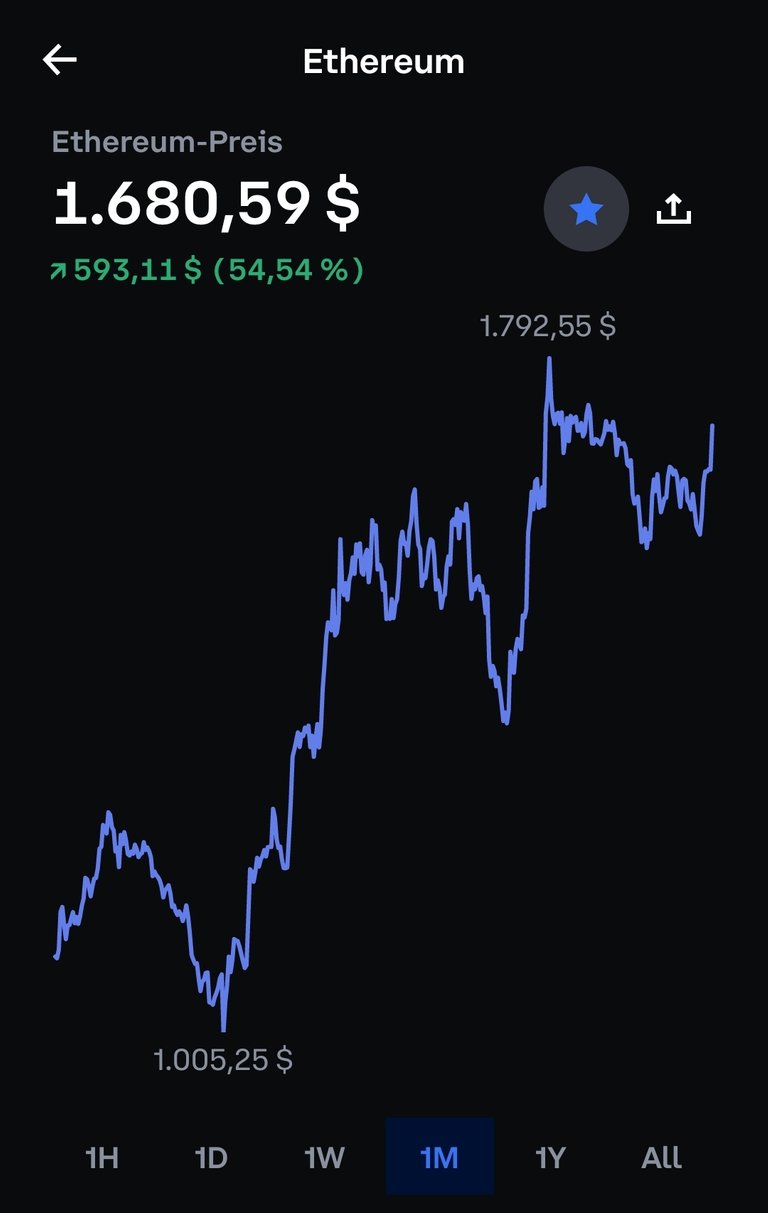 Daran können auch klein Anleger mitverdienen,indem sie als Delegator Validatoren mit Kapital versorgen und an den Gewinnen beteiligt werden.
Ethereum, die zweitwichtigste Kryptowährung der Welt, erholt sich zwar langsam vom Kryptowinter, dümpelt aber mit Kursen um 1.700 US-Dollar noch immer weit unter dem Allzeithoch von fast 4.900 Dollar herum.
Nach dem Merge, den Ethereum-Entwickler Tim Beiko jüngst auf den 19. September 2022 terminiert hatte, wird es Proof-of-Work (PoW) auf der Ethereum-Chain schlicht nicht mehr geben.
Aber warum gibt es von der breiten Masse keine Euphorie?
Das schreibt der Ethereum-Erfinder dem Umstand zu, dass die Bedeutung des Merge von der breiten Masse noch nicht vollständig erfasst sei. Viele Menschen hielten den Merge immer noch für nicht viel mehr als Rauschen. Viele würden die Perspektiven nicht erkennen und glauben, dass der neue Weg von Ethereum nirgendwo hinführe.
Und diese mentale Nichteinpreisung führe letztlich auch dazu, dass der Merge auf der Seite der Kursentwicklung noch nicht eingepreist sei.
Zudem ist nicht jeder begeistert von dem neuen Kurs, den Ethereum nimmt. Chandler Guo, ein bekannter Miner, Angel-Investor und Startup-Berater, hat angedeutet, einen Fork von Ethereum abspalten zu wollen, der dann weiter auf Proof-of-Work setzen werde.
Ein bekannter chinesischer Ethereum-Miner namens Chandler Guo hat eine Kampagne für einen Hard Fork gestartet. Bei diesem würde sich Ethereum in zwei Versionen spalten. Der Grund: Mit dem Merge würden Miner obsolet werden.
In einem Tweet kündigt Guo an, das alte Netzwerk unter dem Namen ETHPOW am Leben zu halten.
Ethereum selbst hat in seiner relativ kurzen Geschichte mehrere Hard Forks erlebt, allen voran die DAO-Fork im Jahr 2017. Aus ihr ging das heutige Ethereum Classic hervor.
Was machen Miner nach dem Merge?
Die rationalste Entscheidung für die Miner wäre es, ihre Hardeware zu verkaufen und mit dem Staking zu beginnen. Aufgrund der hohen GPU-Preise auf dem Sekundärmärkten könnten Miner mit dem Verkauf ihrer Hardware noch einmal ordentlich Kasse machen und sich dadurch ins Staking einkaufen. Die Grafikprozessoren können beispielsweise im Gaming bereich weiterverwendet. Schaut man sich den Preisverfall gebrauchter Grafikkarten auf Plattformen an, scheinen einige Miner diese Strategie bereits zu wählen und ihre Bestände aufzulösen.
Einen anderen Coin zu minen scheint eher unwahrscheinlich, da das Mining nicht profitabel sein wird. Das Mining der anderen Coins beträgt gerademal 2 % der Hashrate von Ethereum.
Michael Saylor äußert scharfe Kritik an Ethereum
Zuerst ging Saylor auf die Dezentralisierung des Ethereum-Netzwerkes ein. Laut Saylor kann kein Netzwerk dezentral sein, welches sich im ständigen Wandel befindet und bei dem grundlegende Eigenschaften des Protokolls immer wieder geändert werden können. Ein dezentrales Protokoll muss laut Saylor fünf bis 10 Jahre unverändert bleiben, bis die langfristige Funktionsweise des Netzwerkes abgeschätzt werden kann.
Das Ethereum Protokoll wurde in der Vergangenheit häufig geändert. Im September steht mit dem lang erwarteten "Merge" die nächste große Protokolländerung an.
"Im Moment besitzt Ethereum einen Mining-Sektor und seit fünf Jahren haben sie [Ethereum Foundation] die Option der Schwierigkeitsbombe, um diesen zu zerstören, aber verzögern es immer wieder. Wer aber sorgt für die Difficulty Bomb? Die Miner wollen sich nicht selbst zerstören. Wer kontrolliert das Netzwerk? Nicht die Miner. Es gibt eine kleine Gruppe von Entwicklern, die die Richtung des Netzwerkes bestimmen und das ist ein Unternehmen. Ein Software-Unternehmen."
Michael Saylor
Während sich das Bitcoin-Protokoll in seiner Grundform seit seiner ersten Version nicht mehr verändert hat und damit die algorithmisch festgelegte Menge an neu ausgeschütteten Bitcoins für immer festgelegt wurde, hat sich die Geldpolitik von Ethereum seit seiner Entstehung immer wieder verändert. Aufgrund der Protokolländerungen bezeichnete Saylor in dem Podcast die zweitgrößte Kryptowährung als »Monstrosität«
Auch die Option, dass Netzwerkteilnehmer über die Hard Forks abstimmen können, ändert laut ihm nichts an der Klassifizierung als Wertpapier. Saylor zog ein Vergleich zu den Abstimmungen innerhalb von börsengelisteten Unternehmen:
"Die Möglichkeit, zu wählen, hilft nicht weiter. Unternehmen stimmen über Dinge ab, wenn die Anteilseigner ein Stimmenrecht besitzen und genau das macht ein Wertpapier aus."
Michael Saylor
Saylor erklärte, dass ein Hard Fork lediglich zur Behebung von Softwarefehlern eine legitime Maßnahme sei. Hard Forks, bei denen Protokolländerungen durchgesetzt werden, führen laut ihm zu einer Zentralisierung des Netzwerkes. Sollte Bitcoin beispielsweise einen Hard Fork durchlaufen und die maximale Anzahl der Bitcoins auf 42 Millionen angehoben werden, würde diese neu entstandene Kryptowährungen seine Dezentralität verlieren und nach Saylor als Wertpapier klassifiziert werden müssen.
Wertpapiergesetze sollen die Investoren vor den falschen Versprechen der Unternehmen schützen. Die Prinzipien der Wertpapiergesetze beruhen laut Saylor darauf, nicht zu stehlen und sind ein Teil der westlichen Ethik. Unregulierte Wertpapiere, die sich als dezentrale Netzwerke verkaufen, verstoßen nach ihm gegen diese Prinzipien.
Vitalik Buterin antwortete harsch...
"Warum wählen Maximalisten immer wieder Helden aus, die sich als totale Clowns herausstellen?"
Mein persönliches Fazit:
Ich bin absolut kein Bitcoin-Maximalist aber die Aussagen von Michael Saylor sind für mich absolut nachvollziehbar. Jeder Coin hinter dem eine Foundation steht, kann für mich nicht als dezentral eingestuft werden. DEFI ist für mich derzeit nichts weiter als ein Werbegag. Die Antwort von Buterin hat die Aussagen von Saylor definitiv nicht entkräftet sondern eher bestätigt.
Bis zum September könnten Trader den Kurs von Ethereum noch stark antreiben. 50% Kursentwicklung in den letzten 4 Wochen lassen mich dies vermuten. Kurz vor dem Merge sehe ich allerdings wieder eine Abverkaufswelle falls sich nicht Banken und Großanleger wegen der Stakingrewards einkaufen.
Was in keinem der Artikel erwähnt wird, dies stellt allerdings meine persönliche Meinung dar,ist, dass sich Ethereum jetzt zun Banken-Coin weiterentwickelt.
Um ein Validator für Ethereum zu werden und um ca. 4% Zinsen zuerhalten musst du 32 ETH bereitstellen,ohne Pools für Kleininvestoren kaum finanzierbar.
Persönlich bevorzuge ich Hive Coin. Ab dem ersten Hive erhält der Blogger ca. 3% Zinsen und kann seine Rewards durch aktives Voten und durch Autovoter sogar auf über 8% erhöhen. Proof-of-Brain hat bisher immer noch die höchste Rendite erwirtschaftet. 😉
Quellen:
https://t3n-de.cdn.ampproject.org/v/s/t3n.de/news/ethereum-vitalik-buterin-merge-1488928/amp/?amp_gsa=1&amp_js_v=a9&usqp=mq331AQIKAGwASCAAgM%3D#amp_tf=Von%20%251%24s&aoh=16592545041466&csi=0&referrer=https%3A%2F%2Fwww.google.com&ampshare=https%3A%2F%2Ft3n.de%2Fnews%2Fethereum-vitalik-buterin-merge-1488928%2F
https://www.btc-echo.de/schlagzeilen/eth-miner-stellt-sich-gegen-merge-mit-hard-fork-147816/
https://www.blocktrainer.de/michael-saylor-aeussert-scharfe-kritik-an-ethereum/
---
English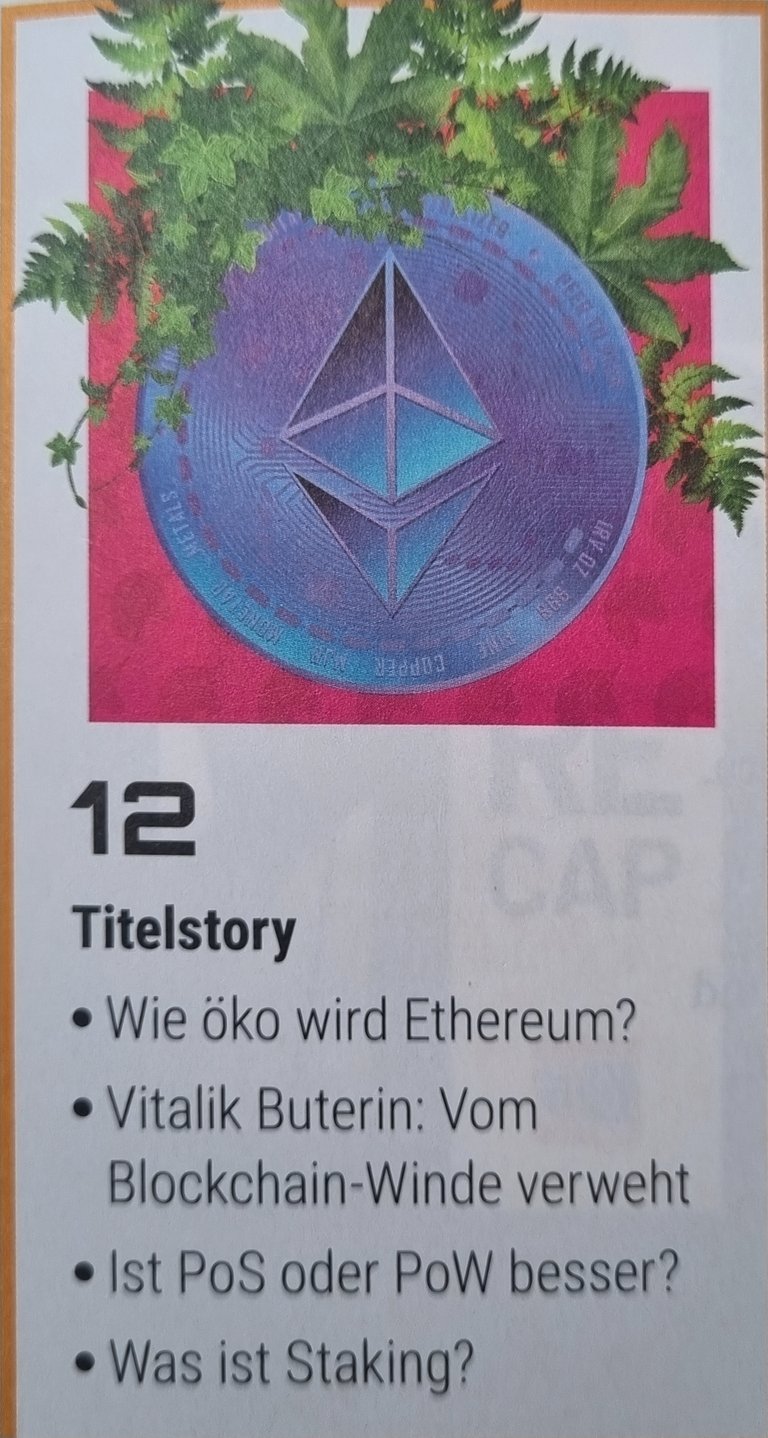 Almost there: The tedious switch from Proof-of-Work to Proof-of-Stake...
September will probably show whether the wait was worth it!
In September, the Ethereum blockchain will be merged with the Beacon chain, hence the name Merge.
Without Ethereum there would hardly be any NFTs let alone DEFI applications.
Factory floors, where thousands of high-performance chips solve math puzzles to mine cryptocurrencies, have become emblematic of a wasteful crypto-economy. Ethereum could be over soon.
The importance of staking over mining is growing. Above all, the change from Proof of Work to Proof of Stake at Ethereum increases the dynamics in the staking sector. Mirko Schmiedl, founder and managing director of Staking Rewards, explains how the Ethereum Merge is to be assessed, which other arguments speak in favor of staking and which risks one should watch out for.
Here...
https://btc-echo-experts.podigee.io/11-ethereum-merge-what-the-conversion-for-staking-means-with-mirko-schmiedl
Switching to Proof-of-Stake reduces power consumption by 99.95%. Even the disposal of outdated mining hardware, which is hardly recorded in the CO² balance, is no longer an issue with the Proof-of-Stake.
So Ethereum becomes an ECO-COIN on these points.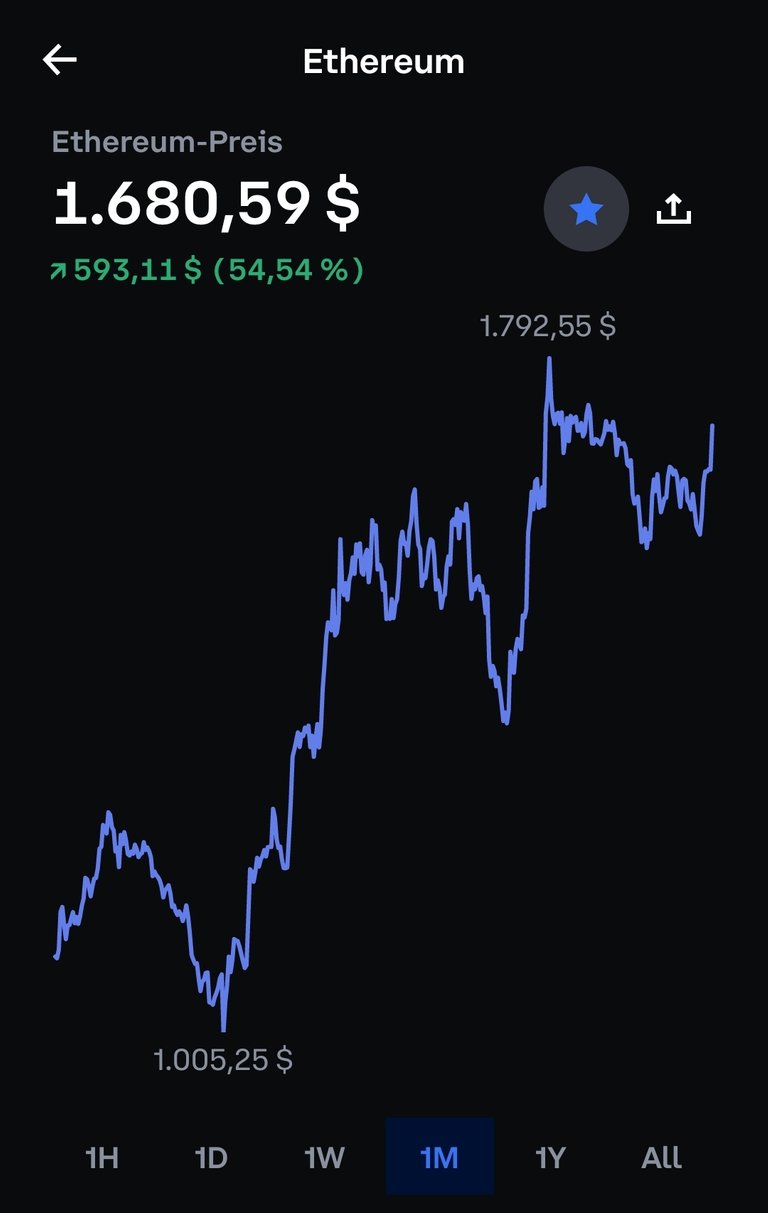 Small investors can also earn money from this by providing capital to validators as delegators and sharing in the profits.
Ethereum, the second most important cryptocurrency in the world, is slowly recovering from the crypto winter, but is still floating around well below the all-time high of almost $4,900 at prices around $1,700.
After the merge, which Ethereum developer Tim Beiko recently scheduled for September 19, 2022, Proof-of-Work (PoW) will simply no longer exist on the Ethereum chain.
But why is there no euphoria from the masses?
The Ethereum inventor attributes this to the fact that the importance of the merge has not yet been fully grasped by the general public. Many people still thought of the merge as little more than noise. Many would not see the prospects and believe that Ethereum's new path is going nowhere.
And this mental non-pricing ultimately means that the merger is not yet priced in on the price development side.
Also, not everyone is excited about the new course Ethereum is taking. Chandler Guo, a well-known miner, angel investor and startup advisor, has indicated that he intends to fork Ethereum, which will then continue to rely on proof-of-work.
A well-known Chinese Ethereum miner named Chandler Guo has launched a hard fork campaign. In this case, Ethereum would split into two versions. The reason: The merge would make miners obsolete.
In a tweet, Guo announces that he will keep the old network alive under the name ETHPOW.
Ethereum itself has experienced several hard forks in its relatively short history, most notably the DAO fork in 2017, which gave rise to today's Ethereum Classic.
What do miners do after the merge?
The most rational decision for miners would be to sell their hardware and start staking. Due to the high GPU prices on the secondary markets, miners could make a good buck by selling their hardware and thereby buy into staking. The graphics processors can be reused in the gaming area, for example. If you look at the fall in price of used graphics cards on platforms, some miners already seem to be choosing this strategy and liquidating their stocks.
Mining another coin seems unlikely as mining will not be profitable. The mining of the other coins is just 2% of the Ethereum hash rate.
Michael Saylor Strongly Criticizes Ethereum
First, Saylor addressed the decentralization of the Ethereum network. According to Saylor, no network can be decentralized that is constantly changing and in which fundamental properties of the protocol can be changed again and again. According to Saylor, a decentralized protocol must remain unchanged for five to 10 years before the long-term functioning of the network can be estimated.
The Ethereum protocol has changed many times in the past. In September, the long-awaited "Merge" will be the next major protocol change.
"Right now Ethereum has a mining sector and for five years they [Ethereum Foundation] have had the option of the difficulty bomb to destroy it but keep delaying it. But who takes care of the Tuesfficulty bomb? The miners do not want to destroy themselves. Who controls the network? Not the miners. There's a small group of developers who set the direction of the network, and that's a company. A software company."
Michael Saylor
While the Bitcoin protocol has not changed in its basic form since its first version and the algorithmically determined amount of newly distributed Bitcoins has thus been fixed forever, Ethereum's monetary policy has changed again and again since its creation. Due to the protocol changes, Saylor dubbed the second largest cryptocurrency a "monstrosity" on the podcast
According to him, the option that network participants can vote on the hard forks does not change anything about the classification as a security. Saylor drew a comparison to voting within public companies:
"The ability to choose doesn't help. Companies vote on things when shareholders have voting rights, and that's what a security is."
Michael Saylor
Saylor explained that a hard fork is only a legitimate measure to fix software bugs. According to him, hard forks, in which protocol changes are enforced, lead to a centralization of the network. For example, if bitcoin undergoes a hard fork and the maximum number of bitcoins is raised to 42 million, this newly created cryptocurrency would lose its decentralization and would have to be classified as a security according to Saylor.
Securities laws are designed to protect investors from the false promises made by companies. According to Saylor, the principles of securities laws are based on not stealing and are part of Western ethics. According to him, unregulated securities that sell themselves as decentralized networks violate these principles.
Vitalik Buterin answered harshly...
"Why do maximalists keep picking heroes who turn out to be total clowns?"
My personal conclusion:
I am absolutely not a Bitcoin maximalist, but Michael Saylor's statements are absolutely understandable for me. Every coin that is backed by a foundation cannot be classified as decentralized for me. For me, DEFI is currently nothing more than a publicity stunt. Buterin's answer definitely did not invalidate Saylor's statements but rather confirmed them.
Until September, traders could still drive the price of Ethereum strongly. 50% course development in the last 4 weeks let me suspect this. Shortly before the merger, however, I see another wave of sell-offs if banks and large investors don't buy in because of the staking rewards.
What is not mentioned in any of the articles, although this is my personal opinion, is that Ethereum is now evolving into a bank coin.
In order to become a validator for Ethereum and to receive around 4% interest, you have to provide 32 ETH, which can hardly be financed without pools for small investors.
Personally, I prefer Hive Coin. From the first hive, the blogger receives around 3% interest and can even increase his rewards to over 8% through active voting and autovoting. Proof-of-Brain has still generated the highest returns to date. 😉
Sources:
https://t3n-de.cdn.ampproject.org/v/s/t3n.de/news/ethereum-vitalik-buterin-merge-1488928/amp/?amp_gsa=1&amp_js_v=a9&usqp=mq331AQIKAGwASCAAgM%3D#amp_tf=Von %20%251%24s&aoh=16592545041466&csi=0&referrer=https%3A%2F%2Fwww.google.com&ampshare=https%3A%2F%2Ft3n.de%2Fnews%2Fethereum-vitalik-buterin-merge-1488928%2F
https://www.btc-echo.de/schlagzeile/eth-miner-posed-sich-against-merge-with-hard-fork-147816/
https://www.blocktrainer.de/michael-saylor-aeussert-sharp-criticism-an-ethereum/
Posted Using LeoFinance Beta