Hi there. In this post I would like to share this website app called layoffs.fyi. This app keeps tracks of recent tech layoffs that have occurred in 2022, 2023 and since the lockdowns. The latest famous layoffs have been layoffs from Amazon, Google and Meta in January 2023. I explore this app and share some insights.
Screenshots are taken from the website.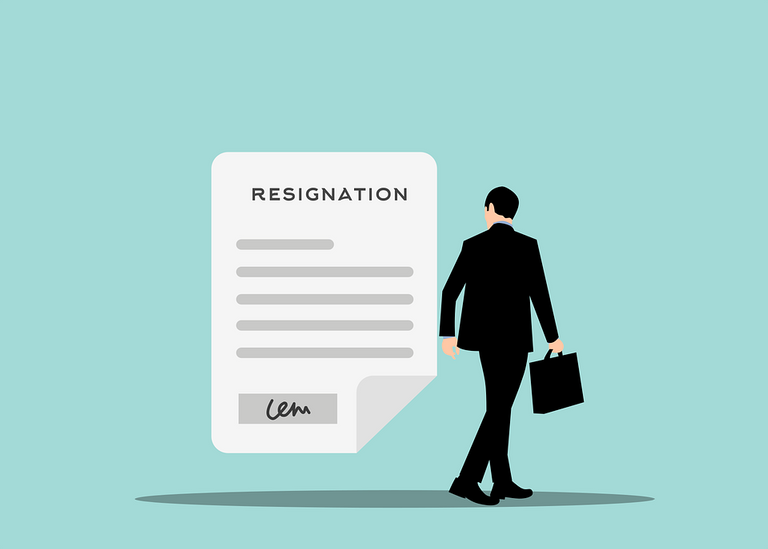 Pixabay Image Source
Topics
---
The layoffs.fyi Application
List Of Employees Laid Off Feature
Companies With Most Layoffs
Companies That Lost 100% Of Employees
Crypto Company Layoffs
Layoffs In Canada
Concluding Thoughts
 
The layoffs.fyi Application
---
This application is made by Roger Lee with the use of Airtable. According to the website there has been 219 tech companies with layoffs along with 68149 employees laid off in 2023. In 2012 there have been 1040 tech companies with layoffs along with 159684 employees laid off. Screenshots taken on January 27, 2023.


Here is the most recent table with company layoffs. The ones that stand out are SAP, IBM and maybe Luno.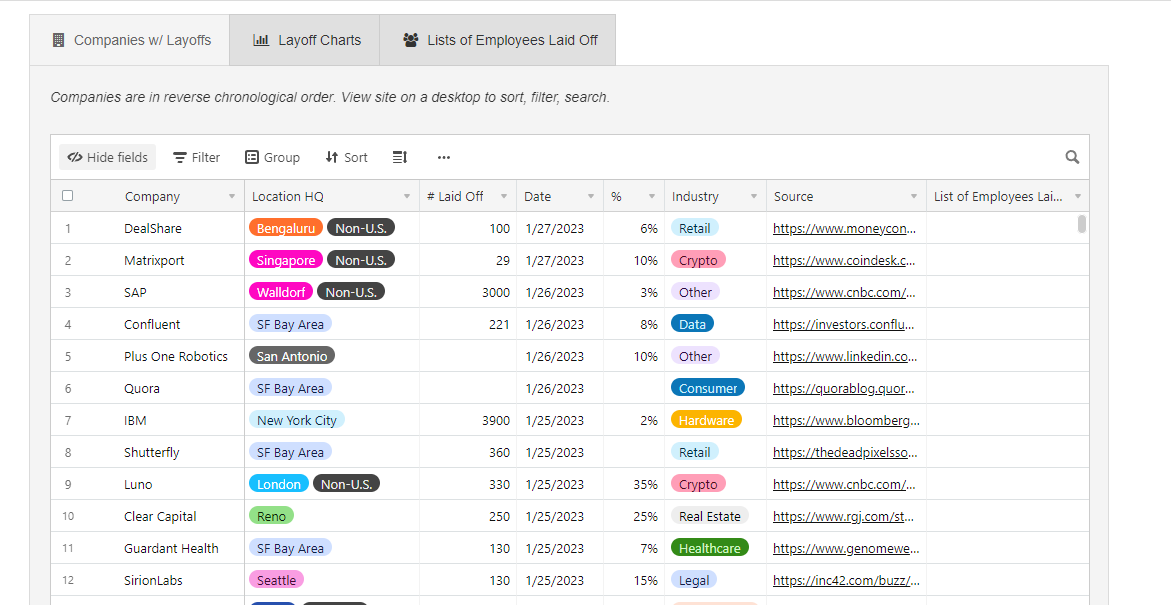 List Of Employees Laid Off Feature
---
There is a tab for accessing the list of employees laid off. The columns include List Name, Date, Number of People, a link for the list of laid off employees from that company. Links are crowdsourced layoff lists made by others. This feature is only for recuriting purposes.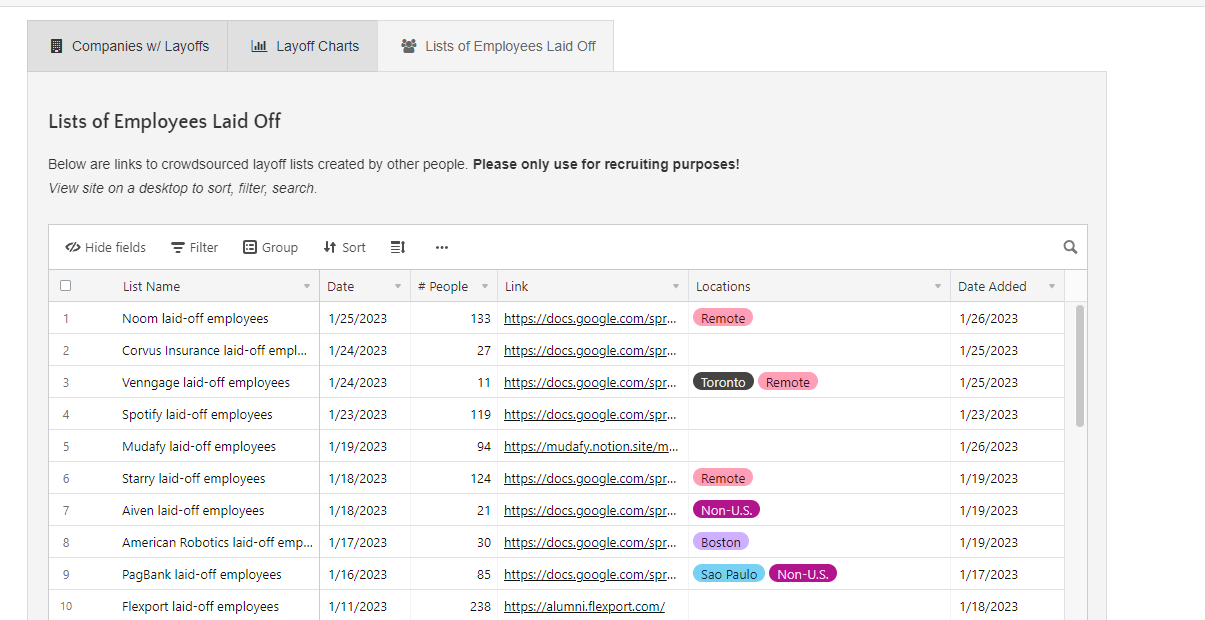 Companies With Most Layoffs
---
The table does have a sort function which allows the user to sort the table. I click on Sort, then Pick a field to sort by. The field I click is #Laid Off and the click on 9 -> 1 for descending order. I present the top 15 companies with the most workers laid off in the screenshot below.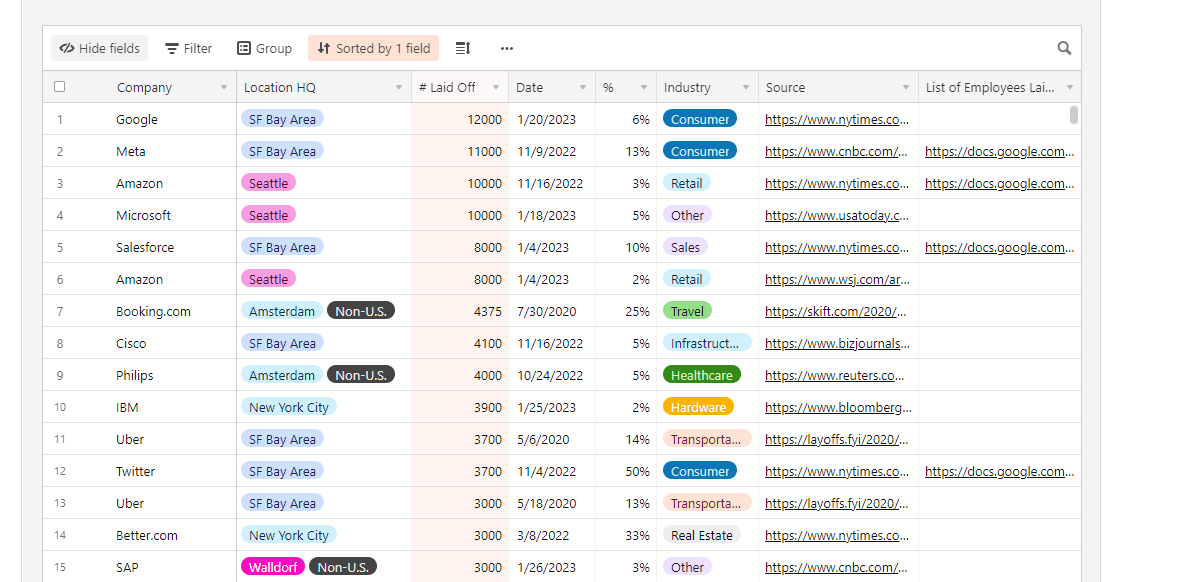 Most Layoffs In SF Bay Area
There is a filter feature that you can use. I combine sorting the number laid off along with filtering the Location HQ column to show SF Bay Area tech companies. The companies that are featured in this list include Google, Meta, Salesforce, Cisco, Uber, Twitter and Coinbase.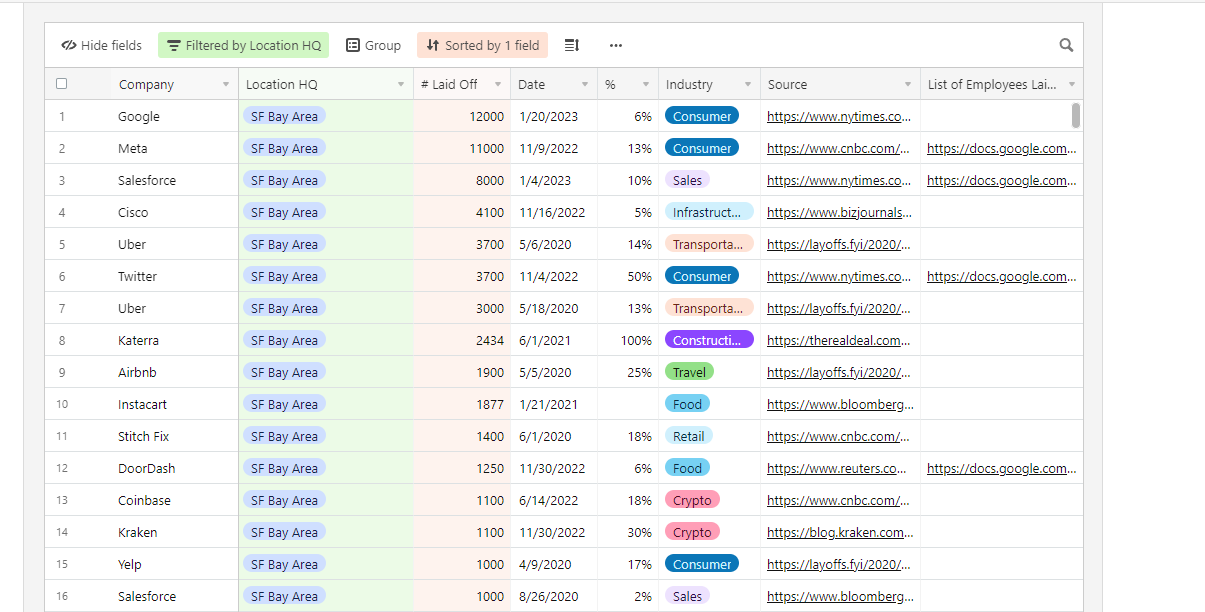 Companies That Lost 100% Of Employees
---
You can sort the table to discover companies that lost 100% of their employees. I sort by % along with descending order 9 -> 1. Here is the list/screenshot.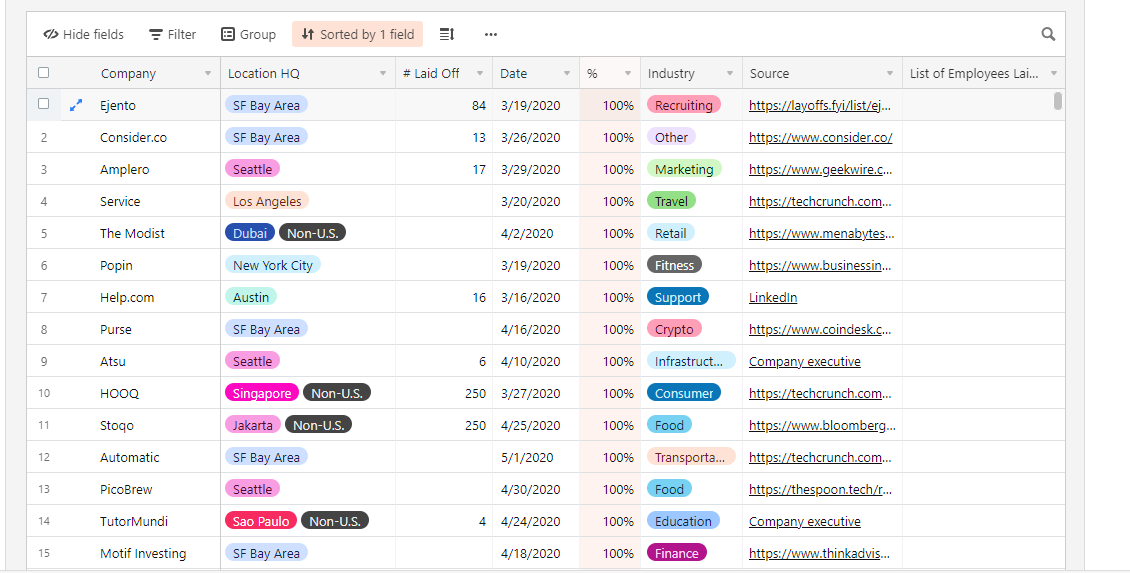 Crypto Company Layoffs
---
I filter by Industry and select Crypto to obtain crypto company layoffs. It is sorted by #Laid Off in descending order. Crypto.com is number one with crypto layoffs.
Layoffs In Canada
---
As I am in Canada, I am curious to see the number of layoffs in Canada. The biggest known cities in Canada area are Toronto, Vancouver, Montreal, Calgary, Ottawa and Waterloo. The known names here are Shopify, SkipTheDishes (similar to Uber Eats), Ritual (similar to Uber Eats) and Wealthsimple (similar to Robinhood in USA).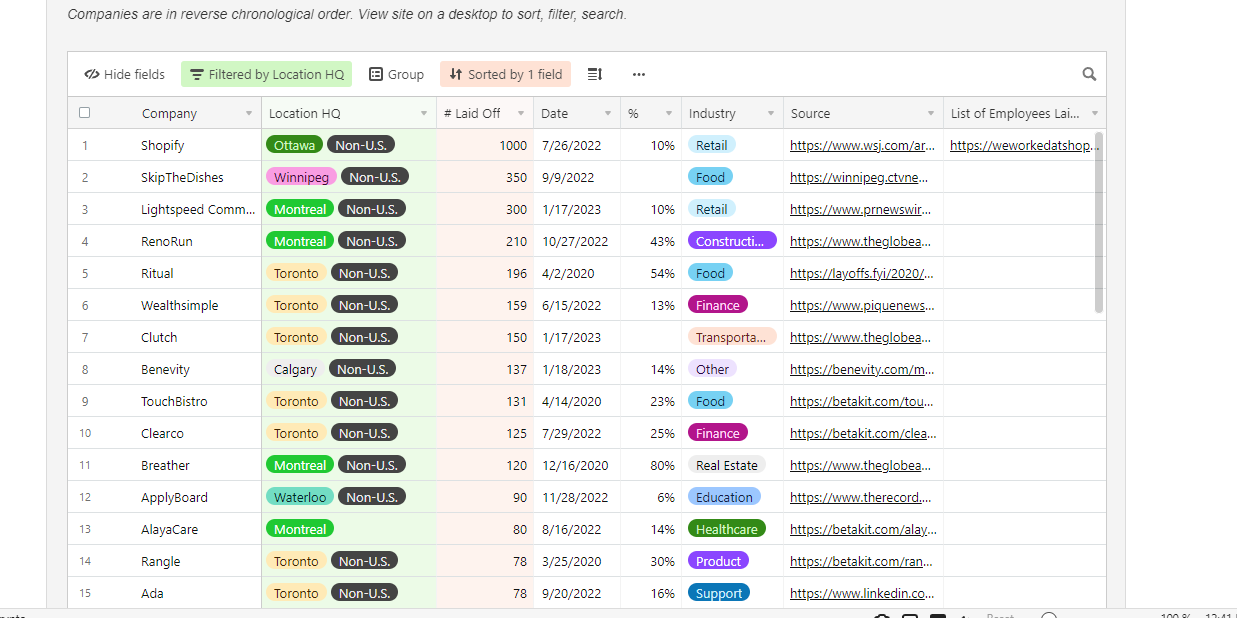 Concluding Thoughts
---
This app is very nice. You can find some interesting (and depressing) insights from the data. I found out about this from a Stansberry Research video.
It appears that a trend is forming with the technology layoffs in the recent years from the given screenshots below. There are quite a few people being laid off from tech jobs globally. You would have to dig deeper for finding reasons behind the layoffs. Possible reasons could be automation, higher interest rates (no more cheap debt), recession fears, lockdowns, removing unproductive workers, low profits and so on. You would also have to dig deeper in determining what type of jobs were not needed. May these affected workers find employment and prosperity soon. As of late times are tough for many people.
Time series bar graphs screenshots below.

Thank you for reading.
Posted Using LeoFinance Beta