Hi there. In this finance, real estate post I would like to highlight the insane Toronto housing market. Prices were insane two years ago when the family and I were house hunting. I moved to outisde of the Toronto area for a more affordable place that is still near Toronto. As of March 2022, the house prices in Toronto are just too much.
This recent Zerohedge post along with this Canadian news article motivated me to write this post.
This post is a bit of a follow up from a Toronto housing post I made from a year or two years ago.
A Sample Of Expensive Toronto Listings
---
You could search for Toronto listings with Zillow but I use this Canadian real estate search site called Royal Lepage for the searches. Here is a small sample of Toronto listings with their prices. Three screenshots below. Link of most recent Toronto properties for those interested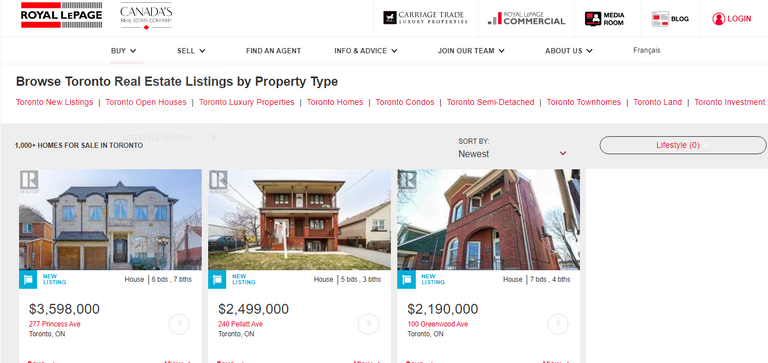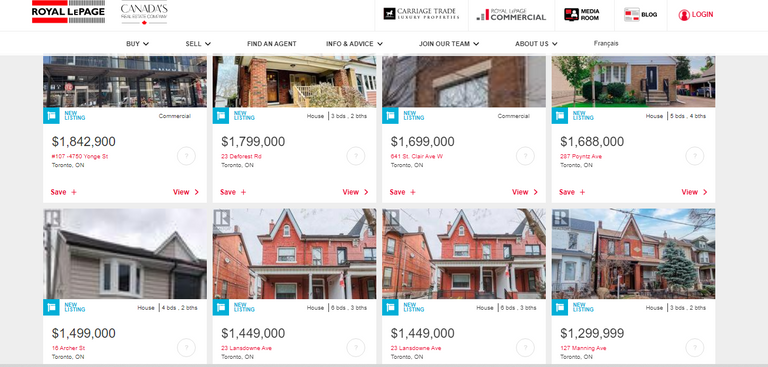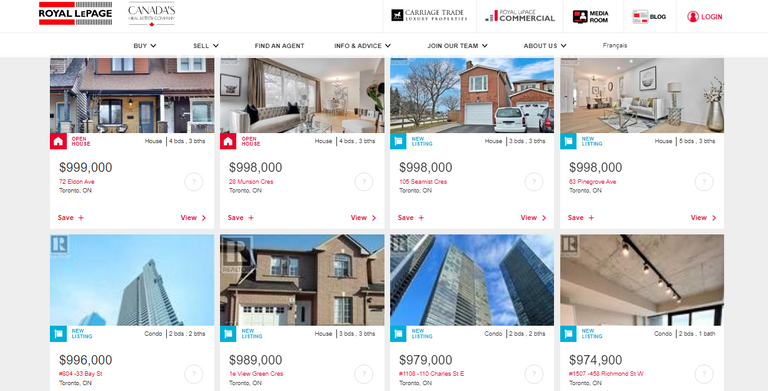 The first three houses in the first screenshot are super expensive at those have more than 3 bed rooms, 3 bathrooms.
In the second screenshot, the prices are at least one million dollars CAD and a few of them are semi-detached houses.
With the third screenshot, the condo listings that are just under one million dollars CAD are in the downtown part of Toronto. A million dollars for a condo??? No thank you.
Toronto Home Sold Over $613 000 Over Listing Price
---
From house hunting with the family, bidding wars were very common. Listing prices would be set low from the seller on purpose to invite bidding wars. These bidding wars were insane as people were willing to bid way over asking price. This news article highlights one of these over asking price bids. The bid is $613 000 CAD (490 841 USD with 1USD to 1.24888 forex rate) over asking.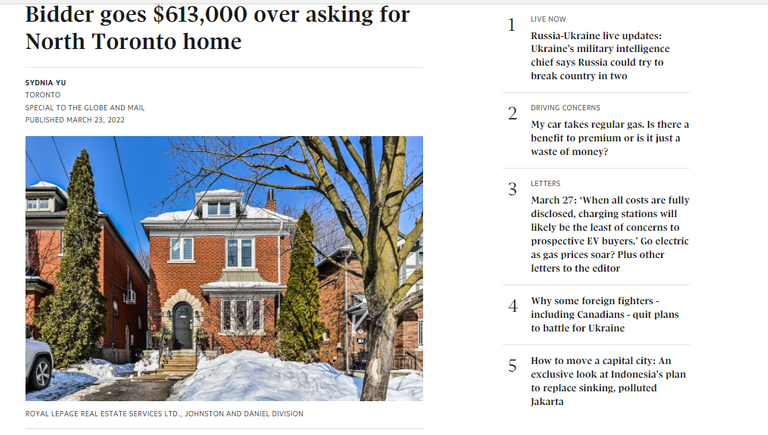 From the start of the article they have the following information:
174 Cranbrooke Ave., Toronto

Asking price: $1,995,000 (February, 2022)

Selling price: $2.608-million (February, 2022)

Previous selling price: $1,065,000 (August, 2014)

Taxes: $8,597 (2022)

Days on the market: Six


What stands out for me is six days on the market and an insane bidding war. Who are these buyers?? I am sure this stuff is not likely to happen if interest rates are higher than they are now.
I have Googled the location of 174 Cranbrooke Avenue, Toronto. It is about 20 minutes by car from the house to Downtown Toronto and 25 minutes to downtown Toronto by the subway train. These commute times are really good which increases the price of the house by a lot. Expensive house & short commute time versus Not so expensive house but longer commute time.
Thank you for reading.
Posted Using LeoFinance Beta