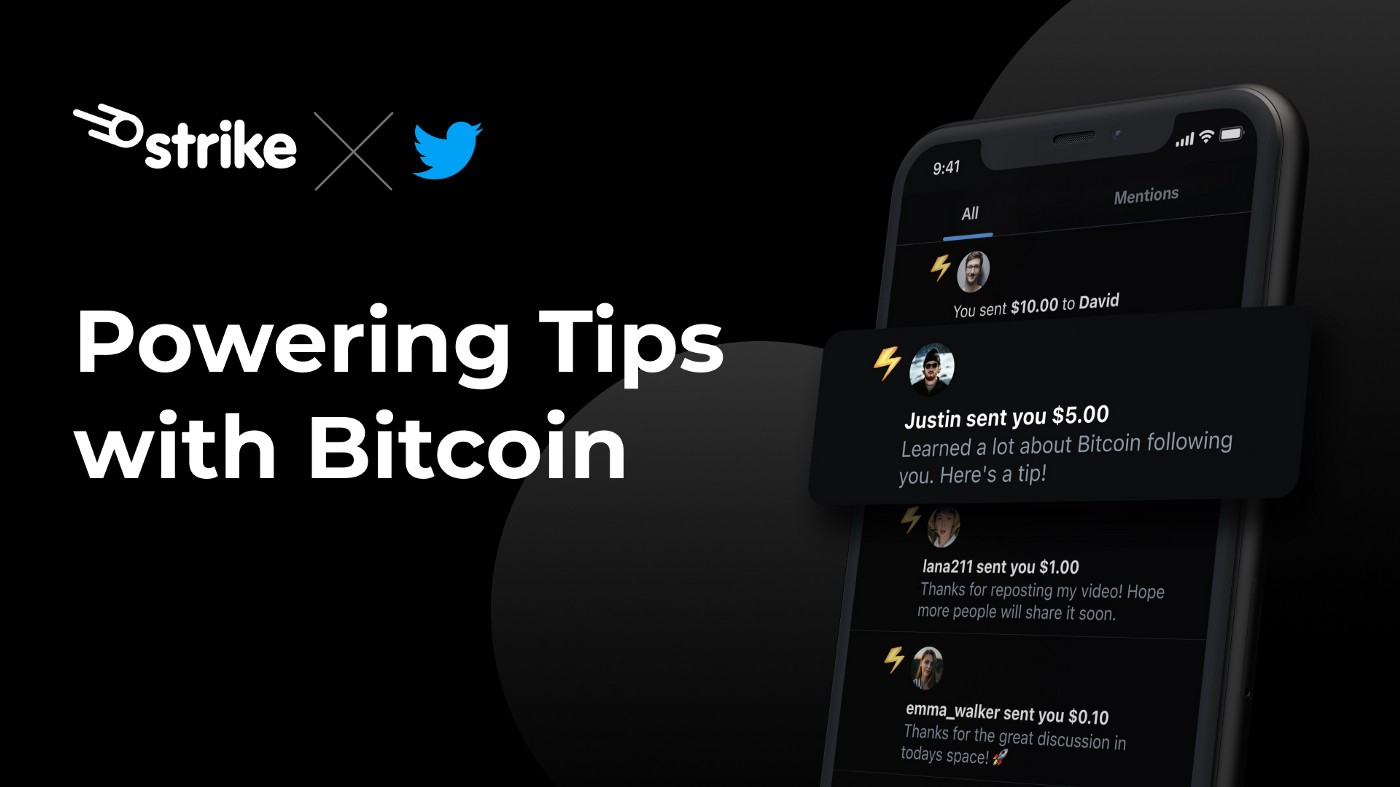 ---
It was already in the cards for some time now, being announced by Twitter CEO, but it's still nice to see it rolled out. Starting today (pending AppStore availability) Twitter for iOS enables users to tip each other with Bitcoin.
The tech behind this feature is actually a Strike integration. For those of you remembering my posts about El Salvador making Bitcoin legal tender, it's worth noting they workd with Strike in developing their wallet. They went even further, and they launched an API to their service. Twitter seems to be their first client.
Here's what Jack Mallers, CEO of Strike, just wrote on his Medium page:
Yo. Today I am unbelievably excited to announce the Strike API and Strike's first API partner, Twitter. Today, Twitter enables free, instant, global payments for their users with their integration of the Strike API. Starting today, Twitter will allow all iOS users around the globe to send tips over the Lightning Network. The Strike Tips integration, allowing users to receive global tips through their Twitter account, will begin to roll out on iOS today and expand to all users including Android over the coming weeks.

At Strike, our mission is to build a more financially connected world. We accomplish this by making Bitcoin and the Lightning Network easily accessible and usable. Our API enables marketplaces, merchants, businesses, developers, and more, to offer instant, free, global payments to anyone, at any time​​ — improving financial access and enhancing financial experiences for everyone in the world.

Today, we take a giant leap forward in growing global interoperability with the world's first open monetary network, Bitcoin. Today, we continue our march towards migrating the world onto the singular monetary standard, Bitcoin. Today, we launch the Strike API, making existing payments everywhere in the world cheaper and faster, unlocking a whole new set of payment use cases never seen before.
I'm sure we'll hear more about this in the coming days, but nevertheless, I thought it's good to know.
That doesn't make Twitter all of a sudden uncensorable, by the way, they still have this huge problem (which Hive solves beautifully), but it shows a clear commitment from one major social media player towards the real crypto world. A couple of years ago, Facebook tried to roll their own Libra currency (which was more like a CBDC than a real crypto), and, as far as I know, they are still in advance talks for their Diem project, which is some sort of a sequel to Libra.
All in all, a very strong signal that decentralized social media is the right way to go.
Image source: Jack Mallers Medium page.
Posted Using LeoFinance Beta