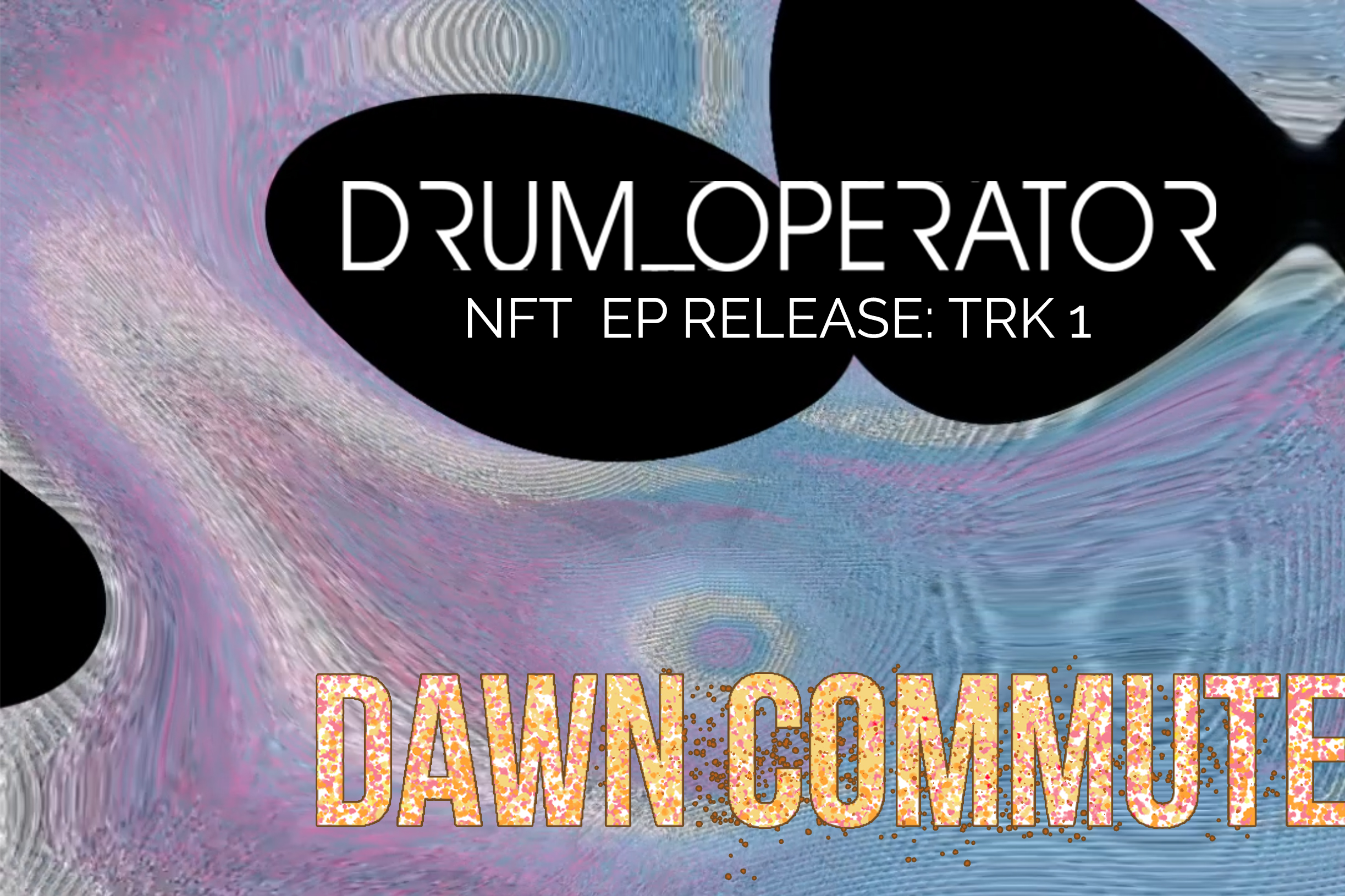 Excited to report that after a few weeks of networking and learning the mechanics and dynamics of the emergent NFT multiverse, today I both launched and sold the first copy of my new NFT-exclusive ambient EP, PERMANENT LOSS. "Dawn Commute" is track one and bottles lethargic snooze alarm energy before funneling it through a grid of traffic and deadlines. I'll be releasing tracks in NFT format, limited editions of 25. Priced for collection at .1 eth and I hope reflective of the 25 or so hours I invested in its composition, performance and accompaniment on hardware modular video synthesis. I am confident I've put in at least 25x the effort vs a commensurate flashing image of bling'd Elon Musk, no matter how intensely he may or may not flash. Again, I'm not trying to dig into the flourishing flashing Musk .gif infrastructure but I'd love for my original ambient EP and laboriously crafted video synthesis to carve out a tiny niche next to it.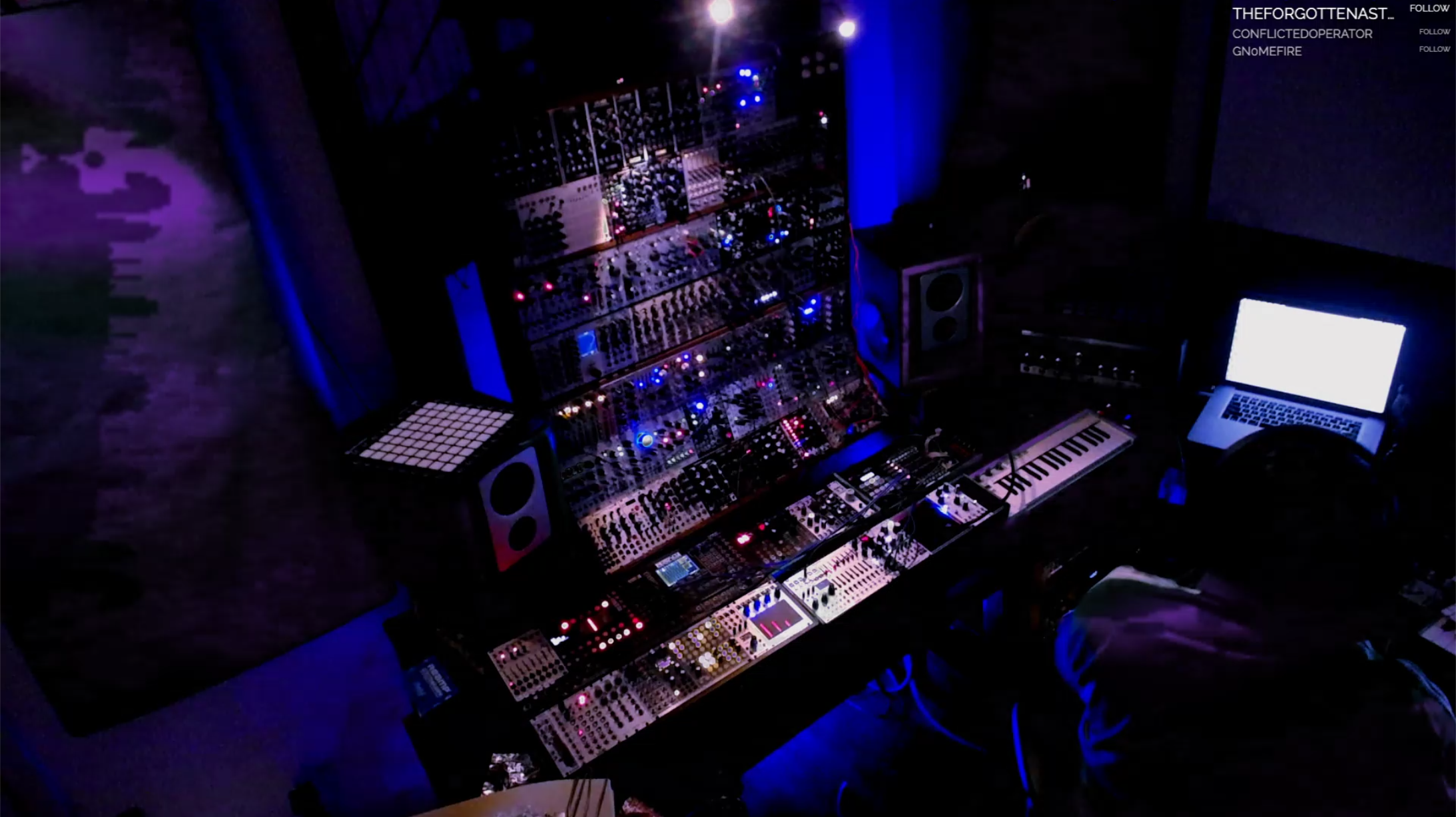 Speaking of video synthesis (a non sequitur I don't get to employ nearly enough day to day,) this piece liberally employs hardware modular video synthesis via the Sleepy Circuits Hypno and meticulous editing. As you can see in the image above, I'm composing and improvising live onstream (twitch.tv/drum_operator) and patching copies of major control voltages from within the synth into modulation points on the video engine. I then either project or, in this case, chroma these atomically-linked-to-all-the-voltages-making-the-sound visuals onto greenscreened canvases and ... jumpsuits. By capturing the generative visuals separately before rebroadcasting, I'm able to improvise musically and visually and keep the best moments of each for heavy revision in the DAW and Premier. I actually lost one of the best organic visual moments from this session and struggled to painfully recreate it post-stream before having to strike the patch. The modular giveth. The modular taketh away.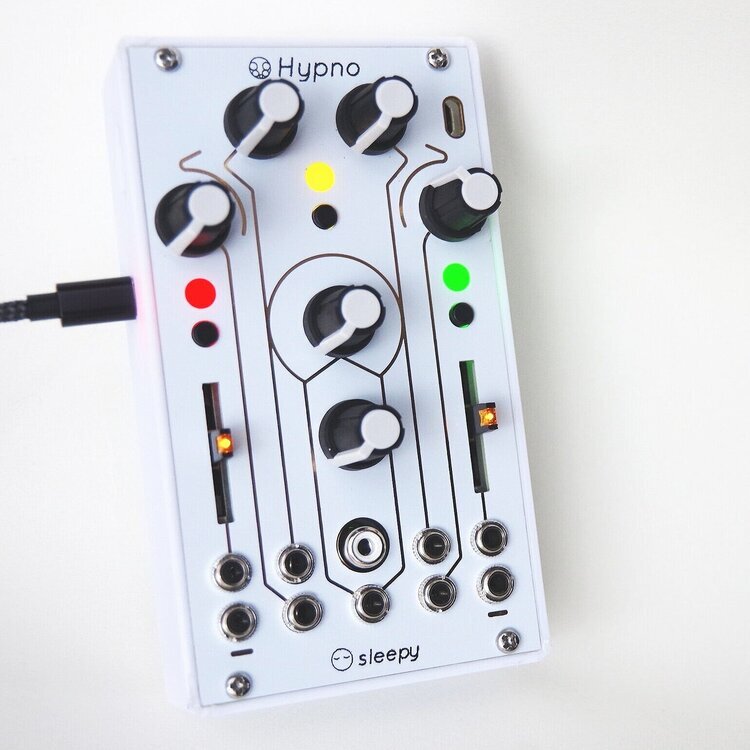 Sonically, everything but the string patch is culled from multiple passes on the modular ... I particularly dig the Rival Consoles style plucks halfway through which were a very simple single oscillator patch with dual envelopes "plucking" the Three Sisters filter in lieu of relying heavily on a vca for shaping the sound. Not exactly reinventing synths but always satisfying to land on a somewhat familiar and appropriate sound without necessarily aiming for it and laboring over it.
If you want to help me succeed in this new space, purchasing a copy of this NFT is without a doubt the best way as I'm trying to get myself verified on Rarible / established as a reliable investment in the NFT universe. Hopefully my three and a half year (WHERE HAS THE TIME GONE) tenure creating music first on Steem then on Hive speaks to my persistence in hanging around in the space long enough to be the LAST GREATEST CRYPTO-POWERED MODULAR SYNTHESIZING CYBORG FROM THE FUTURE.
Links to DO stuff:
Rarible Ambient EP: https://rarible.com/token/0xd07dc4262bcdbf85190c01c996b4c06a461d2430:335955:0xdd8b916de8c2ecee69ceb1908163613f24d3c77a
Instagram: https://www.instagram.com/drum_operator/
Youtube: https://www.youtube.com/channel/UCdv7tQIqtM5SZ-XK6c4nAgg
Facebook https://www.facebook.com/drumoperator/

Stay tuned for the release of my next work in progress celebrating the rise of Cub and going down on it's home blockchain via @nftshowroom!