This is the weekly report to investors of EasyDeFi. I report the earnings of the pool. EasyDeFi Investors Report Sunday December 19th
.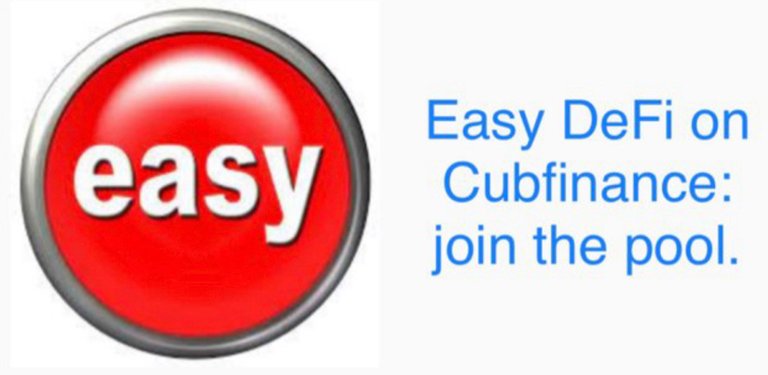 How does the EasyDeFi Investors Pool work?
Investors send liquid Leo or Hive to @easydefi. I bridge the tokens to Binance smart chain, then swap bLeo for Cub and BUSD, then I deposit them in a liquidity pair, obtain LP tokens, and deposit the LP tokens in a LP staking farm. I harvest the earnings daily and deposit them in another staking pool. I collect farm and staking pool earnings every Sunday and distribute them to pool members minus a 10% fee.
Pool Investors Earnings this Week.
The pool earnings this week were good! The pooled Leo is converted to Cub-BUSD, and the earnings for this past week were 211 Cub, but compared to last week the Cub price is down, so it traded for 394 bLeo and 39 went to @shortsegments as an Admin Fee. This left 355 for the stake based investors.
This weeks Stake based earnings
This weeks Stake based earnings
@joefinance 2720/20,640=0.132x355=46.86 Leo
@mephistophenes4000/20640=0.194x355=68.8Leo
@quinnertronics535/20,640=0.026x355=9.23Leo
@lalai 508/20,640=0.0235 x 355 = 8.34 Leo
@shortshots 1900/20,640=0.092x355=32.66 Leo
@spinvest 1000/20,640 = 0.0484x355=17.2 Leo
@xabi 250/20,640 = 0.0121 x 355 = 4.3 Leo
@smallbites 2966/20,640=0.144x355=51.12 Leo
@marshmellowman 1000/20,640=0.0484x355=17.2 Leo
@rihc94 1327/20,640=0.0643x355 = 22.83 Leo
@d-company 2000/20,640= 0.097x355=34.44 Leo
@mistakili 100/20,640=0.00484x355= 1.72 Leo
@tandara 2000/20,640= 0.097x355= 34.44 Leo
@kevinnag58 200/20,640= 0.00969x355=3.44 Leo
NEW: @trumpman 151/20640 = 0.00732 x 355 = 2.6 Leo
Next Week @trumpman will be 886/21376 as he added 736 to his investment on 12/18/2021.
Wallet Transfers documents investors earnings sent to their wallets.
.
The Average pool investor is earning an estimated 105% ROI (return on investment) per year. I also pay all the fees and do all the transactions. Pool members get their weekly earnings sent to their Leo wallets each Sunday automatically. It's pretty easy for pool members to earn a high yield.
How to Join the Pool.
Send 100 Leo or 100 Hive to @easydefi and you can get your earnings in your Leo wallet every Sunday.
Posted Using LeoFinance Beta