Week 18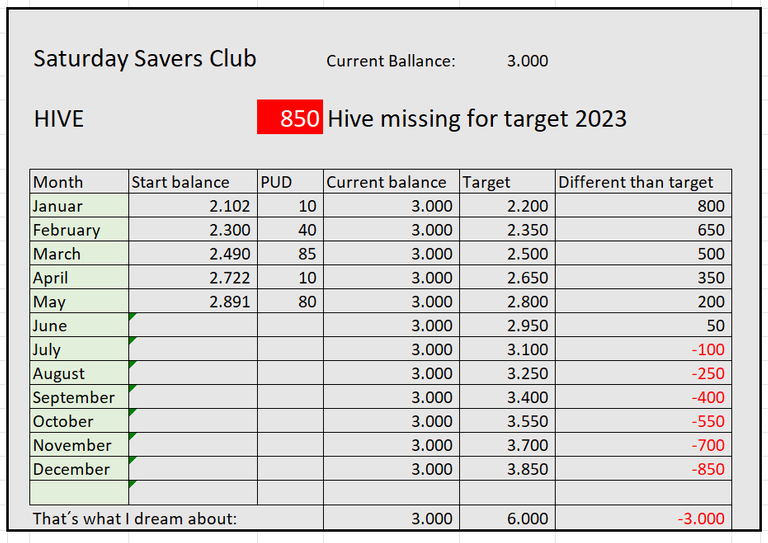 English *** Deutsch

This year I joined the Saturday Savers Club run by @susie-saver and @eddie-earner.
For this purpose, I set myself an annual goal for three currencies that I would like to achieve.
These are:
HBD
HIVE
LEO
So the classics.
HBD
Since I put 10 HBD in my Savings every month, plus the interest, I am now over my target for the first time this year. In fact, one HBD is still missing.
My monthly interest has gone up from 3.207 to 3.387.
HP
Here I can already celebrate a bit. I have exactly 3000 hive in my account. I still need 850 hives to reach my goal for the year.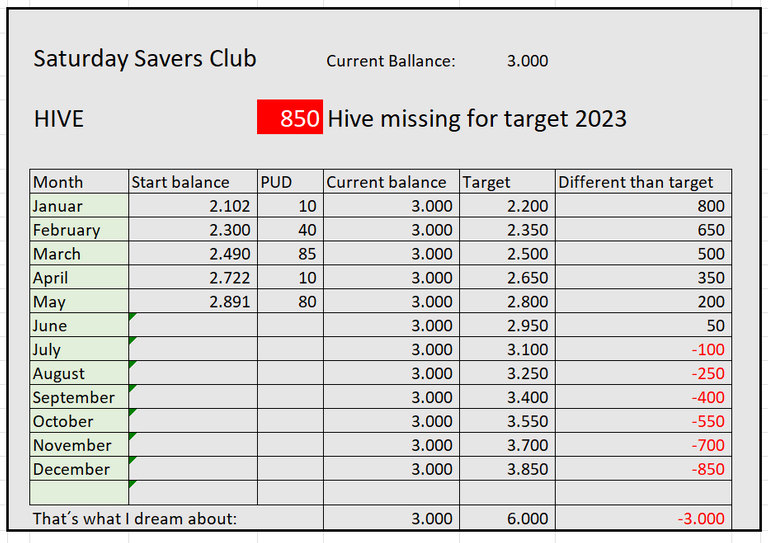 So that I now have an overview of what I have actually taken in a day, week or month, I have used Exel to fetch the data onto a new table.
So I always manage about 6 hives per day. April wasn't that great, though. But then I also put something into games.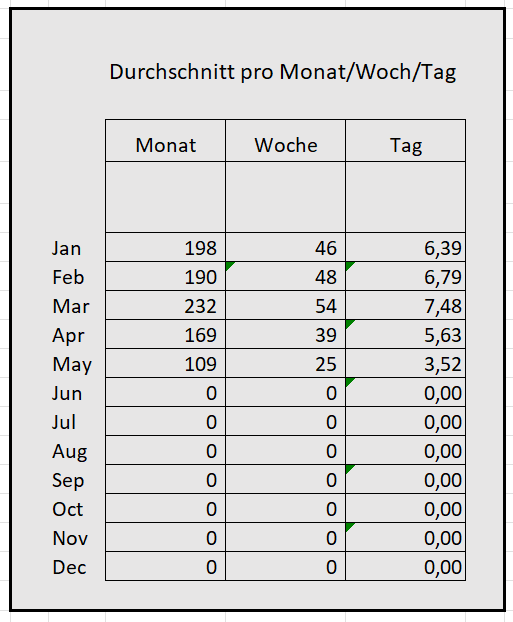 LEO
Seriously, one Leo a week should be my goal, not.30. And I only get this one Leo because I participate in Saturday Savers Club.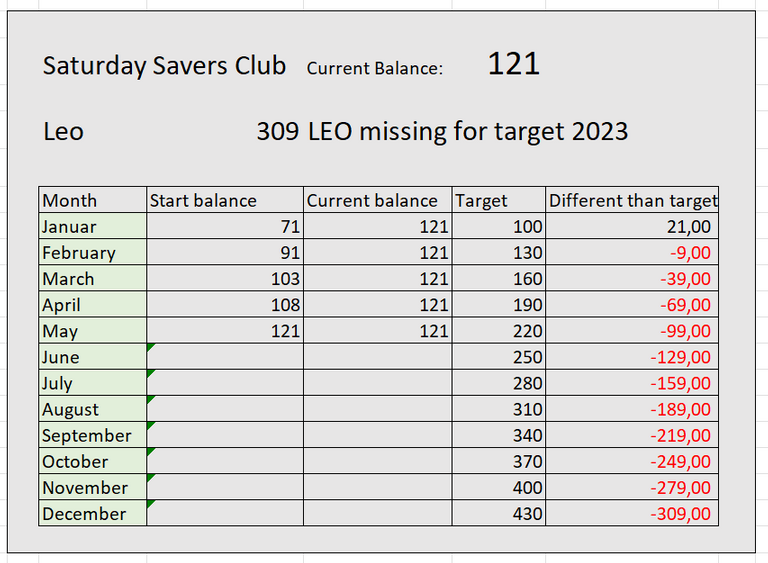 Badget

This post is my report for the Saturdays Savers Club by @eddie-earner.

Ich mache seit diesem Jahr bei beim Saturday Savers Club von @susie-saver und @eddie-earner mit.
Für diesen Zweck nehme ich mir für drei Währungen ein Jahresziel vor, dass ich erreichen möchte.
Das sind:
HBD
HIVE
LEO
Also die Klassiker.
HBD
Da ich jeden Monat 10 HBD in meine Savings packe und dazu noch die Zinsen kommen, bin ich jetzt zum ersten Mal in diesem Jahr über meinem Ziel. Ein HBD fehlt sogar noch.
Meine monatlichen Zinsen sind von 3,207 auf 3,387 gestiegen.
HP
Hier kann ich schon ein bisschen feiern. Ich habe genau 3000 Hive auf meinem Konto. Zum erreichen meines Jahreszieles, fehlen mir noch 850 Hive.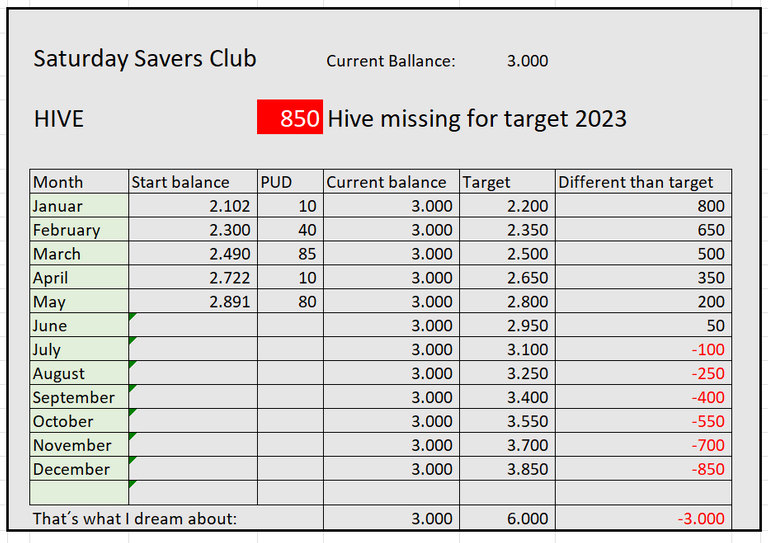 Damit ich jetzt auch einen Überblick habe, was ich so wirklich am Tag, Woche oder Monat eingenommen habe, habe ich mir mit Exel die Daten auf eine neue Tabelle geholt.
Pro Tag schaffe ich also immer ungefähr 6 Hive. Der April war aber nicht so überragend. Da habe ich aber auch etwas in Spiele gesteckt.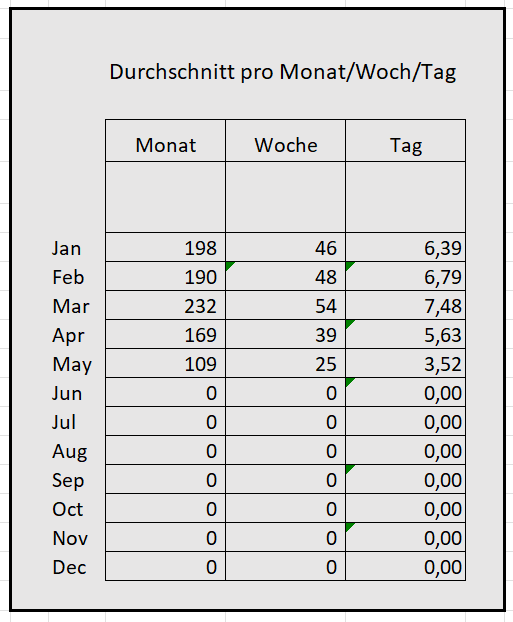 LEO
Mal im Ernst, ein Leo pro Woche sollte mein Ziel sein, und nicht.30. Und diesen einen Leo bekomme ich auch nur, weil ich bei Saturday Savers Club mitmache.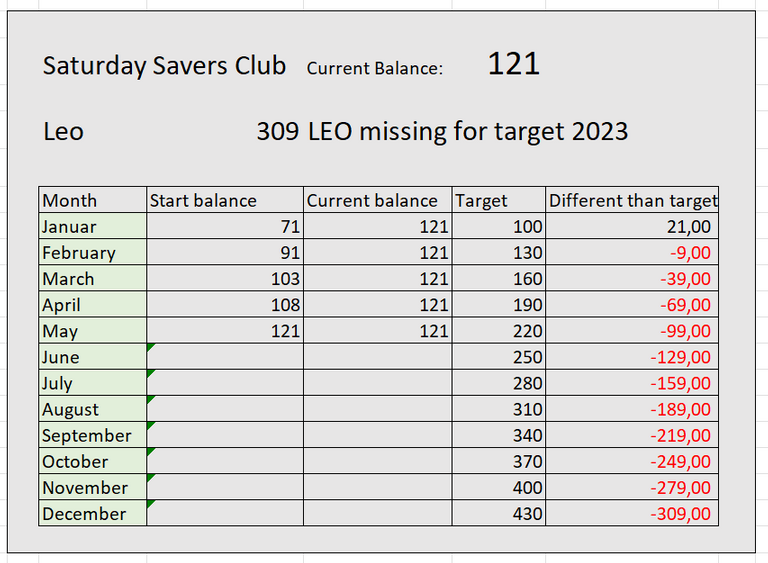 Badget

Dieser Post ist mein Bericht für den Saturdays Savers Club von @eddie-earner.