I have learn't that the best way to grow is to monitor your activities either in business or otherwise. I have always hope to increase my prospect on hive blockchain but one thing i failed to understand early enough was that if i can't ledger up my dealings on the blockchain, i will not be able to move upward.

I got introduced to hivestat app a few days ago by my boss @uyobong when he told us about the need of tracking our progress on the hive blockchain.
Hivestat simply is an application that keeps a track record of our engagement on the hive blockchain. Hivestat in full means hive statistics.
Tracking progress is a powerful tool. And not just for keeping us motivated and productive. When you track your progress, you naturally become more purposeful about the work you do. Which can create the kind of meaning that so many of us search for in our daily work.
Hivestat by leo is a perfect description of the above statement. New purposes are often defined when you can track your progress effectively. Tracking your progress gives you a sense of direction and Hivestat app is one app on the hive blockchain that seeks to make your engagement a progressive one.
The top header of the app carries links to all the essential details about leofinance


The first tap is Leofinance which gives you the total details about the leofinance.
LeoDex is a trading app of leo where we buy and also sell hive and leo tokens. Leopedia gives you a total crypto guide that will help you in engaging the crypto world with ease and finally is the FAQ page of leofinance where all the questions you have to ask about leofinance is answered and off course you got to log in your account so you can see your statistics here.
Hivestat page after you've sign in.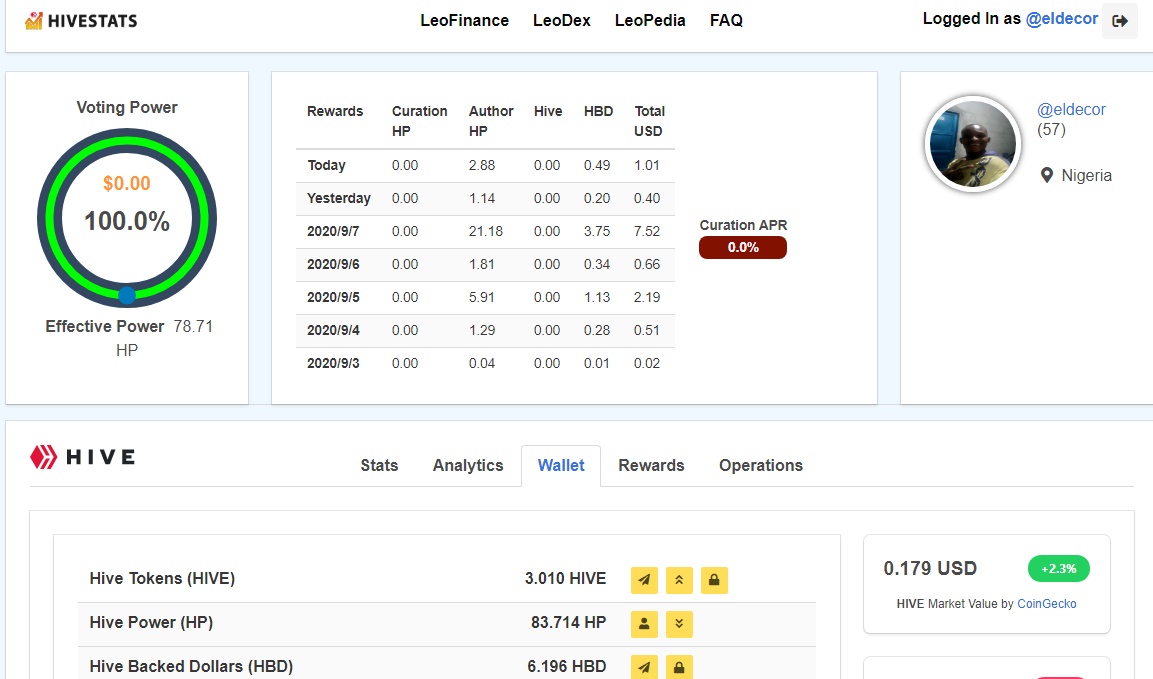 Hivestat give you a first hand information of all that concerns your account on hive like your voting power, your rewards both from curation and author and it balances it up in dollars just so you know the worth of your account.

Each tap on the hivestat app peerforms a particular function and you might as well like us to discuss about their functions.
Stats or statistics taps gives you a run down of your account strength as highlighted red. Your Effective Power is a sum total of your Hive power received from either curating a post or publishing a post.
Vote value is how much worth of your account can issue out when upvoting a contents.
Your resource credit RC is your authority to post, make comments, votes and transfers.
Followers shows you the number of people you are following and how many people are following you. It also records the number of Post you've published so far on the blockchain.
Analytics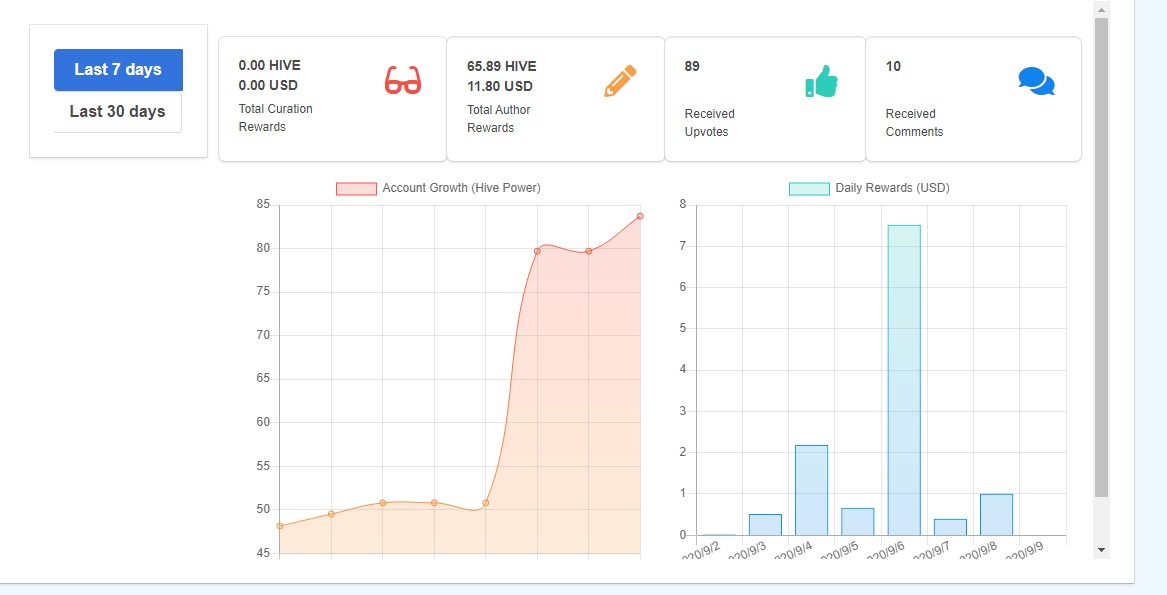 This tap gives you a total breakdown of the engagement carried out on your account like your total curation rewards both Hive and HBD, your total reward for authoring a post, total upvote received and total comments you made on hive blockcahin. This records are your records for the last 30 day and 7 days. In case you wanna know what you've been doing so far just use the hivestat app from hivestat.io.
Wallet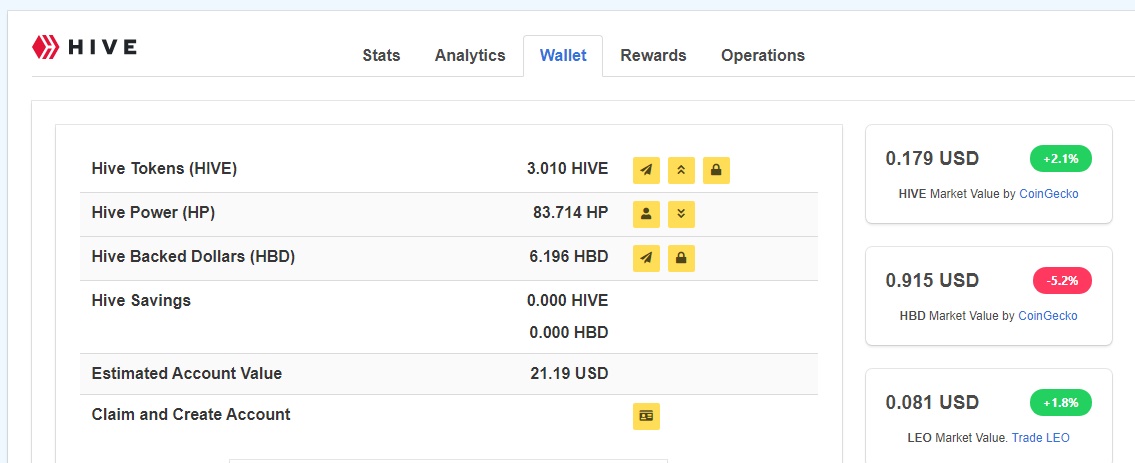 This tap gives screams the buoyancy of your hive account it captures your Hive Tokens(HIVE) that is hive cryptocurrency, Hive Power(HP), Hive Backed Dollar(HBD), your Hive Savings and the Estimated Value of Your account.
It might interest you to know that you can still transfer your tokens from here and delegate HP to new users as well. I know you might want to ask what the padlock(the last yellow image on HIVE and HBD stands for, well it is a tap to transfer your tokens for savings.
Rewards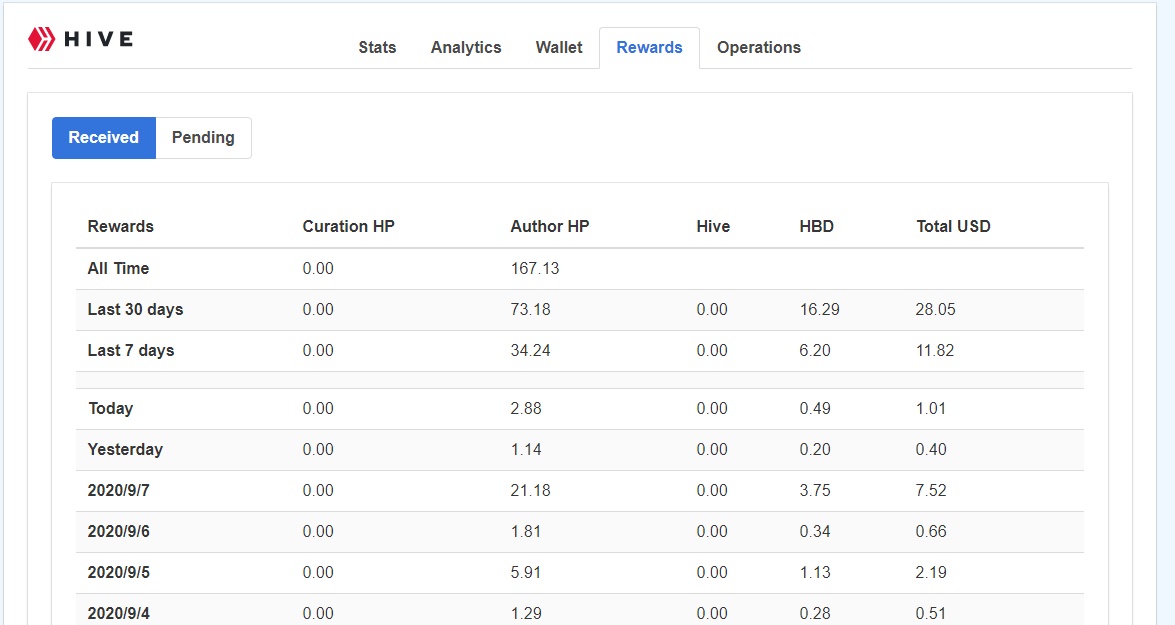 The Rewards tap gives you a total of all your rewards since you began engaging the hive blockchain. It consists of your Curation rewards HP, Authors reward HP and your hive backed dollar.
The Receive rewards tap is for the rewards you've claimed already while your Pending rewards are the ones you are yet to claim.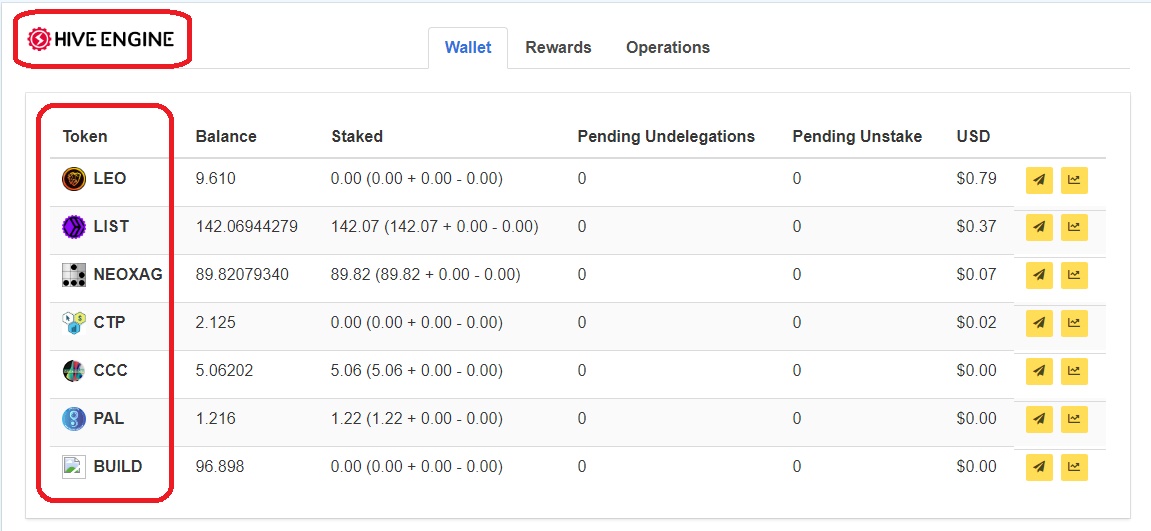 The hive engine shows you a break down of all your tokens both hive and others. Some people calls it airdrops. Off course your wallet shows you all the tokens you've got, your rewards from other blockchain and offcourse the operations that got you those rewards.
Posted Using LeoFinance Beta