The Tether debacle.
There was a situation that came up at a scheduled trade last week. When the time came to meet and we sat down, all of the coins that I had been willing to part with the day before had lost a large percentage of their value. I posted about it here.
Most people who are dealing with this, in my experience meeting with them, are keeping their Tether on one exchange or another. The sums of money that they keep on exchanges are immense! IMHO you have to be crazy to have that much of your wealth in someone else's pocket. That is to say, "Not hold the private keys to that much of your wealth."
I refuse to keep any quantity on an exchange, which is why Tether is difficult for me to incorporate in my daily trading protocols. But so many have asked me to use it in order avoid hard feelings when prices tank or spike between the time we arrange to meet and the time we really sit down, in person, to meet.
In order for me to hold Tether, I have to find a way to store it, even for a short amount of time, in a place where I hold my own keys. That is a protocol on which I stand firm. Several months ago I thought Coinomi (Android) may be the solution. They have Tether (Omni) as one of their options. I added it and sent a couple hundred to the wallet, it arrived, all good. So, I sent several thousand to that same Tether address and it showed up, but the spendable amount was still only a couple hundred dollars. I wrote to them and they acknowledged that their wallet is not handling Tether very well yet. They suggested that I pull my keys from my seed in order to be able to access the funds. I have not done that yet because I will not expose that seed. Lots of money held under that seed.
Enter attempt number two
Last week I was trying to figure out how to navigate another new wallet for Android - imToken is the name. It is not straight forward or at all easy to use. I am open minded and I already had it on my phone in order to store Filecoin (FIL).
So, I browse around and find that there are several coins within the ETH section including Tether ERC-20, I can't deal with Ethereum, I have been trying to dump it for a year and many of my sends get stuck for months.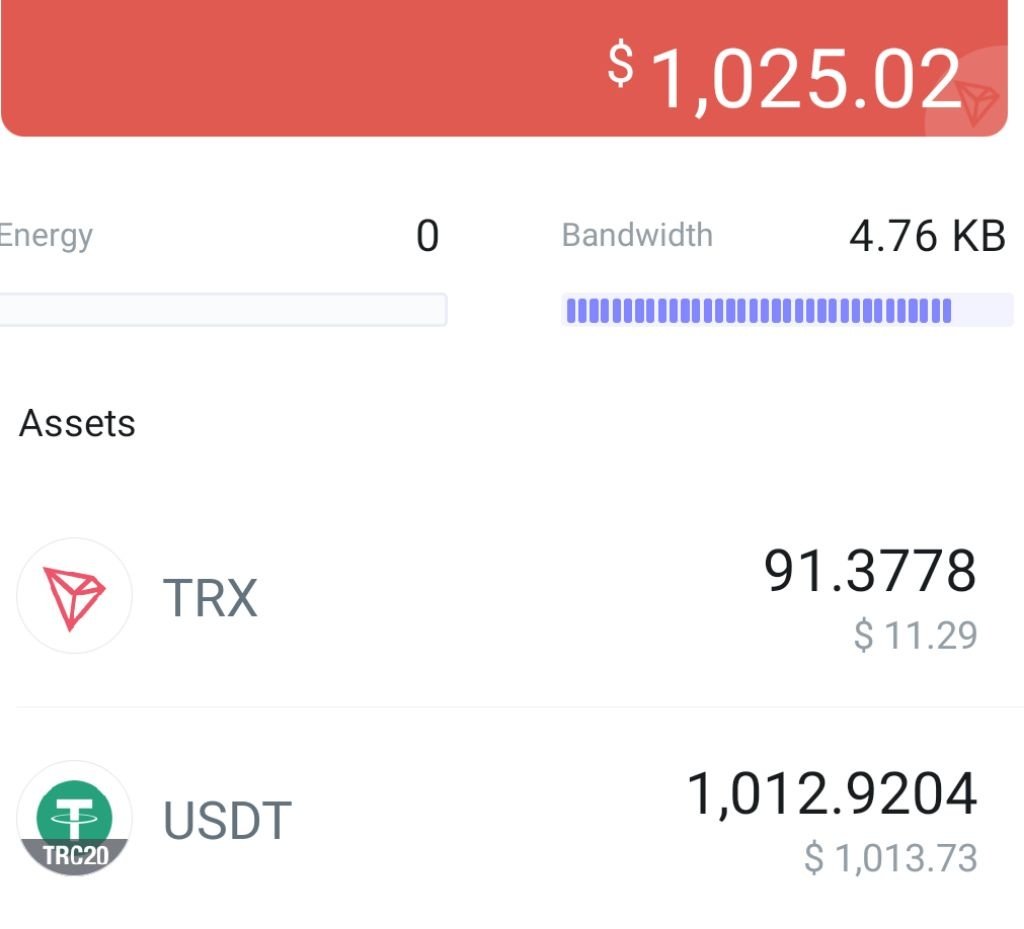 I had played around on the Tron site and saw all their dApps and gambling hubs. I am impressed with the tech but not so much with the cheesiness of what is out there. I also do not like Justin Sun. Still, I would rather use a coin that works than one that locks a transaction for five months, then bounces it back to the sender.
I decided to try Tron and their USDT. So I switched to TRX and saw other coins in the same grouping within the wallet. Tether (USDT) was there and I sent $1262 into it.
I told a few of the traders who deal with me that I may have a USDT that works - testing. They are all chomping at the bit to start...
Not so fast.
I tried to send some USDT out, just $250, and I got an error, "Not enough bandwidth to complete your transaction."
I reached back in my brain and remember something like that happening when I was trying to play a cheesy dice came on Tron - something about freezing TRX in order to get bandwidth. Surprisingly once I chased over to my tron wallet and sent Tron over to the imToken wallet on Android, there was an option to freeze Tron, just by clicking the bar above your balances. (shone above)
I froze $50 worth of Tron inside imToken.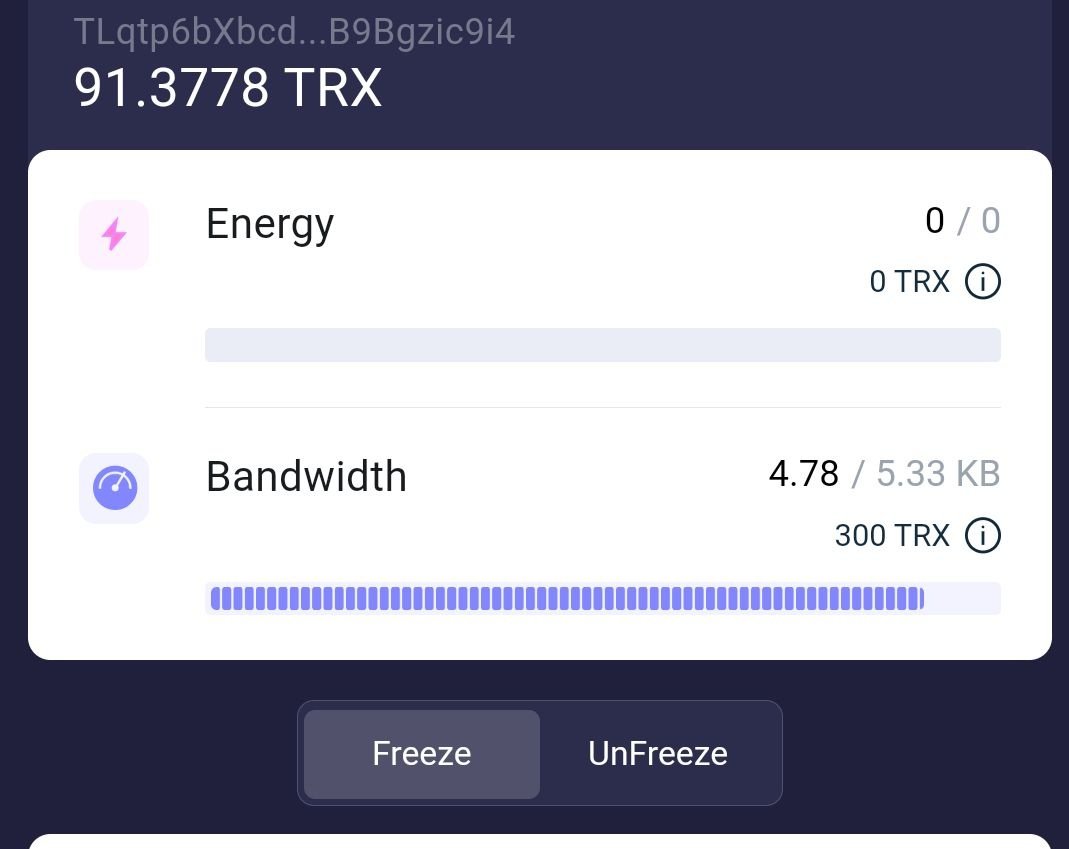 It then allowed me to send USDT (finally). Here is a screen shot after freezing $50 of Tron and sending $250 USDT. It would seem there may be enough bandwidth to send the other $1,000 USDT.
Experimentation.
It will take some time before I find out how much Tron I will have to buy, then freeze, in order to handle the dollar quantities that people request from me.
I cannot picture myself sitting at a nice restaurant, receiving $XX,000, and then trying to buy Tron and freeze ever increasing amounts while seeing failed attempts, all the while my counterpart waiting for his USDT.
This is the challenge I am facing right now. That and the question of how much to trust I should put in a wallet, imToken, which I only just started using. Only time, familiarity, and successful trades can confirm the trustworthiness of any wallet. I will be sending to and from myself in order to discover the ins and outs of this wallet. If any of you are interested comment below and I will update you all on my progress.
Update:
I plan to "freeze" more Tron, but for testing purposes, I sent the other $1,000 USDT out to an exchange and it went.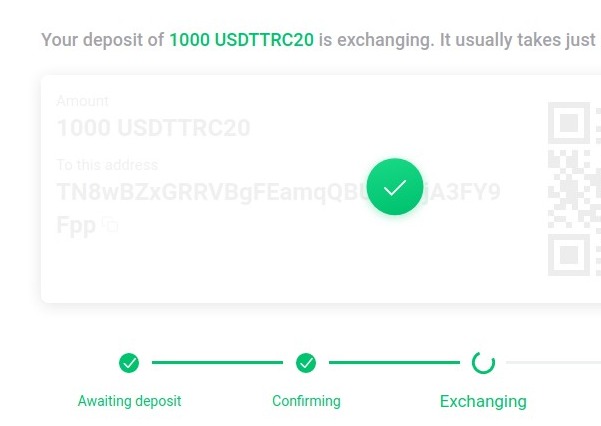 So we know that staking (or freezing) just 300 TRX is good enough to send over a thousand dollars worth of Tether. Most do not deal with these limitations because they are handled by the exchange (binance, poloniex, etc0.)
Posted Using LeoFinance Beta