Direct from the desk of Dane Williams.
---
I've now spent the last few weeks spending a few minutes each day to answer whatever random questions are posted under the LeoFinance topic on Quello and the initial results with zero strategy around questions/answers are encouraging.
Take the following question on Quello as an example: What is the total supply of LEO tokens?
After answering the question, my answer was elevated to the position zero box when asking the same question on Google: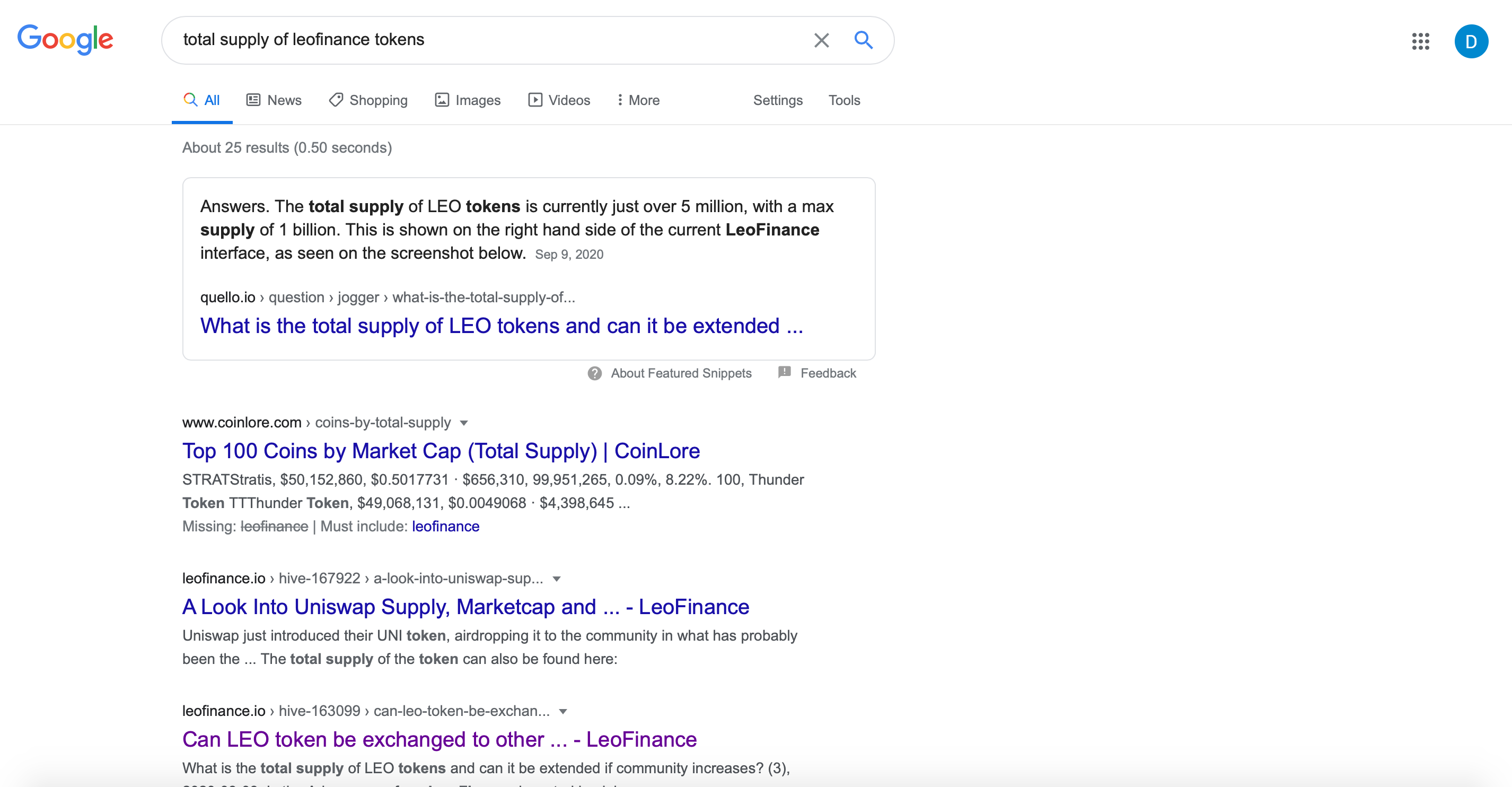 While this particular question isn't going to draw a ton of search traffic, it shows the potential of using Quello not only for getting links, but also for providing helpful, outward facing content about our community.
---
Adding Structure to Quello Questions
So it's time to add a bit of structure to what we're trying to achieve here.
While I've tried to offer 100% LEO upvotes for LeoFinance tagged questions on Quello, nobody has bothered to take the 2 minutes to ask a single question from the quello.io interface.
Except of course for @jogger and @whatageek who have been smashing them out since before I came along. You guys are saints.
As a result, I'm going to write a list of relevant outward facing questions about LeoFinance, that have a chance of ranking on Google.
All I want you to do is copy and paste them into the quello.io interface and I'll give you a 100% LEO upvote. Easy fucking money guys, come on.
LeoFinance Branded Questions
What is LeoFinance?
How do I get a LeoFinance account?
What is the LeoFinance LEO token?
What is the LeoFinance LEO token price based on?
How do I earn LeoFinance LEO tokens?
How much is a LeoFinance upvote worth?
What is Staked LeoFinance LEO?
How can I get bigger LeoFinance LEO upvotes on my content?
Why are LeoFinance LEO tokens burned?
How do I transfer LeoFinance LEO tokens to Bitcoin?
Of course add whatever other LeoFinance related questions you want, just take the time to write well structured, helpful questions following some sort of format like that.
I think we should say "LeoFinance LEO token" whenever we're talking about it because Google picks up some other junk token when you just say LEO.
You ask the questions, I'll keep providing detailed answers from the quello.io interface that include a backlink.
---
What's Next?
After every questions is answered on Quello, we can then copy and paste content into the FAQ or do whatever we want with it on LeoPedia.
Now I know a lot of this stuff is done in the LeoFinance FAQ, but it's all in one big messy blob and all still branded as SteemLeo.
But for now, let's just get the content out there and create some backlinks to our domains in the process.
After we've done this, the real fun can begin - Answering unbranded questions with answers that link back to LeoFinance!
Help me out here guys, come on.
Best of probabilities to you,
Dane.
---
FOREX BROKR | LeoFinance Blog
Daily market analysis.

Posted Using LeoFinance