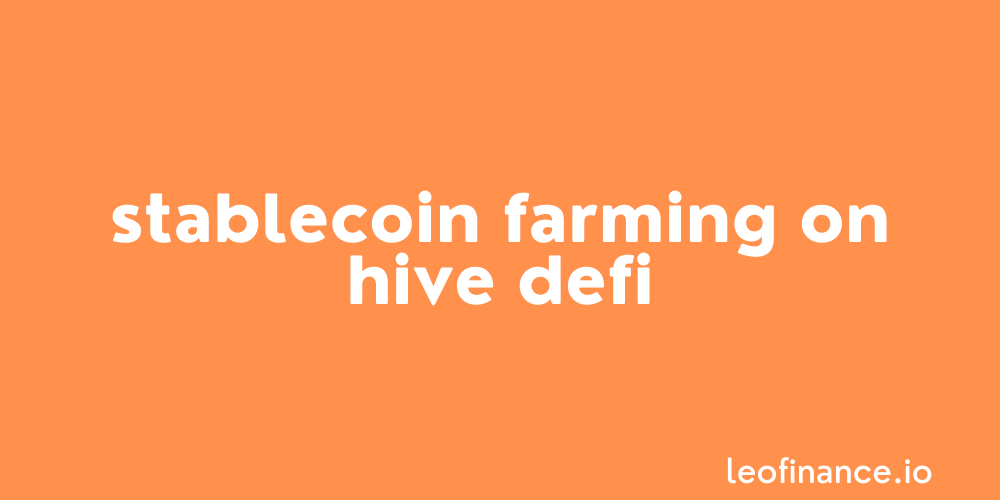 ---
How you can profit from stablecoin farming on Hive DeFi.
Unless you've had your head in the sand, you'll have heard we now have DeFi on Hive in the form of Tribaldex Diesel Pools.
Along with this capability, comes a range of Diesel Pools for you to choose from including my personal favourite, the SWAP.HIVE:SIM LP.
But with the price of HIVE crypto going up, many looking for DeFi opportunities are rightly worried about impermanent loss.
For risk-averse yield farmers however, Hive DeFi now has LP rewards on offer for pure stablecoin farming.
The SWAP.HBD:SWAP.BUSD LP
As we mentioned above, the most conservative and low-risk way of investing in DeFi yield-farming LPs, is by providing liquidity to those consisting only of stablecoins.
If you want to protect your precious HIVE crypto balance from the risk of impermanent loss, then you're going to want to take advantage of Hive Backed Dollars (HBD)?
With BXT rewards now on offer, that means providing liquidity to the SWAP.HBD:SWAP.BUSD LP:

As you can see, the pool still has a relatively low amount of liquidity.
But the BXT APR of 95.133% at the time of writing is certainly a juicy piece of yield on offer for a pure stablecoin farm.
You'd be mad to not at least get involved with any spare HBD that you're earning on post rewards.
[[ Provide liquidity to the SWAP.HBD:SWAP.BUSD LP ]]
Final thoughts on stablecoin farming on Hive
Now this is still an early APR that simply can't last and there are various other risks associated with these being Hive-Engine issued SWAP tokens.
But overall, the pros far outweigh the cons when it comes to stablecoin farming on Hive DeFi via the SWAP.HBD:SWAP.BUSD LP.
I've said it before and I'll say it again to finish up - Development within this ecosystem makes HIVE crypto a good investment in 2021.
Best of probabilities to you.
---
Direct from the desk of Dane Williams.
Why not leave a comment on what you think about stablecoin farming on Hive DeFi. All comments that add something to the discussion will be upvoted.
This Hive DeFi blog is exclusive to leofinance.io.
Posted Using LeoFinance Beta