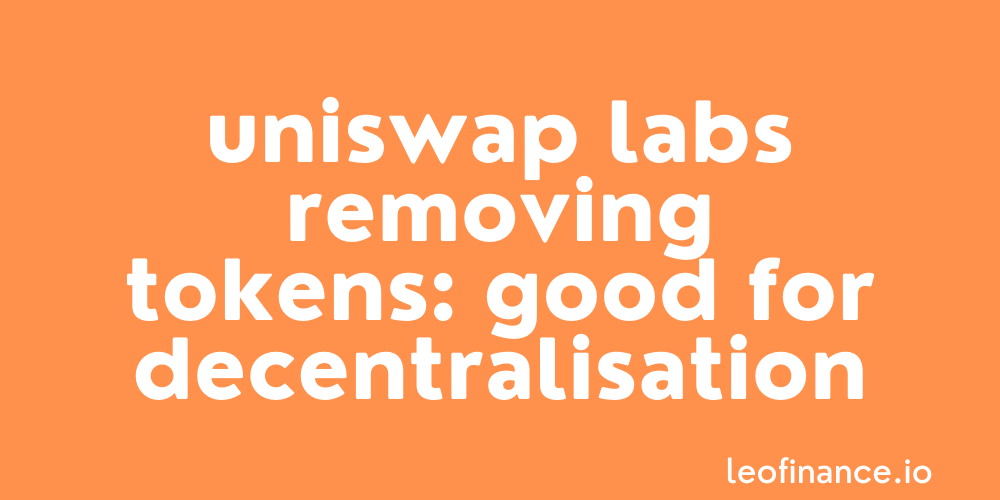 ---
A look at Uniswap's decision to remove tokens from its front-end and why this is ultimately good for decentralisation.
In case you missed it, Uniswap Labs has decided to remove a selection of tokens from its app.uniswap.org interface.
Today, consistent with actions taken by other DeFi interfaces, we have taken the decision to restrict access to certain tokens through app.uniswap.org.
On the surface, this looks like excellent progress for the DeFi industry and shows a strength of Ethereum that dApps built on the network can achieve this level of decentralisation.
But after taking a look at the discussion on Twitter, I was shocked at the amount of pushback this decision was receiving.

Why Uniswap Labs removed the tokens
As the largest decentralised exchange (DEX) in terms of trade volume, there was always going to be a reaction of some sort.
But as I said above, I really didn't expect the pushback we've seen.
Uniswap Labs ultimately made the decision because as a US regulated company and hosted website, they didn't want to fall foul of their regulator for offering securities trading.
However, the Uniswap Labs company is not the Uniswap Protocol allowing decentralised trading.
Uniswap users can still swap all of the tokens that Uniswap Labs has removed from their interface, directly or by using another front-end.
The company behind the platform, Uniswap Labs, simply removed those tokens from their own interface.
That's it.
Uniswap Labs the company, vs Uniswap the protocol
Let's take a look at the key differences between the two.
The Uniswap Protocol: Is the back-end that allows fully decentralised, permissionless smart contracts on Ethereum.

The Uniswap App: Is the privately-owned (by Uniswap Labs) domain that points to an IPFS hosted instance of the Uniswap Interface.
So while the US regulator may be able to touch the US privately owned and run front-end, they can't touch the Uniswap protocol back-end.
Users are therefore able to make a decision on which front-end they choose to use between a US regulated one or an offshore one.
The US regulated front-end may be safer, but it will be extremely limited.
An offshore front-end may allow you to trade whatever you want, but it could be shady.
The point is that as a DEX, you're able to make that choice yourself.
A comparison with Hive and LeoFinance
As I'm publishing this blog on LeoFinance, let's take a look at a comparison to our own decentralisation capabilities here on Hive.
The Hive Protocol: Is the back-end that allows decentralised apps to run on the decentralised Hive blockchain.
The LeoFinance App: Is the privately-owned domain that acts as a social media front-end for our community.
So while LeoFinance may be able to censor you on this front-end, your data remains tied to your immutable account on the Hive blockchain.
You're still able to choose to display that data via another Hive front-end, that doesn't follow the same community rules.
This is the power of Web3.
Final thoughts on the Uniswap decision
What Uniswap's decision should do, is make you reconsider the role of national financial regulators, within a globally decentralised future framework.
The future is now and we can see that this decision actually doesn't protect US traders at all, but instead forces them onto more questionable, offshore interfaces or exchanges.
Regulators need to start considering that people can and will continue to use DEXs and they should be helping to facilitate access to the best and educating on the worst.
Not just regulating the good players away.
Give your people some credit.
Best of probabilities to you.
---
Direct from the desk of Dane Williams.
Why not leave a comment and share your thoughts on Uniswap Labs removing tokens within the comments section below? All comments that add something to the discussion will be upvoted.
This Uniswap Labs blog is exclusive to leofinance.io.
Posted Using LeoFinance Beta