Hello FOXS 🦊
Version en español después de la versión en ingles 🦊
One of the advantages of investing in the crypto market is the transparency that blockchains provide. Acting as decentralized databases, chains provide a plethora of information that can be used to provide intelligence to investors and help communities manage their projects more efficiently.
For this, it is necessary to know how to use the appropriate tools and look at the exact places, to understand the application of each one of them and understand how to position yourself in this nascent ecosystem.
Let's learn a bit about on-chain metrics and how to look at them.
Fully Diluted Market Cap: FDV for the Intimates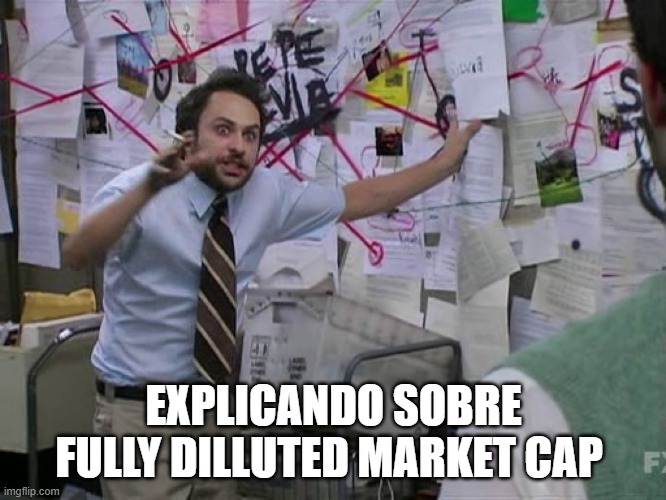 Fully Diluted Market Capitalization or Fully Diluted Market Capitalization is the value of market capitalization when all cryptocurrencies are in circulation.
Its importance lies in analyzing its expansion in the cryptomarket since its launch, the security in acquiring it. and its growth potential.
Low market capitalization cryptocurrencies are poorly liquid to acquire, easily manipulated, and are typically held by whales in the protocol. Bitcoin and Ethereum, the cryptocurrencies with the largest market capitalization, are hardly affected by multi-million sales: because they have managed to become resistant to whales and decentralize their investors.
This metric helps you understand the growth potential of cryptocurrencies and the maximum value it can achieve.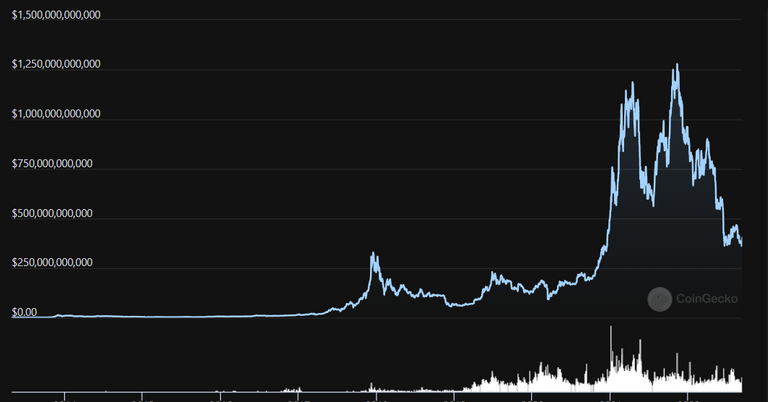 BTC market capitalization. Source: Coingecko
Take BTC as an example: there will be 21,000,000 in circulation until the last BTC is mined. With its price at $21,106, it totals a FDV of $443.3B. So far, no cryptocurrency has surpassed the market capitalization of BTC, so we can take it as a "ceiling" for the cryptocurrency market capitalization.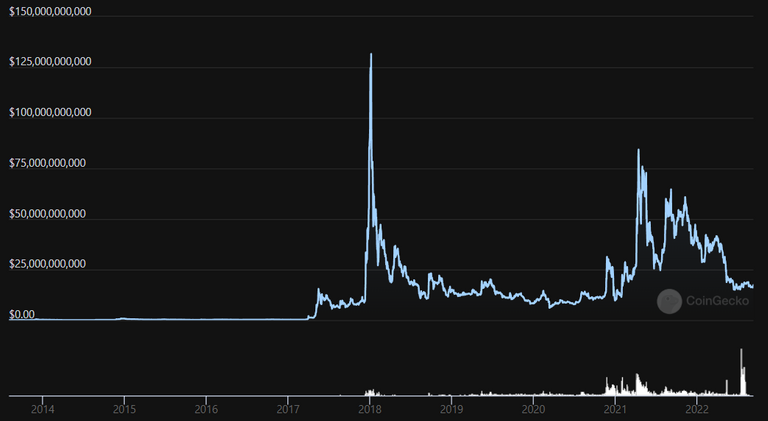 XRP market capitalization. Source: Coingecko
XRP, a coin issued by Ripple, will be 100,000,000,000 in total, and is priced at $0.35 each, for a total FDV** of $35.2 billion. How to know if XRP could be worth $5.00? Simple.
With Bitcoin's FDV at $443 billion, if the Ripple-issued cryptocurrency were to reach the $5.00 mark in the current scenario, it would surpass Bitcoin's fully diluted market cap, making it the largest cryptocurrency on the crypto market.
Comparing the technologies of the projects and their adoption, it would not make sense for XRP to outperform the cryptocurrency created by Satoshi Nakamoto: unless other variables followed this metric.
So market capitalization can give you an idea about the potential of cryptocurrencies, but it is not the only point to consider.
Fees collected – the most common way to capture revenue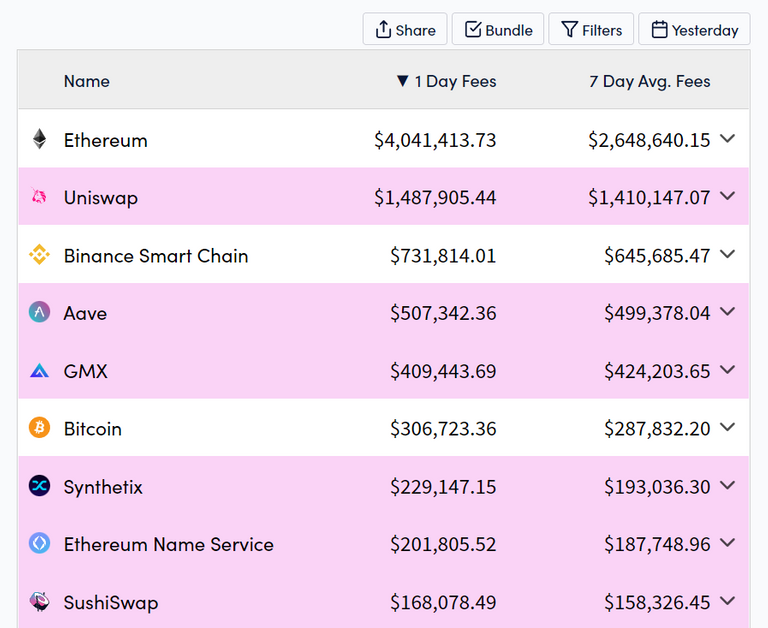 The main means of raising funds for the services provided to users is through the collection of fees. This strategy is commonly adopted by decentralized protocols, but chains also capitalize on the use of their networks, redistributing this source of income to miners and even burning some of it to deflate their cryptocurrency, as in the case of Ethereum.
Ethereum is unbeaten in fees collected, from constant use of the network by DAOs, NFT trading, lending on protocols, trading on DEXs, etc. Daily, he collects ~4 million dollars in commissions. After EIP-1559, he started burning some of this value to help deflate ETH, turning it into ultrasonic money. Have you never heard of this concept? Take a look here.
Uniswap, the decentralized exchange with the largest DeFi trading volume, collected $1.487 million in fees, collected from traders transactions on DEXs. This value can be understood as protocol income. Therefore, we can say that Uniswap's daily turnover is US$1.4 million.
A lot of money for a single day, huh?
The point is, does this value translate into results for the holders of your governance token? Nope.
The tokenomics of a project is a fundamental point. Uniswap does not distribute this profit to UNI holders and the proceeds go to the DAO treasury to fund initiatives to grow the protocol. Meanwhile, UNI holders have not (yet) been able to appreciate the value of their token.
NOTE: There are internal discussions to "trigger" the fee change, a "little key" that will moderate a portion of the fees distributed to liquidity providers and capture value for the UNI token.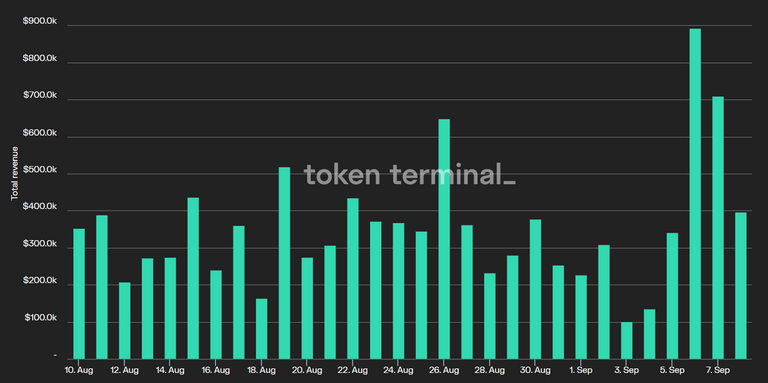 GMX revenue for the last 30 days – At its peak, it had revenue of $893K in a single day. Source: Terminal Token*
GMX, a decentralized perpetual exchange, has a different mechanic. All fees collected from trades made on the protocol or liquidation of positions go towards their governance token, the GMX. In this way, the tokenomics of the protocol contributes to its valorization. In addition, GMX holders can stake their tokens to receive a % of the ETH fees received by the protocols, in their services provided.
As well as the FDV, the taxa collected by projects must be specifically analyzed for each project, understanding its peculiarities and nuances.
To get an overview of the projects with the highest fee collection, it is recommended to use cryptofees.info. If you want a visual representation of the values ​​and access to other metrics, Token Terminal will do it.
Total amount locked, also known as TVL
The Total Amount Locked represents how much money is deposited in the contracts of a project.
For a long time, TVL was a successful benchmark in DeFi, with protocols showing its millions of dollars in custody in its contracts. Your big problem is that TVL can be easily faked.
Projects borrowed money in protocols, looping the available capital to inflate the Total Value Locked of their projects, to attract the attention of investors interested in a "safe" project.
In theory, a protocol with a high TVL is a project on the rise and may correspond to its adoption by the community.


Source: DefiLlama
Analyzing the list of the top 6 protocols in TVL, they are all projects with great developers and a solution with wide use in the crypto market. However, dapps invariably appear that quickly become current and exceed the TVL of already consolidated projects.
The Total Amount Locked can be an interesting metric when analyzed together with other factors, such as the technology of the project, its FDV, the income obtained by the protocol and even the ratio between incentives / profits obtained by the dapp.
As you can see, there is a lot of information available about blockchain, but the important thing is to unite them in order to build your raison d'être and invest in a project compatible with your investment thesis.
Do you want to learn more about useful tools for on-chain analysis? Or do you know other metrics to analyze your cryptos?
Come to our Discord or Telegram and let's talk more about it!

Follow us in our networks!
---
Español
Hola FOXs
Una de las ventajas de invertir en el criptomercado es la transparencia que brindan las cadenas de bloques. Actuando como bases de datos descentralizadas, las cadenas brindan una plétora de información que se puede usar para proporcionar conocimiento a los inversionistas y ayudar a las comunidades a administrar sus proyectos de manera más eficiente.
Para ello, es necesario saber utilizar las herramientas adecuadas y mirar los lugares exactos, para entender la aplicación de cada una de ellas y entender cómo posicionarse en este ecosistema naciente.
Aprendamos un poco sobre las métricas en cadena y cómo observarlas.
Capitalización de mercado completamente diluida: FDV para los íntimos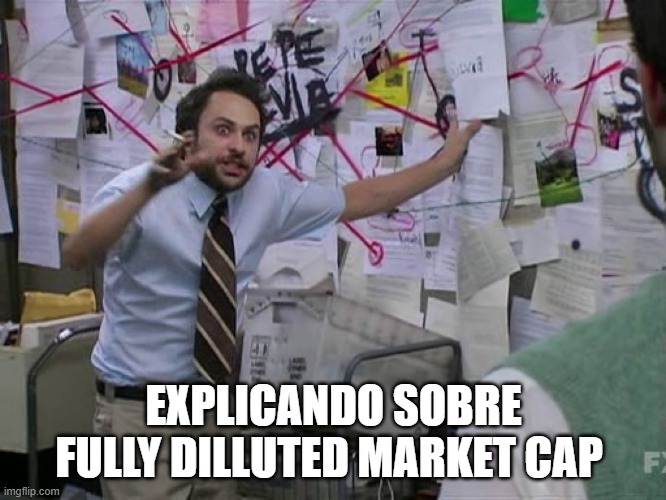 La Capitalización de mercado totalmente diluida o la Capitalización de mercado totalmente diluida es el valor de la capitalización de mercado cuando todas las criptomonedas están en circulación.
Su importancia radica en analizar su expansión en el criptomercado desde su lanzamiento, la seguridad en adquirirlo. y su potencial de crecimiento.
Las criptomonedas con baja capitalización de mercado tienen poca liquidez para adquirir, se pueden manipular fácilmente y, por lo general, las mantienen las ballenas en el protocolo. Bitcoin y Ethereum, las criptomonedas con mayor capitalización de mercado, apenas se ven afectadas por ventas multimillonarias: porque han logrado volverse resistentes a las ballenas y descentralizar a sus inversores.
Esta métrica lo ayuda a comprender el potencial de crecimiento de las criptomonedas y el valor máximo que puede alcanzar.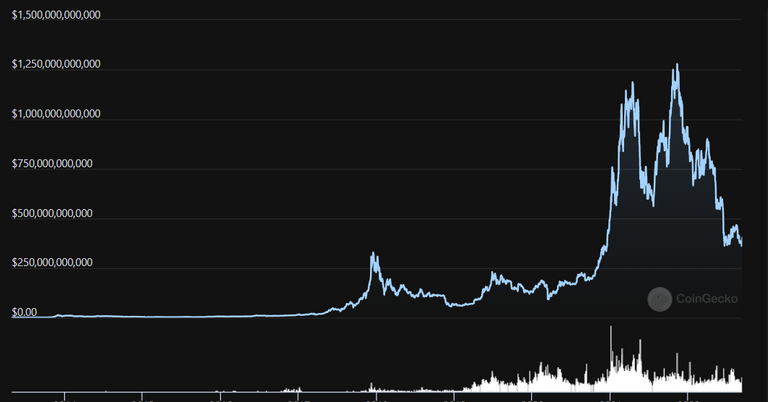 Capitalización de mercado BTC. Fuente: Coingecko
Tome BTC como ejemplo: habrá 21,000,000 en circulación hasta que se extraiga el último BTC. Con su cotización en $21,106, totaliza un FDV de $443.3B. Hasta ahora, ninguna criptomoneda ha superado la capitalización de mercado de BTC, por lo que podemos tomarla como un "techo" para la capitalización del mercado de criptomonedas.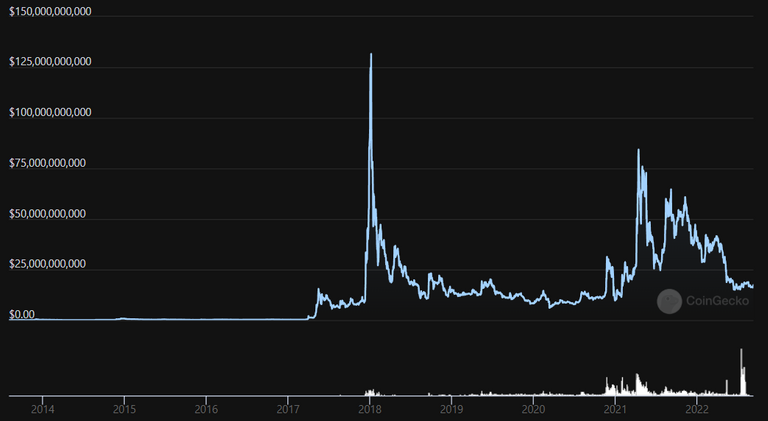 Capitalización de mercado XRP. Fuente: Coingecko
XRP, una moneda emitida por Ripple, será 100 000 000 000 en total, y tiene un precio de $0,35 cada una, para un FDV total **de $35,200 millones. ¿Cómo saber si XRP podría valer $5.00? Simple.
Con el FDV de Bitcoin en $ 443 mil millones, si la criptomoneda emitida por Ripple alcanzara la marca de $ 5.00 en el escenario actual, superaría la * capitalización de mercado completamente diluida * de Bitcoin, convirtiéndola en la criptomoneda más grande en el criptomercado.
Comparando las tecnologías de los proyectos y su adopción, no tendría sentido que XRP superara a la criptomoneda creada por Satoshi Nakamoto: a menos que otras variables siguieran esta métrica.
Entonces, la capitalización de mercado puede darle una idea sobre el potencial de las criptomonedas, pero no es el único punto a tener en cuenta.
Tarifas recaudadas: la forma más común de capturar ingresos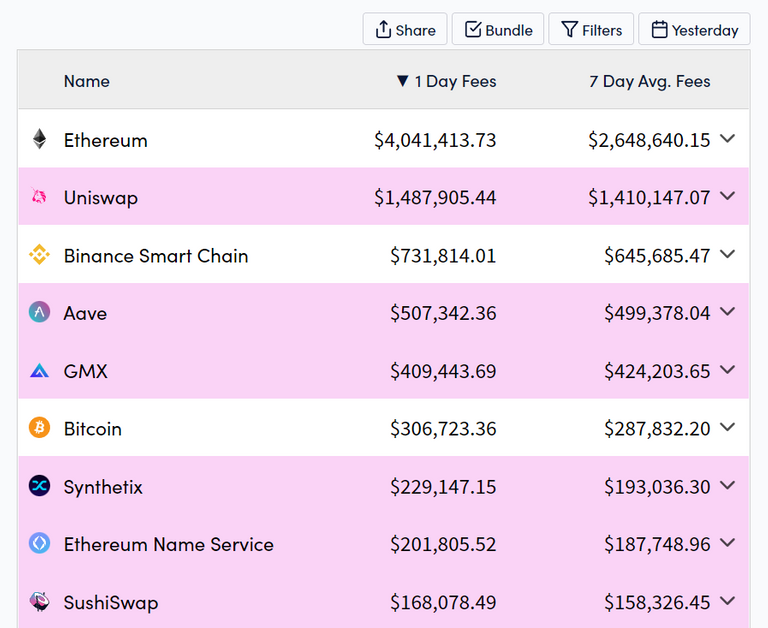 El principal medio de recaudación de fondos sobre los servicios prestados a los usuarios es a través del cobro de tarifas. Esta estrategia es comúnmente adoptada por los protocolos descentralizados, pero las cadenas también capitalizan el uso de sus redes, redistribuyendo esta fuente de ingresos a los mineros e incluso quemando parte de ella para desinflar su criptomoneda, como en el caso de Ethereum.
Ethereum está invicto en tarifas recaudadas, por el uso constante de la red por parte de DAO, comercio de NFT, préstamos en protocolos, * intercambios * en DEX, etc. Diariamente, recauda ~4 millones de dólares en comisiones. Después del EIP-1559, comenzó a quemar parte de este valor para contribuir a la deflación de ETH, convirtiéndolo en dinero ultrasónico. ¿Nunca has oído hablar de este concepto? Echa un vistazo aquí.
Uniswap, el intercambio descentralizado con el mayor volumen de negociación de DeFi, recaudó $1487 millones en tarifas, recaudados de las transacciones de comerciantes en DEX. Este valor puede entenderse como ingresos de protocolo. Por lo tanto, podemos decir que la facturación diaria de Uniswap es de US$1,4 millones.
Mucho dinero para un solo día, ¿eh?
El punto es, ¿este valor se traduce en resultados para los titulares de su token de gobernanza? No.
La tokenómica de un proyecto es un punto fundamental. Uniswap no distribuye esta ganancia a los titulares de UNI y los ingresos se destinan a la tesorería de DAO para financiar iniciativas para hacer crecer el protocolo. Mientras tanto, los titulares de UNI (todavía) no han podido apreciar el valor de su token.
NOTA: Hay debates internos para "activar" el cambio de tarifas, una "pequeña clave" que moderará una parte de las tarifas distribuidas a los proveedores de liquidez y capturará valor para el token UNI.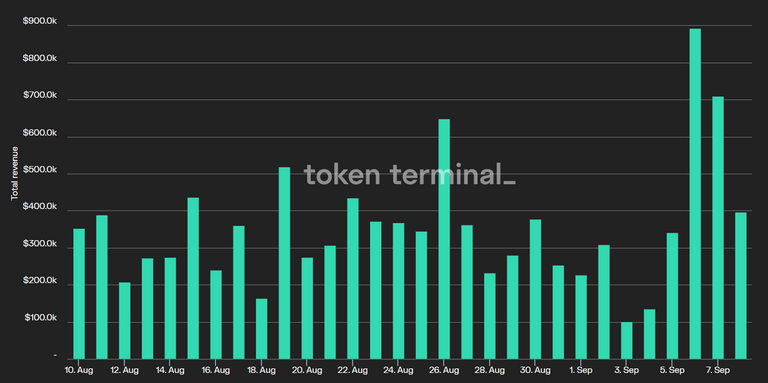 Ingresos de GMX durante los últimos 30 días: en su punto máximo, tuvo ingresos de $ 893K en un solo día. Fuente: Terminal Token*
GMX, un intercambio descentralizado de perpetuos, tiene una mecánica diferente. Todas las tarifas recaudadas de intercambios realizados en el protocolo o la liquidación de posiciones se destinan a su token de gobierno, el GMX. De esta forma, la tokenómica del protocolo contribuye a su valorización. Además, los titulares de GMX pueden stakeear sus tokens para recibir un % de las tarifas en ETH recibidas por los protocolos, en sus servicios prestados.
Assim como o FDV, as taxas coletadas por projetos devem ser analisadas especificadamente para cada projeto, compreendendo suas peculiaridades e nuances.
Para tener una visión general de los proyectos con mayor recaudación de tarifas, se recomienda utilizar cryptofees.info. Si desea una representación visual de los valores y acceso a otras métricas, Token Terminal lo hará.
Cantidad total bloqueada, también conocida como TVL
El Monto Total Bloqueado representa cuánto dinero se deposita en los contratos de un proyecto.
Durante mucho tiempo, TVL fue un referente exitoso en DeFi, con protocolos que mostraban sus millones de dólares bajo custodia en sus contratos. Su gran problema es que TVL se puede falsificar fácilmente.
Los proyectos tomaron prestado dinero en protocolos, realizando bucles con el capital disponible para inflar el Valor Total Bloqueado de sus proyectos, para atraer la atención de los inversores interesados en un proyecto "seguro".
En teoría, un protocolo con un TVL alto es un proyecto en alza y puede corresponder a su adopción por parte de la comunidad.


Fuente: DefiLlama
Analizando la lista de los 6 principales protocolos en TVL, todos son proyectos con grandes desarrolladores y una solución con amplio uso en el criptomercado. Sin embargo, invariablemente aparecen dapps que rápidamente copan la actualidad y superan los TVL de proyectos ya consolidados.
La Cantidad Total Bloqueada puede ser una métrica interesante si se analiza junto con otros factores, como la tecnología del proyecto, su FDV, los ingresos obtenidos por el protocolo e incluso la relación entre incentivos/ganancias obtenidos por el dapp.
Como puedes ver, hay mucha información disponible sobre blockchain, pero lo importante es unirlos para poder construir tu razón de ser e invertir en un proyecto compatible con tu tesis de inversión.
¿Quiere obtener más información sobre herramientas útiles para el análisis en cadena? ¿O conoces otras métricas para analizar tus criptos?
¡Ven a nuestro Discord o Telegram y hablemos más al respecto!.

Síguenos en nuestras redes!