For anyone using Leofinance and following the discord, this might not be much of a news piece, but not everyone is.
I wanted to write a post with my initial impressions, so I can go back to trying it.
LeoThreads is Live! That's big news because it's something the Leofinance team has been working on for a long time.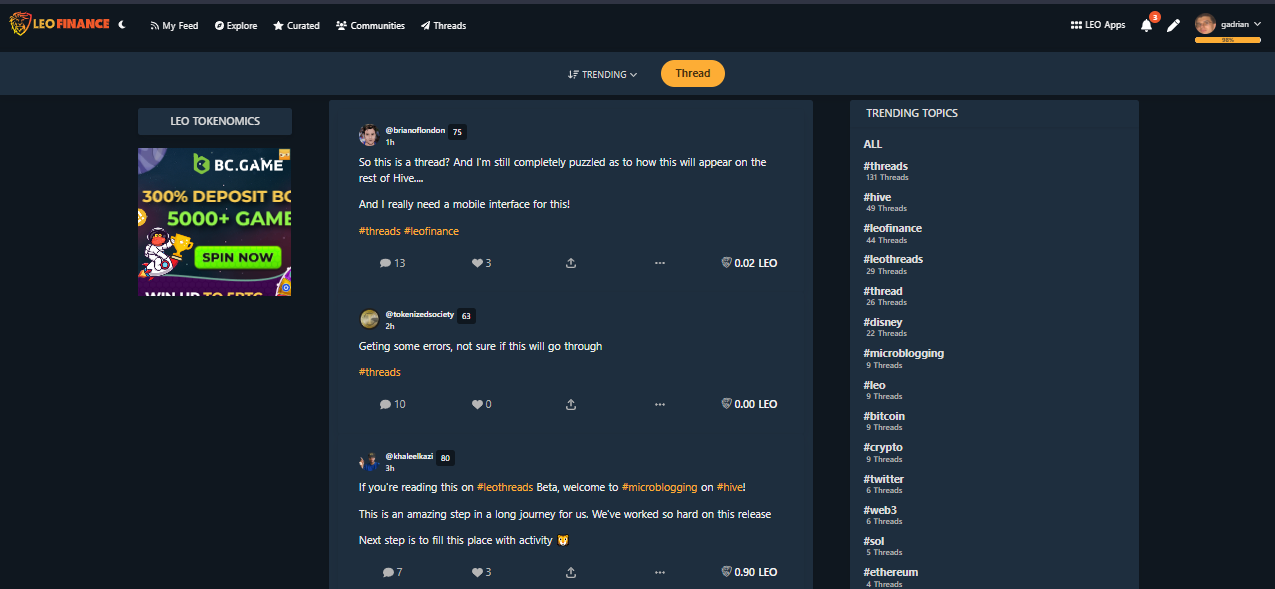 LeoThreads is meant for short-form content on Hive. Twitter is the immediate example everyone can find when thinking about short-form content.
To access the interface, click the "Threads" menu option at the top, next to "Communities", on Leofinance.
How does LeoThreads work?
It creates a so-called container post (currently I see it creates one per day), and threads are the comments and replies on that container post.
The whole "magic" is in the interface and how it interprets those comments and replies.
LeoThreads retains the inversed-tree-like organization comments have, and a discussion involving multiple comments and replies is represented on the interface as a thread that can be followed either by going deeper or higher to the upper level (until the top-level thread which is a top-level comment).
Using tags in the threads is recommended because that's how they are indexed by the interface.
This is still an MVP (minimal viable product), so don't expect it to be Twitter. There may be bugs, which we should report to discord in the proper channel (bug-report).
I hear they are already working on V1, which will include many new features (and bug fixes), and may come out in a month (so, before HiveFest?).
On LeoThreads any type of content goes. The most obvious one - links to your long-form posts can go there, just like they did on Twitter (those who used it).
There are other immediate use cases for LeoThreads:
announcements that are currently made on discord can be made on LeoThreads too
announcements for going live
link sharing for great articles
picture of your cat/dog
discussions on news
alerts about HIVE pumps, lol
crypto talk
memes
I don't think short videos can be included yet, but think about how appreciated short (funny) videos are these days
It'll be interesting to see where things will go with LeoThreads and how users decide to use it. And how much. But the beginning is here, something many have asked for for a long time. Not full Project Blank yet, but a big precursor to getting there.
Read the announcement by the team that came earlier.
Posted Using LeoFinance Beta