"Simplicity is the ultimate sophistication."

-Leonardo Da Vinci-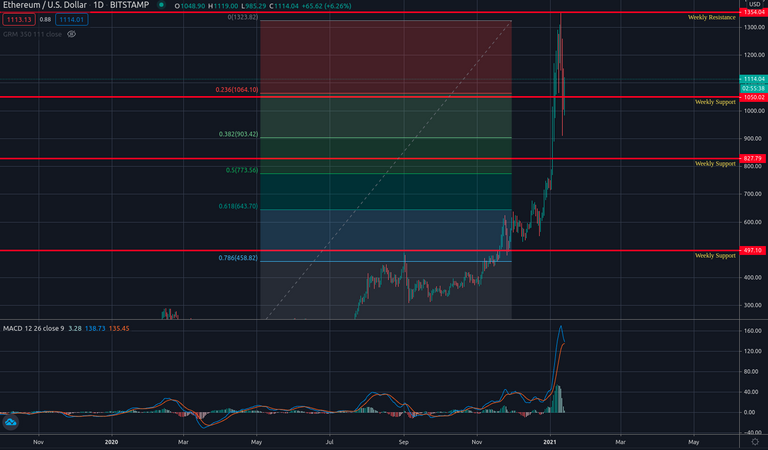 ETH/USD
Continuing from previous articles about Ethereum we have currently just tested Weekly Support at 1050$ area and it is looking like this area will be broken to the downside as expected.
Next Weekly Support levels are at 850$ and 500$, Looking at the Fibonacci Sequence we can expect some kind of correction towards the .68 level which is somewhere around the 600$ area.
Looking at the MACD we can see how a Bearish cross is just about to happend in the Daily chart which will signal a coming correction for the following days.
As always please practice your own technical analysis and dont take my personal views as any kind of signal for you to trade, this is not my intention when sharing this. My intentions are to improve my personal capacities to analyze the markets and to recieve feedback by the community in order to keep increasing my level of awareness surrounding price action and key areas of interest in the price of the cryptocurrencies.
Remember, nobody can predict the price of cryptocurrencies accurately and anybody claiming the opposite is probably trying to claim your attention and your money. Predicting the price of cryptocurrencies is akin to predicting the weather; the further into the future you try to predict, the bigger the deviation and error rate will be. This is due to the fact that in a complex system involving thousands of variables, some which are know and others which remain unknown, an accurate prediction can only happen if every single variable is correctly accounted for.
Chad trader from ClearThoughtCrypto
Posted Using LeoFinance Beta