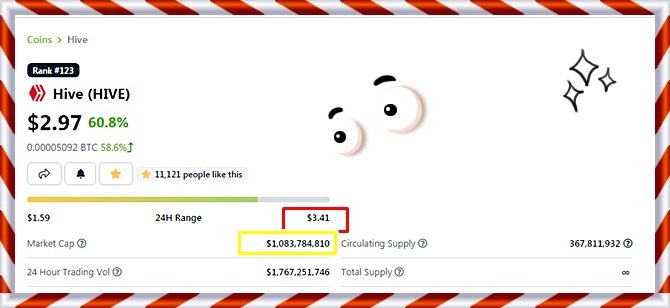 I had thought to compile in more detail the reasons why our main ecosystem currency, Hive, has had in the last 24 hours more than 70% gain, and in the last 7 days more than 200%, but I said to myself "this should be celebrated with a post", besides what is in sight does not need glasses, and therefore, in my opinion, there are some events, processes, fundamental facts that are driving this "bull run" of the market in Hive. Among these are:
First of all, "Rome was not built in a day", neither was this ecosystem, I have been on the platform for a little over a year, and before me, there were already people and communities giving their best for its strengthening, from the witnesses, through the community leaders and taking into account the contribution of each participant to this blockchain, these are the moments where one realizes that the daily, constant and passionate work bears fruit.

Diverse activities within the blockchain. Hive is mainly a social network but it is not only that, it goes beyond, therefore, activities such as the recently completed Hive Fest and the various blockchain games that make life on the platform, which are led by Splinterlands, are being an incentive for its momentum.

Staking of Hive within the platform. Hive is designed in an inflationary way, that is why there is a reward pool too, for example, be distributed among content creators and curators. Now, just as there is issuance (supply) of the token there is also a strong demand (use) derived in addition to the large ecosystem that is being created, by the Hive that we block users in our accounts either to earn rewards by voting or to support through some delegation to some community or curator.
Había pensado recopilar más al detalle las razones por la cual nuestra principal moneda del ecosistema, Hive, ha tenido en las últimas 24 horas más de un 70% de ganancia, y en los últimos 7 días más de 200%, pero me dije "esto hay que celebrarlo con un post", además lo que está a la vista no necesita anteojos, y por eso a mi parecer hay algunos acontecimientos, procesos, hechos fundamentales que están impulsando este "bull run" del mercado en Hive. Entre ésto están:
En primer lugar, "Roma no se construyó en un día", tampoco este ecosistema, llevo un poco más de un año en la plataforma, y antes de mí ya existían personas y comunidades dando lo mejor de sí para su fortalecimiento, desde los testigos, pasando por lo líderes de comunidades y teniendo en cuenta el aporte de cada participante a esta blockchain, son estos los momentos donde uno se da cuenta que el trabajo diario, constante y con pasión da su fruto.

Diversas actividades dentro de la blockchain. Hive es principalmente una red social pero no es sólo eso, va más allá, por eso, están siendo un aliciente para su impulso actividades como el Hive Fest recientemente culminado y los diversos blockchain games que hacen vida en la plataforma, los cuáles se encuentran liderados por Splinterlands.

Staking de Hive dentro de la plataforma. Hive está diseñado de forma inflacionaria, por ello existe el pool de recompensas para, por ejemplo, distribuirse entre los creadores y curadores de contenido. Ahora bien, así como hay emisión (oferta) del token también hay una fuerte demanda (uso) derivada además del gran ecosistema que se está creando, por el Hive que bloqueamos los usuarios en nuestras cuentas ya sea para ganar recompensas por votación o para apoyar mediante alguna delegación a alguna comunidad o curador.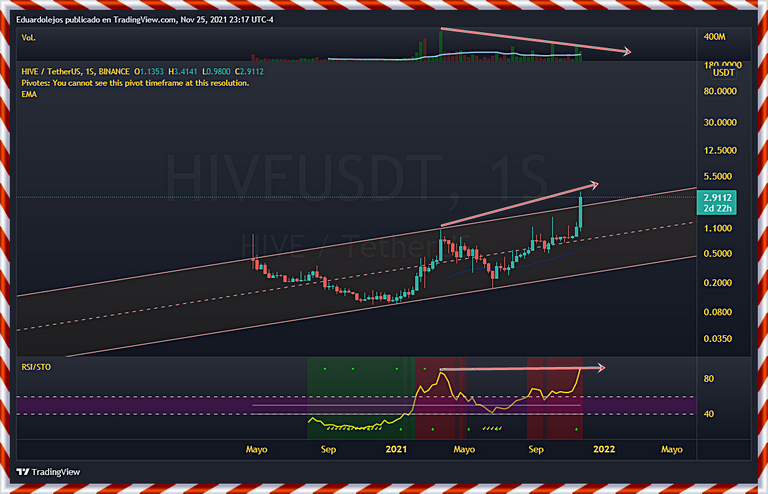 Weekly chart


Last but not least is the direct role of investors. And here I want to comment and share my technical analysis on the price structure that Hive has been forming.
Firstly, in the weekly chart(above mentioned), already past the middle of the week, it is a point in favor that the price has been accompanied by the RSI indicator which expresses that the growth has not been forced, however, the volume still exceeding the average has been declining, ideally, it would equal the previous week but the healthiest thing would be a correction which is also possible to accompany us this day.
En último lugar, pero no menos importante, está el papel directo de los inversores. Y aquí quiero comentar y compartir mi análisis técnico sobre la estructura de precios que ha venido formando Hive.
Primeramente, en gráfico semanal (arriba señalado), ya pasada mitad de semana, es un punto a favor que el precio ha venido acompañado por el indicador del RSI lo cual expresa que el crecimiento no ha sido forzado, no obstante, el volumen aún sobrepasando la media ha venido descendiendo, lo ideal sería que igualara la semana anterior sino lo más sano sería una corrección la cual también es posible nos acompañe este día.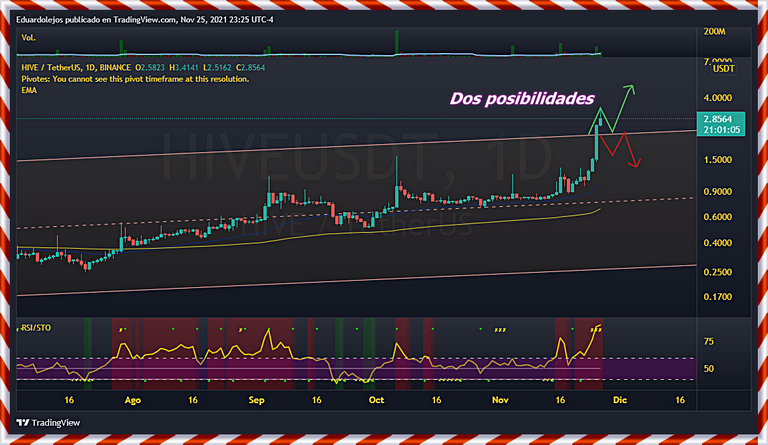 Daily Chart


Indeed, on a daily chart, we can notice that after the breakout of an ascending channel, the price is likely to return to the upper part of it.
Finally, the 4 hours chart gives us more clarity in this regard, since the price has been rejected by the R2 of the pivot lines and at the same time the mainline agrees with the top of the above-mentioned channel, moreover as a general rule if a candle starts the day above this mainline it is most likely to return to it. This is not a bad thing, I see it as necessary, let the price breathe a little, allow other investors to enter the market, and thus maintain a healthy growth of the price.
En efecto, en un gráfico de días, podemos notar que luego del rompimiento de un canal ascendente, es probable que el precio vuelva hacia la parte superior del mismo.
Finalmente, el gráfico de 4 horas nos da más claridad al respecto, puesto que el precio ha sido rechazado por la R2 de las líneas pivote y al mismo tiempo la línea principal concuerda con la parte superior del canal arriba comentado, además como regla general si una vela comienza el día por encima de esta línea principal lo más probable es que regrese a ella. Lo cual no es malo sino que lo veo necesario, hay que dejar que el precio respire un poco, permitir que otros inversores entren al mercado y así mantener un crecimiento sano del precio.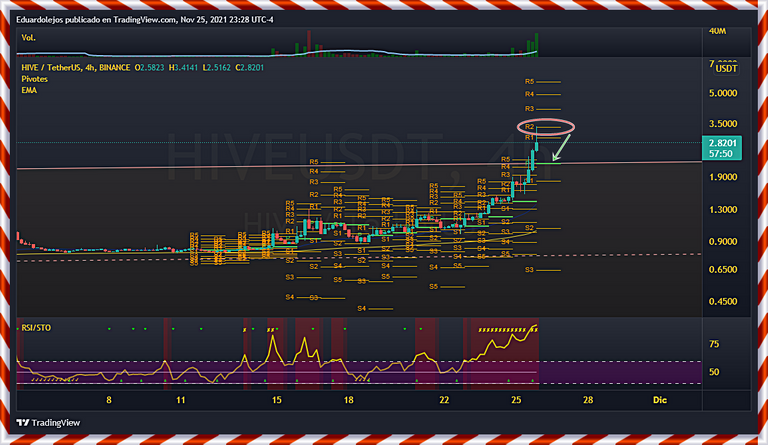 4 hours chart


Thank you very much for having accompanied me in the reading of this post, wishing you always the best and that we can meet again in the next publication, I say goodbye, see you later.
Muchas gracias por haberme acompañado en la lectura de este post, espero tus comentarios y que nos podamos volver a encontrar en una próxima publicación, hasta luego.


---
---
---
---

---