It's been a month since the last time I touched DeFi and I am glad to do it on time this month. I don't see anything new on DeFi end but there was a post about CUB. With that out of the way, I don't really see much else going on and it's nice to know that they have burned half of the CUB in existence has been burned. They are using the value generated by the multi-token bridge to buy back and burn CUB.
CUB
No new changes to the roadmap documentation page so I guess most of the news will come from following the leofinance account. There were some new farms released and it also looks like some farms were discontinued such as the DEC/BUSD pool.
PolyCUB
There have been no changes in the PolyCUB roadmap. However, they did release the first PolyCUB monthly report. It's been a while since this report so I am looking forward to what changes in the next report which should be soon if it's a month after the previous report.
Monthly Add
I sent 201 LEO tokens over to my metamask wallet using the the wLEO bridge. After removing the 1 LEO token fee, I was left with 200 LEO tokens. Of which, I changed half into CUB and the other half into bHBD. I did make a mistake and had to do an extra transaction because I accidentally converted my LEO into BUSD first and had to swap to bBHD afterward. I think I just forgot as I was unstaking from the DEC/BUSD pool but that will be left for a different post.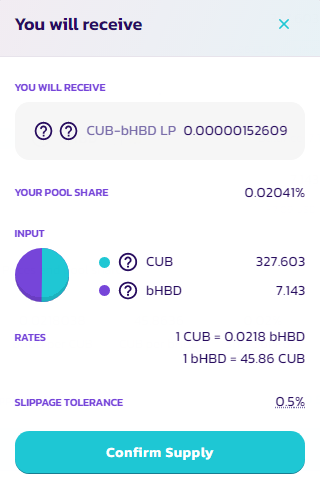 It looks like CUB price is down and it also looks like some people have moved out of the pool now that the APR is dropping down closer to 50%.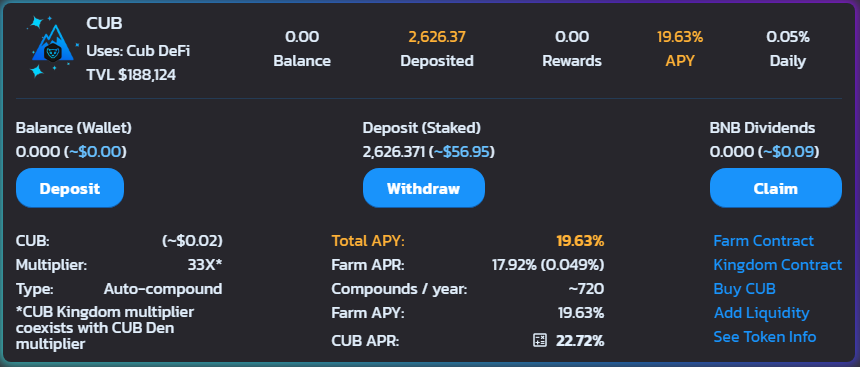 As usual, any extra CUB leftover after the process above was added to my CUB kingdom. I am wondering if the BNB dividends will be given out again in the future as I think everyone only received it once and the value that I get from it only changes with the BNB price.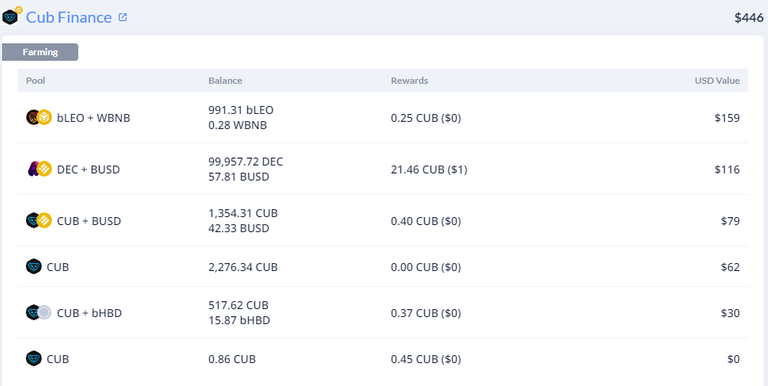 My portfolio last month is above and my current portfolio is below. As I stated earlier, I unstaked my DEC/BUSD pool because the farm is discontinued and it is no longer paying rewards.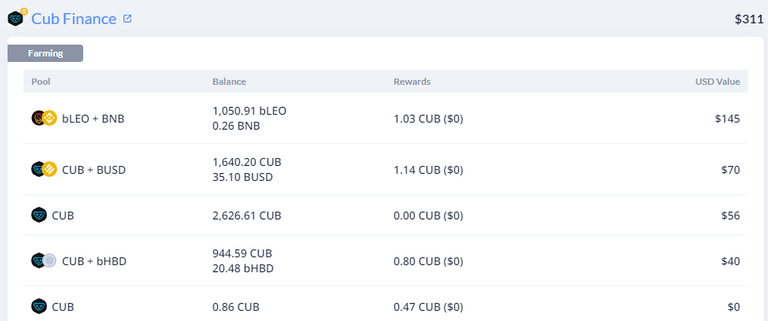 The value of all my pools have dropped except for the CUB/bHBD pool that I added today. If we discount that then there is a slight decrease in the dollar value of my investment. Overall, I think things will be fine as the LeoFinance team has not yet given up on trying to add value to CUB and they will be burning down CUB using the fees generated.
Please make sure to invest only what you can afford to lose and nothing I said is financial advice. Feel free to leave a comment if you read my post. If you have any questions, feel free to ask and I will do my best to answer.
Posted Using LeoFinance Beta