With Riftwatcher cards out, I found the need to update my deck to stay competitive by opening some chaos legion packs. I still haven't decided whether or not I will buy any Riftwatcher cards yet but I think I will wait a while to see if the prices do drop. While there are some cards in the modern decks that I do fight, I don't see them enough to warrant myself rushing to buy any right now.
Pack Openings
I was going to buy some Chaos Legion cards but it's been a while since I last opened packs and I have collected enough potions for 90 packs.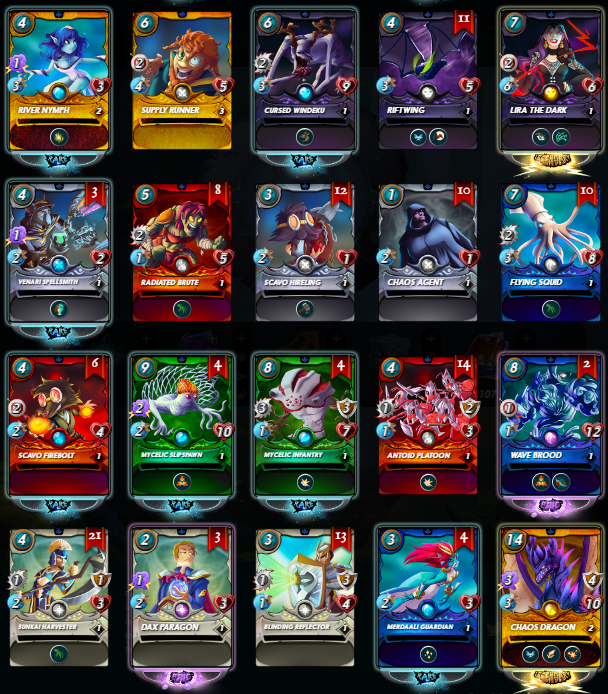 I got quite a few legendary cards but the most notable card is a GFL card called Chaos Dragon. It's an amazing card with the blast ability but it has a high mana cost.



According to Peakmonsters, I got a market value of $252.71 worth of cards and if I were to buy packs off HE, it would cost me around $210. So there is s $42 profit and I believe my luck was only so high due to the potions I got off reward chests.
Overall, I did get quite a few cards that I did not have in my collection such as Chaos Dragon, Carnage Titan, and Void Dragon. I was also able to upgrade a few of the cards in my deck so I believe that this set of pack openings was well worth it. This is the 2nd GFL that I have gotten and I am quite happy to see it.
Liquidity Pools


In a previous post, I talked about entering some of the liquidity pools for a return so I wanted to update everyone on my strategy. The returns on the liquidity pools are lower than it was two weeks ago but it is still quite high.
First off are my income sources:
Rental income (DEC)
For my staked SPS rewards, I have put the SPS into the liquidity pool rewards and I am holding onto the VOUCHERS for now. For my liquidity pool rewards, the SPS is sold for SWAP.HIVE (profit) and the DEC are re-invested into the DEC pool. As for my rental income, I will be saving this to buy cards and improve my deck. I haven't managed my rentals much but it was still providing above 10k DEC per season so the amount that I have saved up is decent enough to buy some of the Riftwatcher cards when they become cheaper.



Above are the fees generated and my current positions in the pools. Even with 1% of my pool position being covered by fees and re-investing my DEC from the pool, the value in DEC has dropped by around 7k DEC and the fiat value has also dropped (due to the decrease in price for Hive and DEC not moving up enough). So while it hasn't been the best, I still think this investment will pay off over time.
Conclusion
Overall, it wasn't a bad day. I got my second GFL and my deck is going to be even stronger now. I have come up with a better plan going forward on how to use my income sources to improve my own deck and assets. It's a bit disappointing to see the drop in prices for my DEC pool but there isn't much that I can do about the prices. It's not a huge loss but I guess it isn't always going to be an upwards market.
Are you improving your deck or are you investing in the Splinterlands liquidity pools?
Feel free to leave a comment if you read my post. If you have any questions, feel free to ask and I will do my best to answer.
Posted Using LeoFinance Beta