A different sort of post from me today. I thought it would be interesting to take a look at my personal financial situation, and the ramifications of not taking the Covid-19 vax. I recognize that the choice to take it, or not, is and should be a personal one. My position has always been that everyone should make their own mind up, and have never preached or advocated one way or the other.
But choices have consequences, as we have been continually reminded through all this period, so lets see what the financial consequences have been.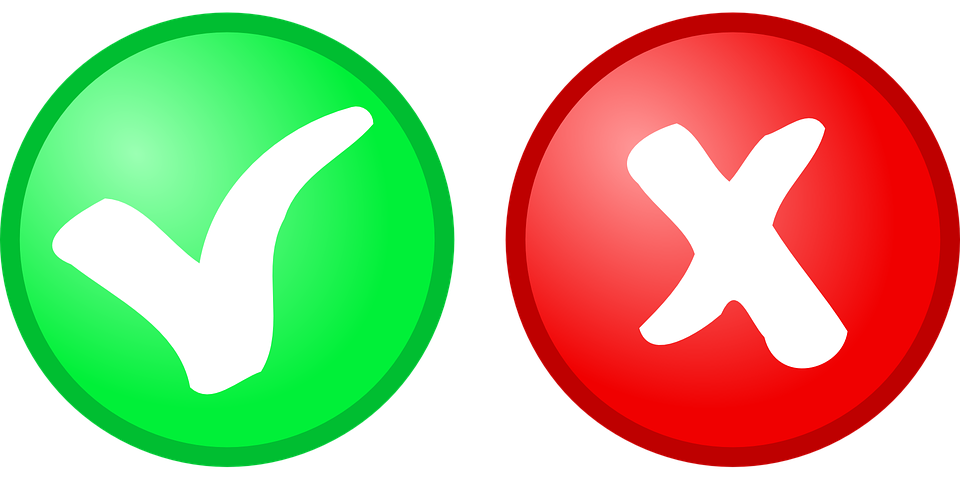 Source: Pixabay
First, why?
I won't spend too long on looking at why my family and I chose not to take the vax - like I said it is personal. We did come close, having appointments booked late last year, and only cancelled at the last minute.
The extreme coercion that was been applied made us cautious. The fact that governments, media, and employers were going to such extremes with the bullying and coercion made us resistant. If this thing is so amazing, why where (and still are) they hiding so much data from trials, and fanning hostility so heavily against the unvaccinated? Why were vax injuries being ignored, gaslight and downplayed?
Anyway, after working in a high risk environment for the best part of two years, where our work continued throughout lockdowns, in a supermarket with daily contact with the public, I felt my immune system would do the job. I knew people with vax injuries, I didn't know anyone that had been seriously ill from Covid.
There are other reasons, but that will do for this post.
The leadup.
My employer, Australia's largest supermarket chain Woolworths, announced late 2021 (I think it was in October or November from memory) that it would mandate the vax for all its employees. The mandate would come in to effect, conveniently for them, at the end of January, just after the busiest time of the year and heading in to a quiet trading period. The move seemed to me highly cynical, and I sent in my objections during a farcical "consultation period". Of course those objections, along with many others from people of a similar mindset, where completely ignored.
Early January, the company suffered during a massive wave of Omicron variant outbreak, with large supply chain disruption and a hugely increased amount of people of sick. Interestingly, myself and a few other unvaccinated friends in our particular store continued working through this period, while many of our vaccinated colleagues became ill. That is of course purely anecdotal, and does not prove anything about efficacy of the vax. Still, it reinforced my position that the vax did not prevent transmission, and therefor making it mandatory was unethical.
In another highly cynical move the company postponed the application of the mandate for a month, till the end of February. They claimed it was to allow more consultation time. I am sure it had nothing to do with the massive absenteeism and buying time for the wave of infections to pass before firing a portion of their workforce. Definitely not.
I decided I was not going to play their game any longer, and turned in my resignation.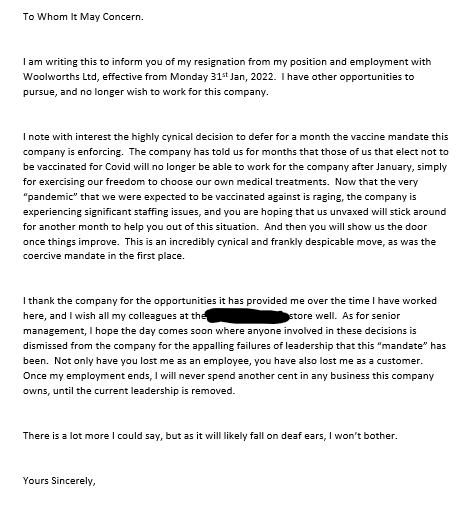 Screenshot of my resignation letter.
So, after 14 years of loyal service, including several team leader roles, I finally left the company.
The Costs:
When I left, I had around 700 hours of sick leave accrued, that is forfeited upon departure from the company. The value lost there - 15,400 AUD (9,700 USD)

I then spent 5 months unemployed - lost income 24,000 AUD (15,200 USD)

During that period, I sold off a significant amount of crypto, as prices where rapidly dropping and the bear market kicked in. Estimated losses 30,000 (18,900 USD)

Since returning to work, at a competitor to my former employer, my income has not returned to equivalent to my previous full time position (being casual currently). Estimated shortfall: 3,000 AUD (1,900 USD)

My wife also left work, from the same employer, late 2021 due to the mandate. She decided she did not want to continue in a job where ultimately she would not be wanted, being used and then kicked out after the busy period was not acceptable to her. Lost income from her part time job from December to now - 18,000 AUD (11,400 USD).
Total cost = 90,400 AUD (57,100 USD).
Would I make the same decision again?
Absolutely!! Money isn't everything. The choice had its consequences, but I most definitely would make the same choice again. The only thing I would do different is I would have stayed the extra month. People that left early got no extra payout from the company, whereas others that stayed till the end received a small settlement I am told, amounting to 4 weeks of extra pay. But that is it, that is the only thing I would do differently.
Woolworths Ltd (the Australian Woolworths), and a number of other major corporations that still have vax mandates in place to this day can go to hell.
---
Thanks for reading, I know this is a controversial topic and there are many different opinions and beliefs out there. These are just mine, and in no way a recommendation to anyone else. Make your own choices, but inform yourself first, rather than just believing the government and media narrative.
Cheers,
JK.
Posted Using LeoFinance Beta