Bitcoin is about to close the books on yet another strong Q2 performance
The quarter ending June 30th saw yet another solid performance this year.
As I type, BTC is currently up about 42% for the quarter, which places it as bitcoin's 4th best Q2 performance ever.
Check it out: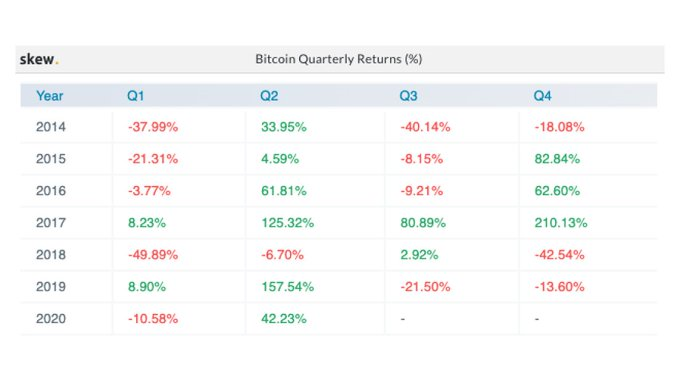 (Source: https://twitter.com/skewdotcom/status/1277881952364892161)
As you can see, Q2 has historically been a very good quarter for bitcoin throughout the years.
It has been green 7 out of the last 8 years, which makes it the best performing quarter for bitcoin over that 8 year time period.
Unfortunately Q3 has been a bit more challenging...
The bad news is that after a solid Q2 performance, bitcoin may face some headwinds in Q3.
Historically, it has been one of bitcoin's worst performing quarters.
It has been red in 5 out of the last 7 years.
The good news is that even though it has been red more often than not, the declines have been somewhat subdued with only 2 years seeing more than a 9% decline...
Keep in mind that this is a halving year so perhaps the most pertinent information would be what happened during the last halving year.
And that would be 2016.
After seeing a solid gain in Q2 of close to 62%, it pulled back roughly 9% in Q3.
I would not be surprised to us see similar results this time around as well, especially since we already saw a similar Q2 performance with roughly 42% gains.
COVID-19 and the Stock Market trump all...
That being said, I think the coronavirus pandemic and what happens in the US stock market likely trump past trends.
If we see tons more stimulus announced in the coming weeks, which we probably will, there is a decent chance bitcoin performs very well.
If we see a huge spikes in coronavirus cases and or we see the stock market roll over, bitcoin may struggle mightily.
Which means, these past patterns may not matter what depending on what is coming down the pipeline these next few months.
Either way, it's still fun to see what bitcoin "historically does" as bitcoin does tend to move in cycles.
Stay informed my friends.
-Doc
Posted Using LeoFinance