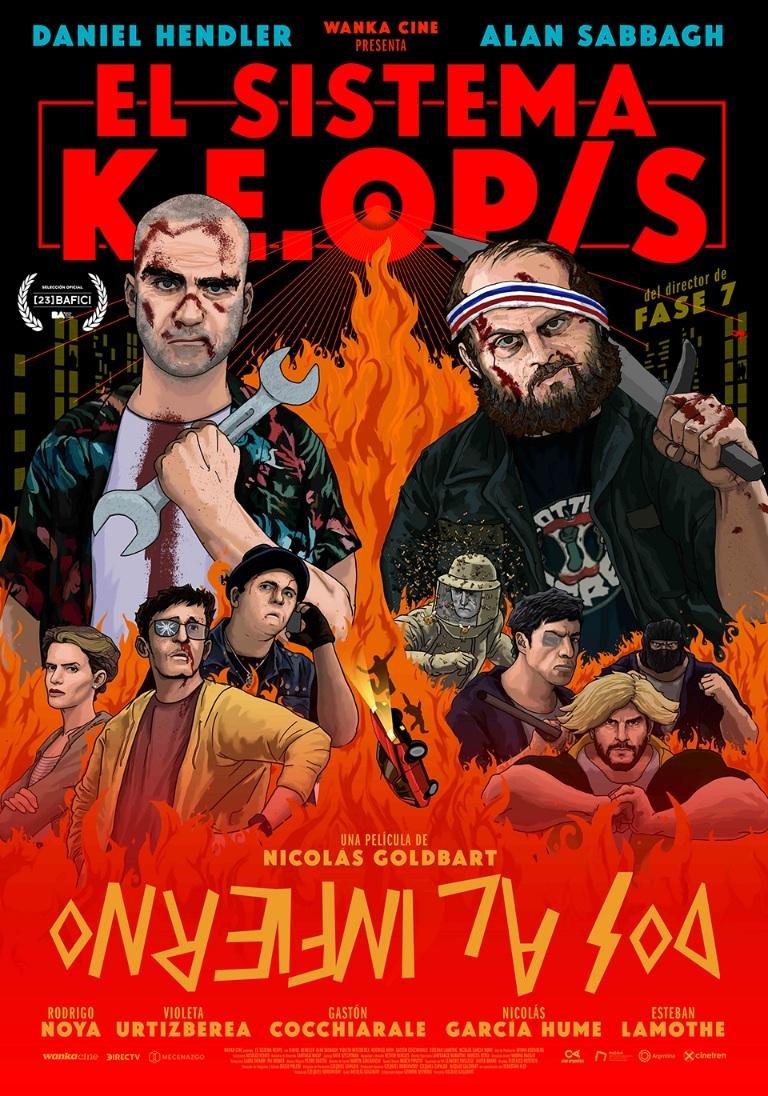 Fuente de Imagen
El Sistema KEOP/S: suspense, action, black comedy.
Country: Argentina.
Direction and Screenplay: Nicolás Goldbart.
Length: 120 minutes.
Actors: Daniel Hendler, Alan Sabbagh, Rodrigo Noya, Julieta Urtizberea.
El Sistema KEOP/S: suspenso, acción, comedia negra.
Pais: Argentina.
Direccion y Guion: Nicolás Goldbart.
Duracion: 120 minutos.
Actores: Daniel Hendler, Alan Sabbagh, Rodrigo Noya, Julieta Urtizberea.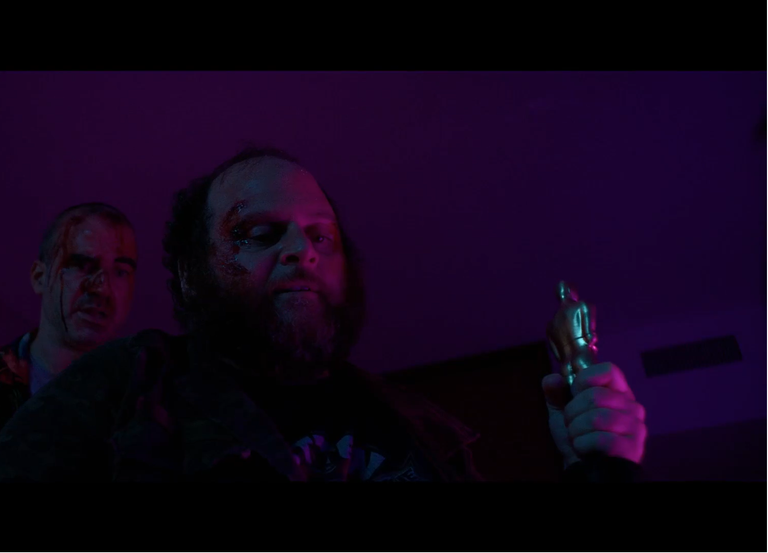 Fuente de imagen
El Sistema KEOP/S, is a very well starred production, Daniel Hendler with an impeccable impersonation of someone who is in free fall in all aspects of his life and Alan Sabbagh in the skin of his best friend excellently interpreted, as well as Rodrigo Noya.
The film is very well directed and acted, of course, the characters are believable, the idea is great but although it has its comic situations it does not reach the point of being excellent, it will not make you laugh but it will keep you entertained for a while. It stands out for being a different film within the Argentine cinema.
The cinematography by Lucio Bonelli and Diego Poleri is really admirable.
Here is a little bit of what the film is about with some spoilers within the first eight minutes.
El Sistema KEOP/S, es una producción muy bien protagonizada, Daniel Hendler con una personificación impecable de alguien que esta en plena caída libre en todos los aspectos de su vida y Alan Sabbagh en la piel de su mejor amigo excelentemente interpretado, al igual que Rodrigo Noya.
El film esta muy bien dirigido e interpretado, claro está, los personajes son creíbles, la idea es genial pero si bien tiene sus situaciones cómicas no logra llegar al punto de ser excelente, no te va a sacar carcajadas pero sí te va a mantener entretenido un buen rato. Se destaca por ser una película distinta dentro del cine argentino.
El trabajo de fotografía de Lucio Bonelli y Diego Poleri es realmente admirable.
A continuación te cuento, un poquito de que se trata la película con algunos spoilers dentro de los primeros ocho minutos.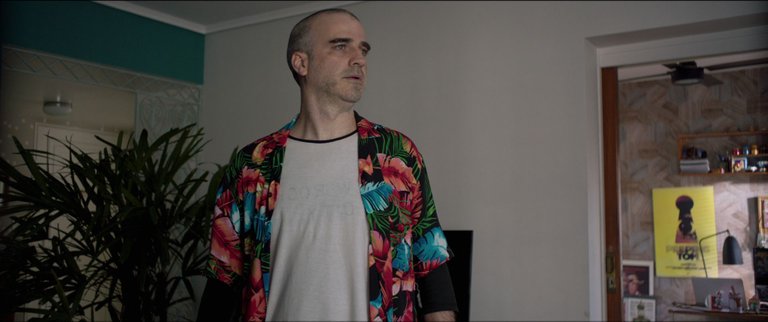 Fuente de Imagen
Belgrano neighborhood, Buenos Aires, Argentina. Fernando Berlasky, a film scriptwriter who is going through a bad patch at work, starts his day going to the bakery, while his wife is getting ready to go to work and his daughter to school. On his way back home, an extremely cruel scene takes place before his eyes, a suicidal man falls from a building and crashes into a car, and he manages to hear the last word of that person before dying: KEOPS.
Back home, Fernando, with all the free time a person who is apparently in a downward loop can have, and just as good thoughts attract good things, bad thoughts attract others, begins to search for information on the web about the event that happened in his neighborhood, finding nothing, he begins to search about KEOPS, calling his attention to an advertisement entitled: KEOPS Free Money System. Yes, like most of us who are in the world of cryptocurrencies that have entered falling into some pyramid scam, dreaming of making a fortune by investing just a few pesos, I am familiar with that scenario, and indeed I speak from my own experience, but you learn from everything.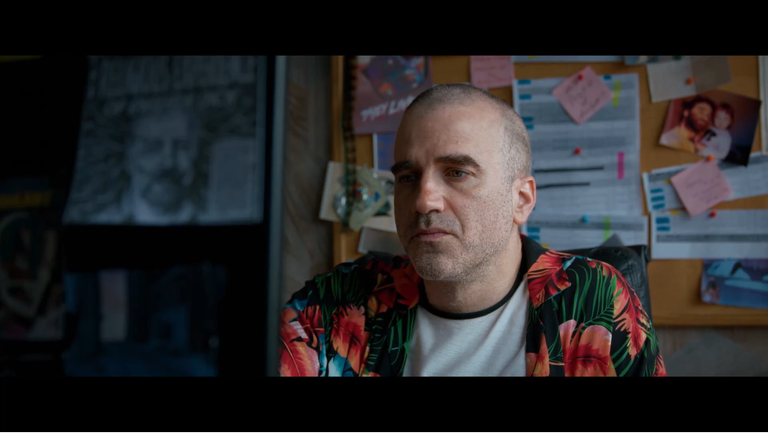 Barrio de Belgrano, Buenos Aires, Argentina. Fernando Berlasky, guionista de cine que está pasando por una mala racha laboral comienza su día yendo a la panadería, mientras su mujer se prepara para ir al trabajo y su hija al colegio. Al regreso a su casa una escena extremadamente cruda sucede ante sus ojos, un suicida cae de un edificio y se estrella contra un auto, logrando escuchar la ultima palabra de esa persona antes de morir: KEOPS.
Ya de regreso en su casa, Fernando, con todo el tiempo libre que puede tener una persona que aparentemente esta en un bucle descendente, y así como los buenos pensamientos atraen cosas buenas, los malos pensamientos atraen de las otras, comienza a buscar información en la web acerca del hecho sucedido en su barrio, no encontrando nada comienza a buscar sobre KEOPS, llamándole la atención un anuncio titulado: KEOPS Free Money System. Si, como gran parte de los que estamos en el mundillo de las criptomonedas que han entrado cayendo en alguna estafa piramidal, soñando con ganar fortuna invirtiendo solo unos pocos pesos, me resulta familiar ese escenario, y efectivamente hablo por experiencia propia, pero de todo se aprende.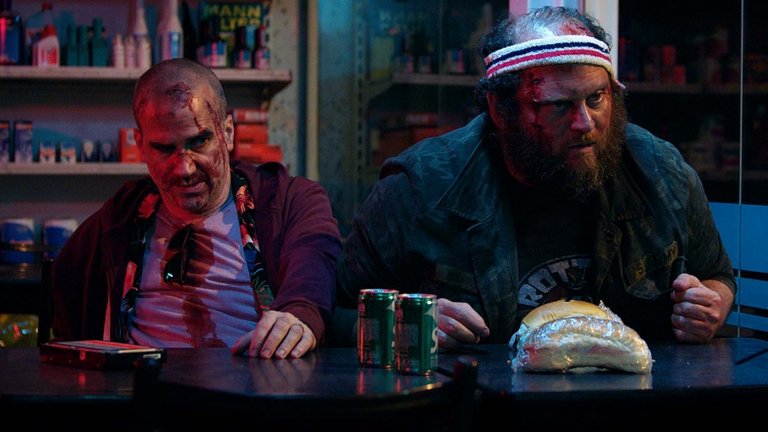 Fuente de Imagen
Returning to Fernando's reality, the phone rings and it is the Bear, producer, who is going to finance one of his scripts, notifying him that he is going to postpone his project since he is going to finance Israel's film, who happens to be Fernando's best friend.
Fernando, who at that moment fails to see the value of friendship, opens his secondary Facebook account to cyber-bully Israel, writing in one of his posts.
Curiosity killed the cat.
Called by curiosity, Fernando returns to the advertisement and fills in the form, triggering a precipitation of spying, blackmail, fake photos and fake paranoia, a web of chaotic yet detective-like order that responds to the current fear of being spied on by multinationals through technology and social networks, as when you tell someone the typical "I was talking about Nicolas Cage with my friends near the PC and when I went to Google, a picture of Nicolas Cage appeared first".
Regresando a la realidad de Fernando, suena el teléfono y es el Oso, productor, quien va a financiar uno de sus guiones notificándole que va a posponer su proyecto ya que va a financiar la película de Israel, quien casualmente es el mejor amigo de Fernando.
Fernando, que en ese momento no logra ver el valor de la amistad, abre su cuenta secundaria de Facebook para hacerle bulling cibernético a Israel, escribiendo en uno de sus posteos.
La curiosidad mato al gato.
Llamado por la curiosidad, Fernando regresa al anuncio y completa el formulario, a causa de esto desencadena una precipitación de espionajes traídos de los pelos, chantajes berretas, fotos falsas y paranoias fake, una telaraña de orden caótico aunque detectivesco que responde al temor actual a estar siendo espiados por las multinacionales a través de la tecnología y las redes sociales, como cuando le contás a alguien la típica "Estuve hablando de Nicolás Cage con mis amigos cerca de la Pc y cuando entré a Google me apareció primero una foto de Nicolás Cage".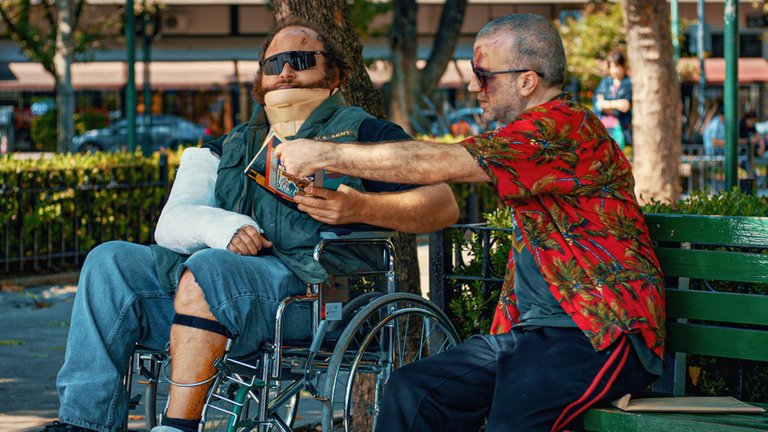 Fuente de Imagen
To get out of the trouble he got into, Fernando will count on his best friend, Israel, who will help him find those who are behind the KEOPS system.
That's all for today HIVE community, I hope you like the movie, it is on Netflix from August 24, 2022, I say goodbye to you with a big hug, wishing you all success, until next time.
Para salir del problema en el que se metió, Fernando contará con su mejor amigo, Israel, que lo ayudara a encontrar a aquellos que están detrás del sistema KEOPS.
Es todo por hoy comunidad de HIVE, espero les guste la película, se encuentra en Netflix desde el 24 de agosto del 2022, me despido de ustedes con un fuerte abrazo, deseándoles muchos éxitos a todos, hasta la próxima.
Translated with www.DeepL.com/Translator (free version)
Posted Using LeoFinance Beta