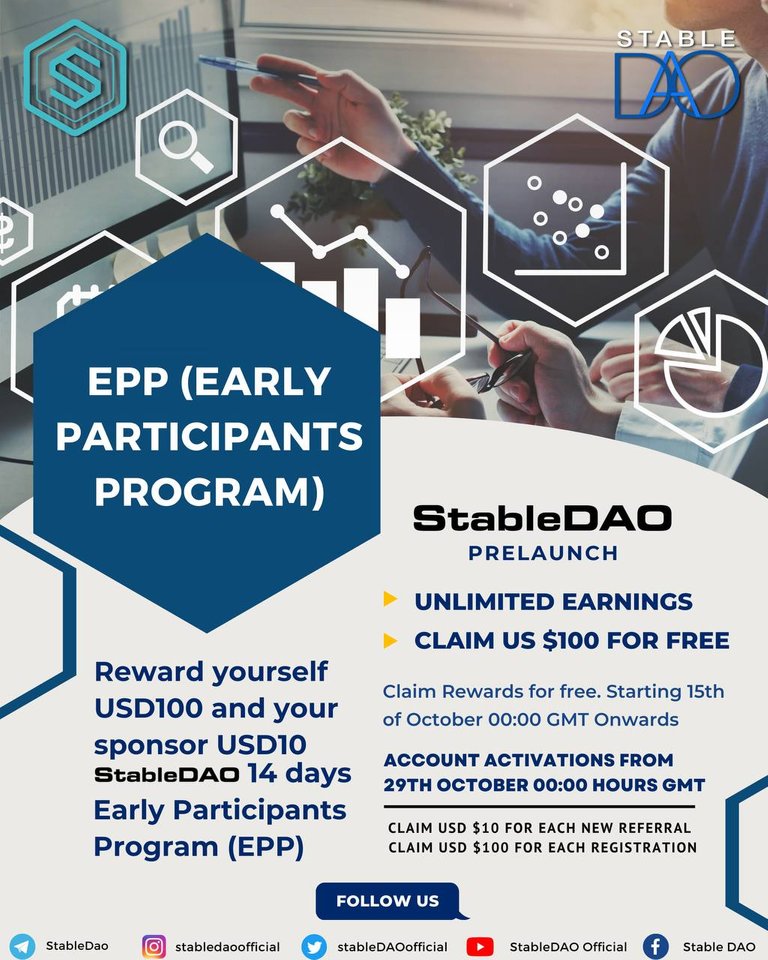 Very good morning LeoFinance community, I hope you are all well, today I bring you a new project, just out of the oven but with great growth potential. It is an early entrants program in which you can claim 100 dollars to invest within the platform (the 100 dollars are not for immediate withdrawal, only to invest) plus 10 dollars for each referral.
Considering that in the last year or so airdrops have been mostly scam, why should I waste my time filling in the data on this project? There are two pieces of information that caught my attention: CityBank's participation in the project and Sam Lee's participation in the development team, here is the link to his Linkedin profile.
The project is called StableDAO and it is an inflation-proof institutional safe harbor, accessible at retail with capital protection from CityBank.
The data they are going to ask us to be eligible is very basic, as in most projects, full name, nickname, email, date of birth, gender and create a password.
Muy buenos días comunidad de LeoFinance, espero que estén todos bien, hoy les traigo un nuevo proyecto, recién salido del horno pero con un gran potencial de crecimiento. Es un programa de participantes tempranos en el que se pueden reclamar 100 dólares para invertir dentro de la plataforma (los 100 dólares no son para retirar inmediatamente, solo para invertir) mas 10 dólares por cada referido.
Considerando que en este ultimo año o quizá un poco mas los airdrops han sido scam en su mayoría, por que debería perder el tiempo completando los datos en este proyecto? Hay dos datos llamaron mucho la atención: la participación de CityBank en el proyecto y la de Sam Lee dentro del equipo de desarrollo, aquí les dejo el enlace a su perfil de Linkedin.
El proyecto se llama StableDAO y se trata de un puerto seguro institucional a prueba de inflación, accesible al por menor con la protección de capital del Banco CityBank.
Los datos que nos van a pedir para ser elegibles son muy básicos, como en la mayoría de los proyectos, nombre completo, nick, email, fecha de nacimiento, genero y crear una contraseña.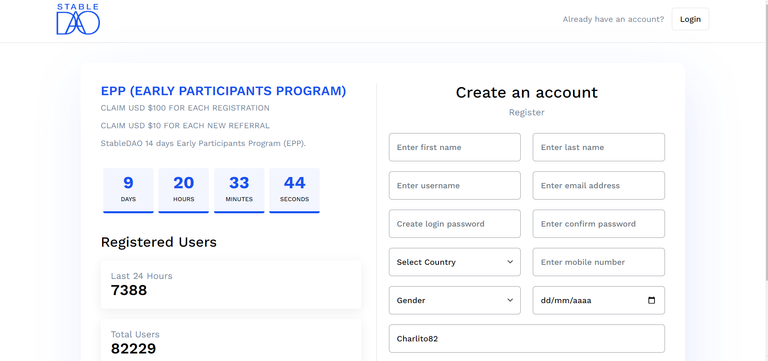 Once the data has been sent we go directly to our email inbox and verify. The following is the first image we see when we log in for the first time.
Step one: join the telegram channel.
Step two: complete the KYC.
Una vez enviados los datos vamos directamente a nuestra bandeja de entrada de correo electrónico y verificamos. La siguiente es la primera imagen que vemos cuando ingresamos por primera vez.
Paso uno: unirse al canal de telegram.
Paso dos: completar el KYC.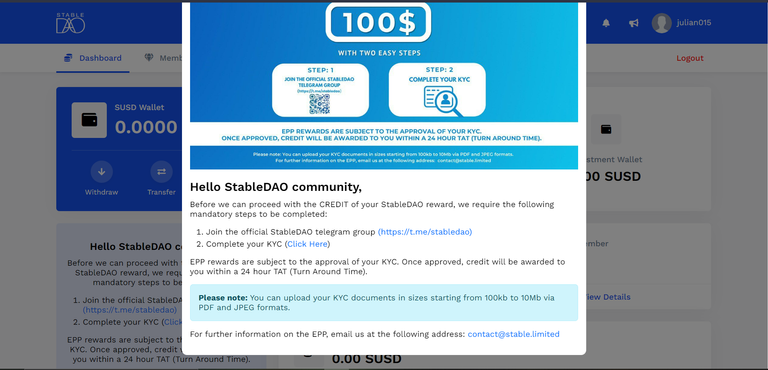 Data to verify the KYC:
-Country.
-Full name.
-Type of document and number.
-ID photo.
-Selfie with code and ID card.
Datos para verificar el KYC:
-Pais.
-Nombre completo.
-Tipo de documento y numero.
-Foto de cedula de identificación.
-Selfie con código y carnet de ID.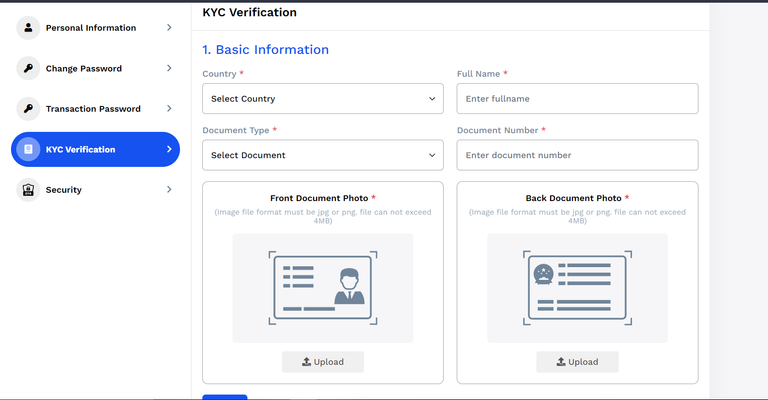 Once the data has been sent, there is a waiting time for verification, it can take up to 24 hours, in my case it took no more than 30 minutes.
Ya enviados los datos tiene un tiempo de espera para la verificación, puede llegar a tardar 24 horas, en mi caso no fueron mas de 30 minutos.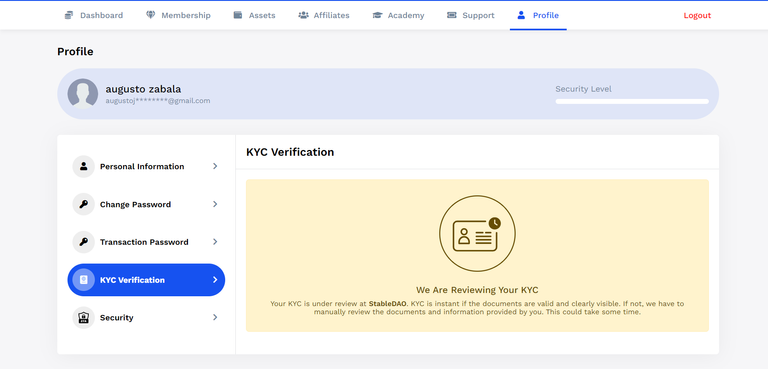 Here is my referral link for all those who want to participate in the project, remember that for each referral you get a reward of 10 dollars.
Aquí les dejo mi link de referido para todos aquellos que quieran participar del proyecto, recuerden que por cada referido tienen una recompensa de 10 dólares.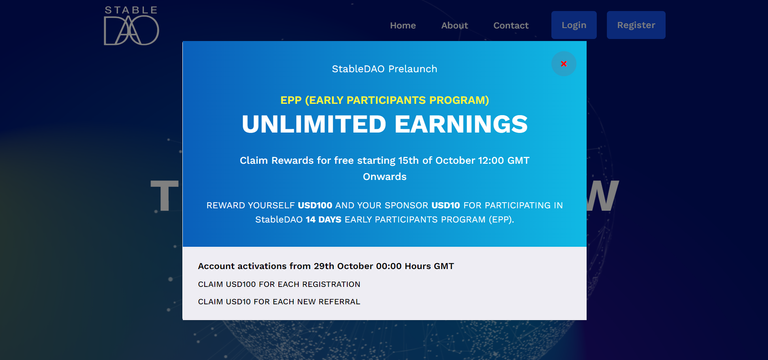 Without further ado, I bid you farewell with a big hug and until next time.
Sin mas por hoy me despido de ustedes con un fuerte abrazo y hasta la próxima.
Translated with www.DeepL.com/Translator (free version)
Posted Using LeoFinance Beta