I have a confession to make and some news to share.
I am very insecure when it comes to sharing information about anything that I do not know much of.
One of the things that I really am ignorant about is .. trading :(
Yes, I know .. unfortunately
I have only learned some information from reading, but nothing solid enough to give me the boost or to get me started.
But trading is something that seems inspiring and may also be rewarding if you know what you are doing!
So I decided to enroll to a course organized by a Greek University!
I just paid and confirmed my enrollment so in the summer time .. expect some news from me:)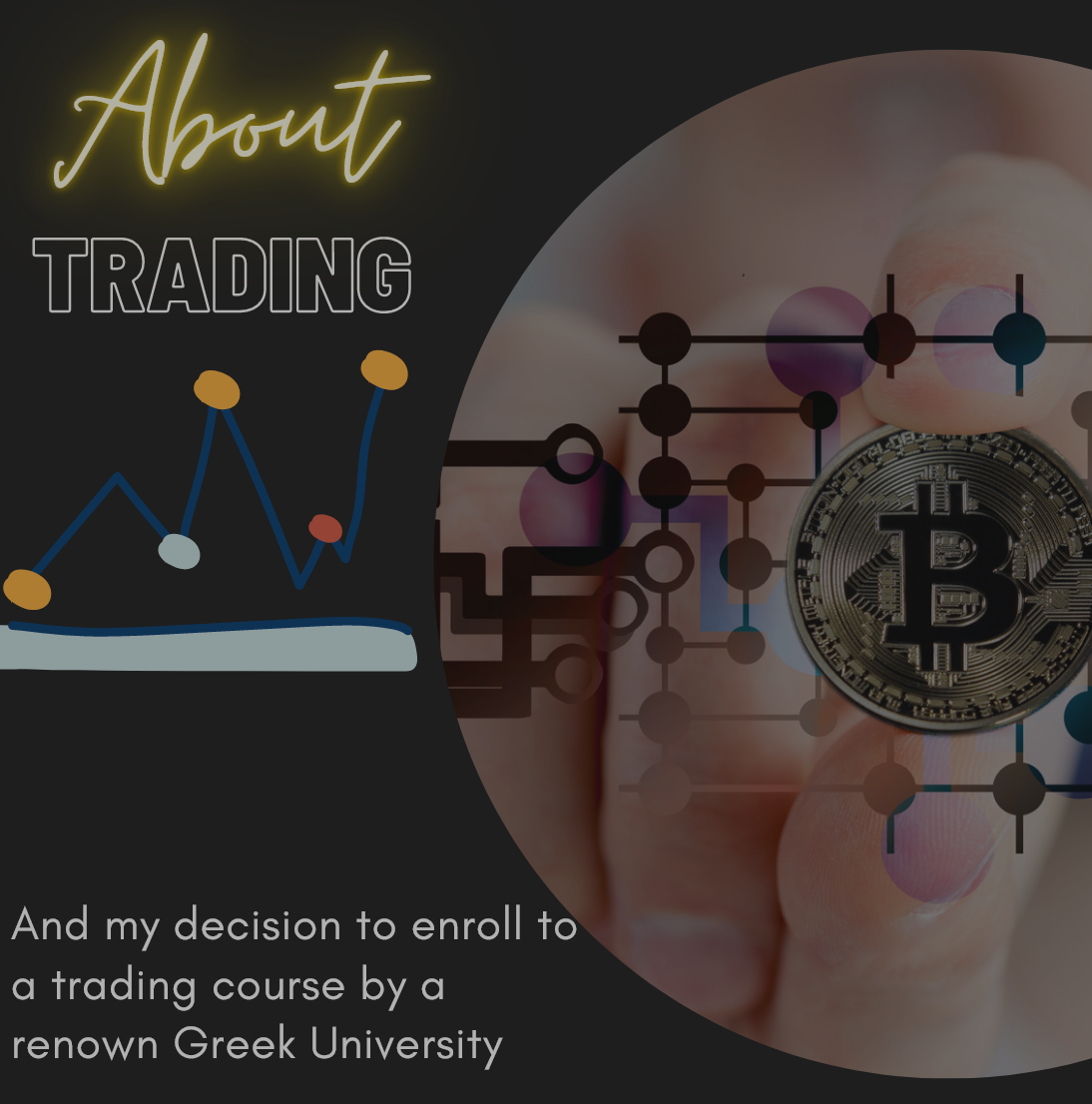 In the meantime ... let's see what .. trading is
Trade is a basic economic concept involving the buying and selling of goods and services, with compensation paid by a buyer to a seller, or the exchange of goods or services between parties. Trade can take place within an economy between producers and consumers. International trade allows countries to expand markets for both goods and services that otherwise may not have been available to it. It is the reason why an American consumer can pick between a Japanese, German, or American car. As a result of international trade, the market contains greater competition and therefore, more competitive prices, which brings a cheaper product home to the consumer.
In financial markets, trading refers to the buying and selling of securities, such as the purchase of stock on the floor of the New York Stock Exchange (NYSE). For more on this kind of trade, please see the entry on 'what is an order?'
Of course cryptotrading is about trading cryptocurrencies!
---
And I would love to know from you ..
Do you trade?
Daily?
Do you do it automatically?
How many hours a day does it take?
Is it better to think short or long term?
Any starting links/tips?
Thank you so much in advance!
p.s. go over to the last post by @trumpman .. he got some news to share :)
---
Thank you for visiting!
---
Who am I?
I am Katerina from Crete, Greece. An enthusiastic content creator with a passion for photography. Interested in the blockchain technology, in new social media platforms and in trying to educate new users who wish to explore the blockchain social media world and its possibilities!
Posted Using LeoFinance Beta