DeFi is making it more and more at the news and many of us are not (fully) aware about what it is and why we should know more about it.
Thankfully, there are a number of efforts by independent means, with the aim to offer us more and more information about DeFi. Information is out there, in the form of videos, blog posts and more, but a complete guide is what we need to have a better understanding.
Would you take the time to read a guide that is provided to you free of charge?
I would, and I am here to let you know that apart from the e-book about DeFi that you can dowload if you have some @coingecko candy, now Cointelegraph is here to offer us its FREE guide of only 39 pages :))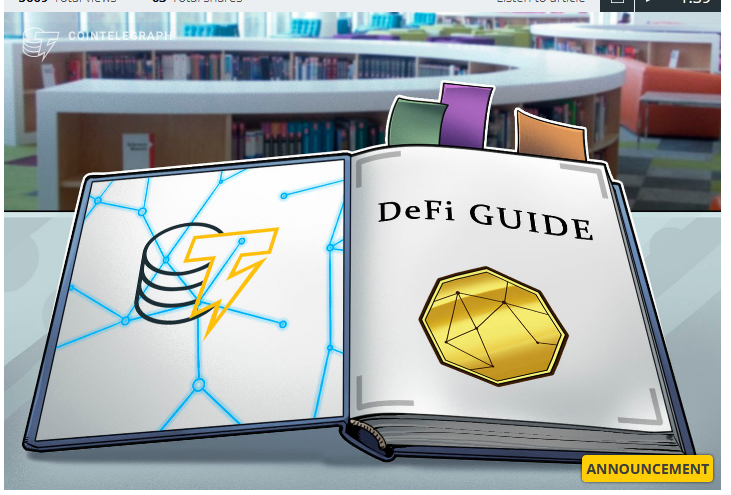 Image Source: Cointelegraph
As per Cointelegraph;
Cointelegraph Consulting releases "DeFi Adoption 2020: A Definitive Guide to Entering the Industry," to speed up DeFi adoption.
Many new users have been attracted to the explosive expansion of the DeFi sector in 2020, seeking to explore the growing selection of finance tools and applications. Not surprisingly, large barriers exist due to complexity, high transactional fees, not to mention the inherent risk of using these relatively new platforms.
---
First Part
Part 1.1 - What is Decentralized Finance (DeFi)?
Decentralized Finance ("DeFi"), is the idea that traditional financial service offerings such as banks, markets, and other investment services can be recreated or improved upon using applications created on the blockchain.
The first one needs to know is that DeFi stands for. Decentralized Finance. As the name implies, this refers to any actions/services can be provided using a decentralized system.
Part 1.2 - DeFi is not the only alternative to traditional finance:
CeFi, or Centralized Finance, is another branch of blockchain-based finance disrupting the banking industry. Before diving deeper into the DeFi space, it is necessary to distinguish DeFi from CeFi. Both DeFi and CeFi are related to digital asset management, represent the movement for better financial inclusivity and offer high potential yields
That is a term that I was unaware of until today. Of course, the opposite to decentralized is the centralized Finance.
Part 1.3. - The Technology
The Blockchains
To date, the DeFi industry is dominated by projects on the Ethereum blockchain network [...]
According to the guide, Ethereum dominates the Defi market because it has better composability standards which helps to create a network effect, which increases the value as the user base becomes bigger.
---
The guide continues and is doing a great job in presenting and analyzing
The tokens
DeFi key metrics
Trends
Use cases
but also the projects
So, I do recommend the guide and I will surely take a closer look at it.
---
Read the article by Cointelegraph
https://cointelegraph.com/news/cointelegraph-consulting-releases-defi-guide-to-increase-wider-adoption
Download the Guide directly
https://s3.cointelegraph.com/storage/uploads/view/48c6c4e03f85bc722d76f88c2676478b.pdf?_ga=2.39432997.72907251.1601041455-559229470.1599480773
Source: Cointelegraph Consulting. DeFi Adoption 2020: A Definitive Guide to Entering the Industry.
---
Disclaimer: This is not financial advice. Always do your own research..
---
Follow me on twitter for crypto stuff: https://twitter.com/katerinaramm1
My personal discoveries and every day experiences: https://www.instagram.com/katycrete/
My city's account and lovely community: https://www.instagram.com/aboutheraklion/
And let's not forget my giphy channels
For my city: https://giphy.com/channel/aboutheraklion
My personal account: https://giphy.com/channel/katyramm
Posted Using LeoFinance Beta