Herkese selam,
Hello everyone,**
Düşen kama mı görüyoruz?
Do we see a falling wedge?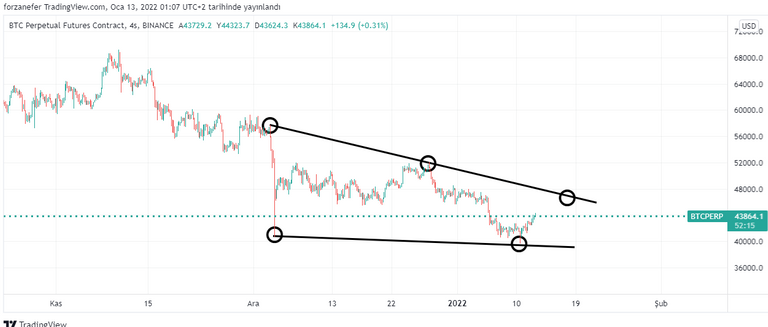 https://www.tradingview.com/x/8ETZaUPL/)
Öncelikle kestane balının diyarından selamlar...
Çok başarılı olmadığım bir alanda, kendimi geliştirmeye çalışıyorum.
I am trying to improve myself in an area where I am not very successful.
Düşen bir trend içerisinde alçalan dipler ve alçalan tepeler gördüğümüz alana düşen kama ismi veriliyor. Fiyat, çizdiğim son halkanın üzerine çıkmalı ve orada 4 saatin üzerinde kalmalı. Böylece yeni bir trend başlama ihtimalini konuşabilelim.
The area where we see descending bottoms and descending peaks in a falling trend is called the falling wedge. The price should rise above the last ring I drew and stay there for over 4 hours. So, let's talk about the possibility of starting a new trend.
Biraz daha yakından bakalım...
Let's take a closer look.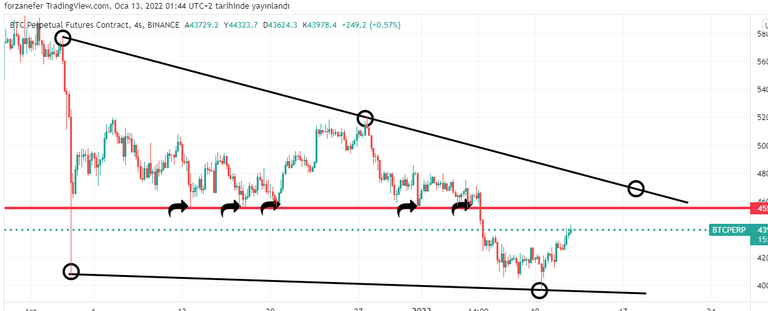 45.500 e denk gelen kırmızı bir çizgi görüyoruz. Fiyat aşağı yönlü hareket ederken, burayı defalarca görmüş. Yani kırmızı çizgi destek olarak davranmış. Şimdi ise karşımıza direnç olarak çıkacak.
We see a red line corresponding to 45,500. He has seen this place many times while the price is moving down. So the red line acted as support. Now it will appear as resistance.
Daha sonra halka etrafı yani kabaca 46500 seviyeleri direnç olarak karşımıza çıkacak. Bu fiyat seviylerinin üzerini görmemiz halinde olumlu konuşmak mümkün. Gerçekleşmediği sürece ise düşen kama formasyonu hakkında konuşmak anlamsız.
Then around the ring, roughly 46500 levels will appear as resistance. It is possible to speak positively if we see above these price levels. Unless it happens, it's pointless to talk about the falling wedge formation.
Şuraya,daha önce düşen bir trend içerisinde oluşmuş 'düşen kama' bırakayım.
Here, let me leave the 'falling wedge' that was formed within a falling trend before.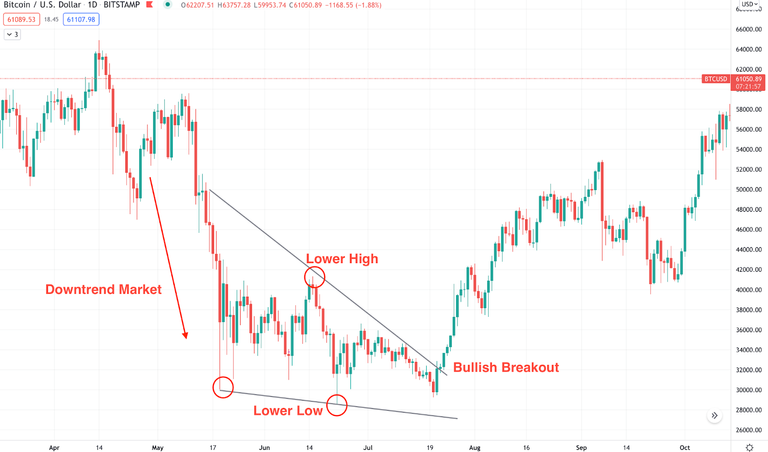 İzleyip görelim...
Let's watch and see...
Görüşmek üzere...
See you later...
Posted Using LeoFinance Beta